OF Carlos Gomez, SS Alex Gonzalez and 1B Mat Gamel, The Good Land Brewers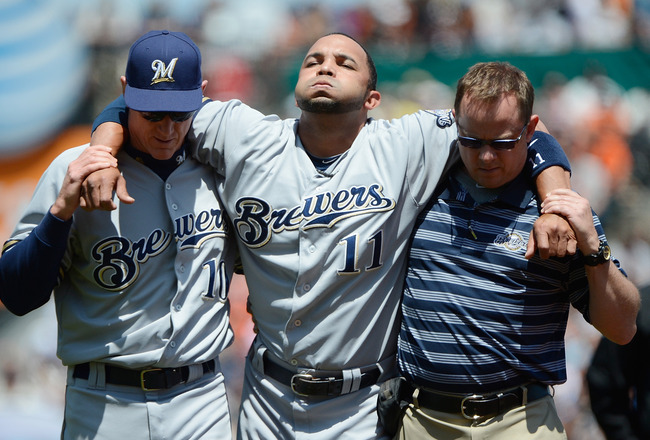 All in a week, three Milwaukee starters went down with leg injuries, including Gomez with a strained hamstring, and both Gonzalez and Gamel with a torn ACLs. Extremely bad news for a Brewers team that's already under .500 and trying to get their postseason mojo back after losing Prince Fielder to free agency and trying to escape Ryan Braun's cheatery scandal.
The problem here isn't so much that these guys are integral parts to the Milwaukee offense; Gomez was an above-average player, while Gamel and Gonzalez were giving the Brewers replacement-level production. Nor was it that they had any particular upside as the season went on. The real hurdle to their absences, especially a season-ending injury like Gamel's and Gonzalez's, is that the players replacing them are indicative of Milwaukee's lack of depth. Two punchless hitters in SS Cesar Izturis and 1B Travis Ishikawa are now the starters, and an under-achieving OF Nyjer Morgan is replacing a cresting Carlos Gomez. Sure, Gamel, Gonzalez and Gomez weren't All-Stars or highly productive hitters, but at least they were
decent
, rather than the below replacement-level stink performed by their understudies. All in all, a devastating week for Milwaukee.
Fantasy Spin:
None of these three are worth even holding on your DL spot, unless you're in a very deep mixed league or NL-only league (in both Gonzalez's and Gamel's situation, they're a must-drop for everyone). Their replacements aren't worth picking up either, so if you owned anyone that I just talked about, you're pretty much screwed. Sorry.
RP Huston Street, SP Cory Luebke
San Diego Padres
Like the Brew Crew, an awful week for the San Diego Padres. Almost already out of the race for the NL West at 9-20, the Padres just lost their best starting pitcher to potentially a season-ending Tommy John surgery (not confirmed yet), and their injury-prone closer to a strained lat muscle. It's not so much the on-field performance for both of those guys, but rather how they fit into the Padres future plans.
Fantasy Spin:
Word is that the human machine-gun Andrew Cashner is the trendy pick for the closer's role, so if you're in a league of any respectable activity, he'll already be gone at this point. Luke Gregerson might be a guy to hold onto just to make sure Cashner can hold down the role. Street should be back at some point this season before the trade deadline, so it's probably smart to hang onto Cashner until July.
If Luebke indeed does need reconstructive surgery on his elbow, then Jeff Suppan, the Chelsea Handler Award winner for "Annoying Thing That Wont' Die", would be his replacement. Suppan's worth watching, just in that he's mediocre and will greatly benefit from pitching in the cavernous Petco Park.
RP Mariano Rivera, New York Yankees
(Out of respect for the greatest relief pitcher of all-time, I'll refrain from the jokes)
Even as a mostly non-emotional Yankees-sympathizer, it hurt my heart to see Mo go down like that. David Robertson and Rafael Soriano are very capable of closing games, but there's nothing that can really replicate the sense of security behind every Yankees player that when the 9th inning came with a lead. The fact that every player on the team seemed to be shocked that a 42 year-old went down with an injury (if this happened to Jamie Moyer, is anyone surprised?) is completely indicative of how his teammates viewed him; a invincible iron man who they had the utmost confidence in. Robertson is supposedly getting the call to finish games, but New York definitely got worse this week.
Fantasy Spin:
As I said, Robertson is getting tapped by Girardi to fill Mo's shoes, but the variable here is that Soriano has a lot of experience closing, especially in the AL East. Yes, Robertson might be the guy for now, but perhaps not for long. Think about picking up Soriano just as a handcuff move.
3B Pablo Sandoval, San Francisco Giants
Fantasy Spin:
3B prospect Brett Pill has taken most of the ABs from Sandoval in his absence, and has filled in rather admirably. Pill has 9 hits in 30 at bats, with 4 of them for extra bases. He's worth monitoring, but like Sandoval, will have his actual fantasy value hampered by the impotent Giants' offense.
3B Kevin Youkilis, Boston Red Sox
Fantasy Spin:
Middlebrooks is one of Boston's hottest young prospects, so keep an eye on him for now. After 2 games he's looking like more than just a competent replacement for Youk.
3B Evan Longoria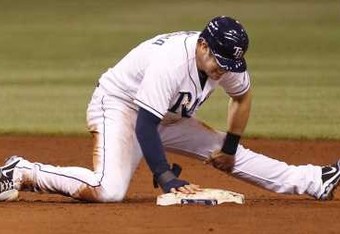 Man, if I really cared about any of these guys (or owned any of these players in fantasy), this would be getting super depressing. Thankfully, I'm happy to be writing heart pain-free.
Longo went on the DL this week with a partially torn left hamstring, and will be out 4 to 8 weeks. The Rays have gone 3-2 in his absence so far, but against two-division bottom feeders in Seattle and Oakland. Looking to May, the Rays have 3 games against the Yanks, 5 against the Red Sox, 5 against the Blue Jays, 3 against the White Sox, 3 against the Braves and 3 against the DIVISION LEADING Baltimore Orioles. Combined with the fact that Longoria is a top-5 player in the league, the Rays are definitely going to miss his bat, defense and on-field leadership.
Fantasy Spin:
A torn hamstring, no matter what the severity, could be an injury that could haunt Longoria all season. Obviously in any league, you hang onto him, but let me throw this curveball -- this might be a time to sell-low. His contributions are going to be a month or two out, and even when he comes back, I wouldn't bet on him playing like he was before his DL stint. If you're aiming to win your league
this year
, maybe you trade Longo before he comes back and under-performs.
OF Jayson Werth, Washington Nationals
Late on Sunday, the Nats' big money man broke his left wrist on an fly ball play in the outfield. That same left wrist was the one that nearly ended Werth's career after getting it shattered multiple times with the Dodgers 5 years ago. It took him nearly 2 1/2 years to regain his stroke at the plate and fulfilling his once promising prospects as being one of the elite outfielders in the game. Now in his early thirties, we're looking at another lengthy rehab process for a guy who's massive swing won't do any favors in terms of torque on his wrists. I wouldn't count on him coming back this season, and I have serious concerns about him ever being a truly effective player in the league again. That's how serious this is.
Even though he wasn't back at his Philadelphia levels of production, Werth was rounding back into shape for a Washington team that looked more and more like a legitimate contender for the NL East. Washington still has Bryce Harper, Rick Ankiel and Roger Bernadina manning the outfield for now, but a returning Michael Morse will reduce everyone's playing time. A big blow to a fresh new team in the NL.
Fantasy Spin:
I'd drop Werth immediately at this point. If Morse is available, I'd pick him up to fill a DL spot, as he'll be back at the beginning of June. The good news for Harper owners is that the LeBron of MLB will remain on the Nats roster for most likely the rest of the season, performance pending.