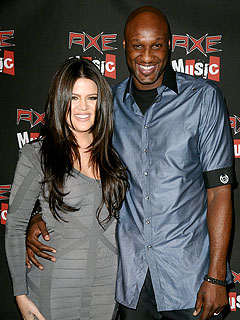 Word today was that Lamar Odom and his wife were cancelling their show,"Khloe & Lamar," on E! so that he could focus on resurrect his basketball career next season. Their publicist rebutted the cancellation later, but I really hope she's just trying to get them to reconsider. I think Odom deserves some time out of the spotlight to gather his thoughts and reconstruct his life, not just his playing career. He's always been a favorite of mine, despite being an erratic on-court product. He's a brilliant basketball player as well as a genuinely good person with an infectious smile. But the amount of speculation and media coverage directed at Lamar, both through his reality show and disastrous NBA season, would be enough to break most men, much less men that had been through as much personal tragedy and professional turmoil as Lamar.
A Brief History of Lamar Odom
Lamar Odom is and always will fit the archetype of the underachieving NBA megatalent. Although his two championships in Lakerland will help absolve him partially for his on the court performance, he never managed to win with Kobe until Pau came into town to take over the role of second option. Lamar was never meant to be the Pippen on a championship team, despite what his prodigious talent and Magic-like 6'9" frame might have suggested about his potential. The simple fact is that the Lakers were a much better team when he was a 6th man who could corral the bench as its playmaker or fill in for Pau/Andrew if they were hurt or in foul trouble rather than its workhorse. That way he could tantalize with his talent from time to time and take over the occasional game. Regardless of what happened on the court, he was the emotional core of the team, the guy who set the locker room at ease, and a true friend to his teammates.
My brother and I agree on Lamar Odom. There's no one we enjoy watching more than a round of inspired play from LO, it's a thing of aesthetic beauty. While discussing the maddening inconsistency of LO, he wrote in an email:
With a near impossible skill set, radiating charisma, and hustle that every coach begs for, Odom can manage to be the most engaging player on a court also including Kobe Bean Bryant, no small feat.

But even in the best of times, Lamar "Coast-to-Coast" Odom had faltering moments, possessions that escape his outstretched arms and assignments blown by careless mistakes. There were games where I questioned if his spirit had been taken by aliens in an intergalactic duel straight out of Space Jam, only to have him reawaken at the end of the game with a monster putback. A study in contrast, Odom, within the course of a single game, could go from the most valuable player on the roster to the lowest on the totem pole. I never minded his errors, never judged his lapses of reason. Give him a quarter, or a game to wind down, sort it all out, and he'd be right back to top form.
FreeDarko's superb
visualization of Odom
In many ways, it's incredible how much Lamar Odom has accomplished with the amount of tragedy he's had to endure. Growing up in Queens, he had an incredibly rough childhood. His mother died of cancer when he was 12 and his father was a heroin junkie, leaving his grandmother Mildred to raise him. She passed away when he was only 20. Odom's 6 ½ month old son Jayden died of sudden infant death syndrome in 2006. This off-season, he was a passenger in a car that killed a 15 year old boy and lost a close cousin as well. He was so shaken up by these recent proceedings that he reportedly considered retirement in the off-season before preparing to return to training camp with his other family, the Los Angeles Lakers.
A Hellish Season
But training camp wasn't a return to normalcy for Lamar and he never reported for duty in LA. Days before, the Lakers had attempted to trade the reigning 6th Manof the Year for Chris Paul, but the NBA had (illegitimately) nixed the deal for nebulous "basketball reasons" and set off an ugly sequence of events. Lamar was crestfallen and responded with great pain, as if he'd been betrayed by his family. He said, "Man, I'm just in total disbelief about all of this. They don't want my services, for whatever reason. I don't know what I'm supposed to do. I was proud to be a Laker, so I'll try to help them in the process as much as possible." Lamar changed his mind about helping and demanded a trade, but Kupchak insisted he rethink his request. After Lamar's agent told him the next day that wouldn't happen, the Lakers traded Odom to the Mavericks, who were his preferred destination, for next to nothing and certainly less than his market value (a conditional first-rounder and a trade exception). All of the sudden, Lamar Odom's tenure as a Laker was over. I knew it wasn't going to go well for him there – it was a huge change in a time of turmoil that was accompanied by a lot of pressure.
Dallas even tried to demote Lamar
to the D-League this season
Dallas had its own problems to deal with and no time to wait for LO to come around. They had let J.J. Barea, Caron Butler, DeShawn Stevenson, and, most importantly, Tyson Chandler walk in its title defense, attempting to replace them with Lamar Odom, Delonte West, Ian Mahinmi, and a graying Vince Carter. They needed him at a championship level, but Lamar couldn't deliver. A notoriously slow starter hampered by a reduced training camp, Lamar limped out of the gate averaging less than 5 points/rebounds and shooting in the teens. Despite a few good games here and there, it was clear that Lamar's head was not in the right place and he eventually took a few games off for undisclosed personal reasons. The Mavericks are one of basketball's best organizations and have a great locker room, but they couldn't find a way to help Lamar and eventually had to give up on him. They deactivated him for the season in early April and are a virtual lock to decline their team option for next year. This chapter of Lamar's career is over as quickly as it started and Dallas is left to fend off OKC without him.
Downfall
A lot of people have second-guessed Lamar Odom this season and thrown their hands up at his trade request or his inability to throw a ball into a hoop for the privilege of getting paid millions of dollars. I'm not angry at Lamar though; instead, I find myself sad he couldn't pull through. Sad that an unfortunate string of events resulted in him being dumped unceremoniously. More than anything, I'm sad that I'm sure Lamar would have liked nothing more than to get his life in order and contribute to the Mavericks this season, but he couldn't. As the incredible Rob Mahoney wrote (and Nietzsche before him), "Odom has had a rough run-in life, and certainly of late-[and] a man can only peer through darkness for so long before it starts to take him."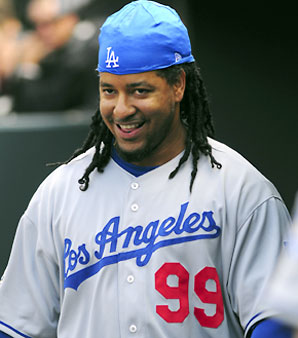 Sports indoctrinate us from Day 1 into the honor of persevering, of following through for pride even after the game is out of hand or the playoffs are of question. From LeBron's playoff struggles to Manny Ramirez giving up on the Red Sox, there is no dirtier word in sports than "quitter." Unfortunately for Lamar apologists, our boy unequivocally quit and got the scarlet letter. He violated the primary ethos of sports when he quit on himself and he quit on his team. But I'd like to make a distinction. I think Lamar Odom failed more than he quit. He didn't quit over pride, a disagreement with the organization, or because he was stubborn. He failed to rise to the occasion because he succumbed to the darkness. He wasn't strong enough to overcome the personal trauma and change in professional circumstances, so he folded up like a pretzel. We expect our athletes to be dominant, fearless, and have a killer instinct. We want them to be borderline inhuman. But most of the time, they're more Vince Carter than Michael Jordan. As fans, we know what we would do to make the $8.9M that Lamar Odom made this year and can't fathom what could prevent these 7 foot gladiators from doing the same and doing it with the intensity that we think the game deserves.

Having observed the sports community watch warily as Delonte West, Vin Baker, and Ron Artest battled mental illness, I was unsurprised to see most of the sports coverage focus on the basketball consequences and not the mental health implications, but those matter here too (and were actually covered by celebrity gossip outlets gauging by a few quick Google searches). If Lamar was really battling depression, it's an issue he'll need to address before making any type of return. I hope Lamar Odom figures it out and is able to become whole again, both as a person and an NBA player. His tremendous assets on the court haven't gone anywhere -- he's still 6'10" with an unbelievable basketball IQ -- but he's going to have to find himself off of it first and would do well to start seeing both a personal and sports psychologist. If the head isn't willing, the body never will be. As a Lakers fan, I'd love nothing more than to see him reunite with the band once again to make a few more playoff runs, even if his days as a major contributor or 6th Man of the Year are over.
Who knows where Lamar will end up, but he'll always be one of my favorite Lakers. Whenever I think of him, I'll definitely remember the inconsistencies, the missed layups, and the untapped potential. But more than that, I'll see his unbelievable court vision lead to pinpoint passes, huge rebounds, and swooping drives to the lane for an easy bucket. I'll never forget Lamar's 28 point, 17 rebound masterpiece to help a flu-ridden Kobe hand the Cavs their only defeat at home in 2009, a game that primed our title run. Or that the way that his devotion to the team led him to graciously take on a 6th man role and a more flexible contract in his prime. Or that the purple and gold won two championships with the Candyman. Good luck Lamar and take care of yourself. We saw when you chose to wear a Lakers shirt as you left Dallas for the last time. In case you're wondering, if you get your house in order, we'd love to see you back in Lakerland. I'll bring the Skittles.