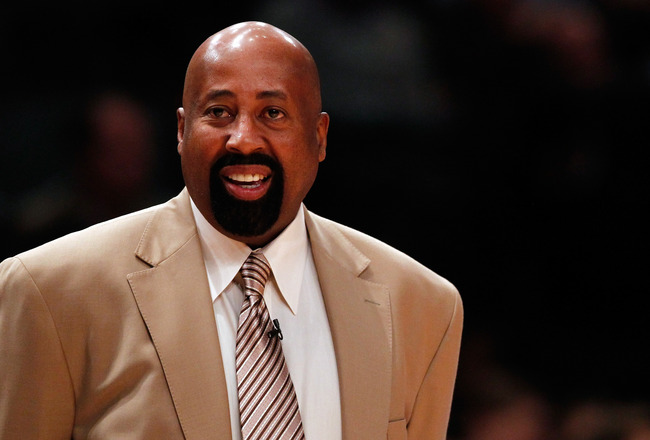 It's been a full 8 days since my last post on The Great Mambino.
Some
None of you were wondering what the hell I've been doing since last week, so we'll move on from that.
Earlier this week, the outlets reported that The Straight Shot was ready to give interim coach Mike Woodson a permanent position leading YOUR New York Knickerbockers in the 2012-13 NBA season and beyond. After rumors swirled regarding the possible hires of notable names such as Phil Jackson, John Calipari, and more recently, Stan Van Gundy, the Knicks have reportedly decided to reward The Sharpie Goatee with this job.
Was this the right move?
I know more than just a few fellow fans who aren't gung-ho about the hire. I disagree with them, and think that Woodson is the right man for the job, but let's delve into why some card-carrying members of Bocker Nation aren't exactly thrilled:
1. Phil Jackson is still alive.
The Zen Master is widely known as one of, if not the, greatest basketball coach that ever lived. His X and O game is on point with the triangle offense. He is unquestionably one of the best at getting grown men to stand in line and contribute to the concept of shared sacrifice. And he's got the bling to back it up, with MORE than a championship ring PER FINGER as a head coach.
Many fans are puzzled over the organization's failure to even reach out to Jackson --
ESPN
cites a "team source" in reporting that NYK did not contact him. And while I always hesitate to defame The Worldwide Leader, we can't possibly take this as this-definitely-happened truth, right? Jimmy Dolan rarely speaks to the media, and when he does, the man doesn't answer questions (
admittedly, kinda baller
). He makes a statement and moves on. So how can we say that Dolan
didn't
reach out to Jackson and was simply rebuffed?
Time's running out on that 15 minutes, sweetheart.
Earlier this month,
Ian O'Connor
cited -- guess what? -- a "league source" who said that Jackson "doesn't like Carmelo Anthony's game at all, and that he isn't a big fan of [Amar'e] Stoudemire's game, either." So if we were to take O'Connor's source into consideration, then it would make sense that nothing has been leaked about the Knicks contacting Jackson. It would be in tune with both parties' interests: the Knicks would clearly not want the public (
or Woodson
) to know that Phil is not up for it, and Phil, a huge part of basketball tradition at the Garden as a member of the only two title teams, wouldn't bend over to badmouth the franchise.
Before we create more stress lines on our foreheads, let's realize that Phil Jackson wasn't necessarily in play...at all. Woodson, on the other hand, has basically been saying "here's my number, so call me maybe" to Dolan ever since he signed on to be the team's lead assistant coach last offseason. Can't drag the guy through the mud by making a public chase for Phil Jackson, and then come back to the safety net if/when Jackson decided to pass. INCLUDING the Miami series, Woodson went 19-10 as the head guy, and he deserves this job.
2. Woodson failed to make timely adjustments against Miami.
I have destroyed former head coach Mike D'Antoni in this space plenty of times before. One of the many reasons my ire has been directed to the
M
ustachioed
D
efense-
A
verse one was his stubbornness to stick to a spacing offense on a team missing the personnel to make it work, his stubbornness to keep defense off of his priorities list, and his stubbornness in opposing gay marriage. Okay, I made that last one up, but you get the picture: dude stuck to his guns and didn't care what we thought, as his team lost game after game after game.
Woodson didn't get A+ marks in this area either. His most egregious mistake was not running ANY plays for Steve Novak, the best 3 point shooter in the game. While Woody's insistence on having his offense go through his superstars was a refreshing change from the MDA "Shoot It" era, Novak was a weapon that wasn't really unleashed on the Miami Heat. Of course, credit is due to the uber-athletic wing defenders on the Heat, who put more pressure on Novak than a Diet Coke bottle after you slip a Mentos candy inside.
More obvious was the Hero Ball strategy that Woodson allowed Anthony to repeatedly employ, even against all-world defender LeBron James. Many times it looked as if the Knicks were going one-on-five. Not exactly aesthetically-pleasing basketball, and Melo had to shoot the lights out in order to win this way.
But can we chalk up the inferior offensive sets to the fact that Woodson never had a chance to implement his stuff? This year the NBA put together a condensed season that was universally hated by players and coaches alike. Additionally, there was absolutely no way that MDA allowed Woodson to make valuable contributions to the offense. We really don't have a choice but to give Woodson a full training camp before we beat him down. Just two seasons ago, the Sharpie-led Hawks finished 3rd in offensive efficiency. If next season doesn't work out, then it's fine to complain.
3. The defensive turnaround was more a result of Carmelo Anthony realizing he doesn't have a vagina.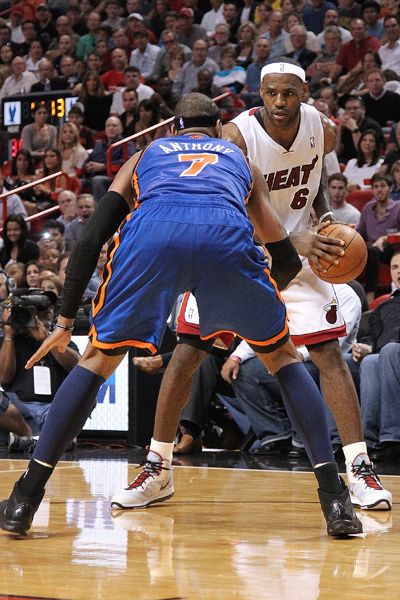 Speaking of efficiency, Woodson's Atlanta teams never finished in the top 10 in that particular metric, defense-wise. He is also a fan of switching assignments on defense whenever the opposition employs a screen. But to his credit, after he took over, we NEVER saw Tyson Chandler switching with Baron Davis. Those point guard-center switches, therefore, were a direction from MDA.
Is Woodson the defensive genius that the Knicks hired to "help" D'Antoni? Probably not. However, the Knicks were a different team on that side of the ball once he took over. Anthony stopped being lazy on defense and actually committed to being the stopper we all knew he could be. If you injected truth serum into me, I would likely admit that the change in defense came more from an attitudinal shift than from a revamped defensive philosophy. But we're forgetting something here:
Carmelo Anthony played defense for Mike Woodson! He's a jerk that I hate to root for sometimes, but I cheer for the name on the front of the jersey, not the back. If Melo likes Woody enough to participate as a two-way player, then begrudgingly, it has to be good enough for me.
__________