As anyone who's ever watched an NBA game can attest, ink is a popular past time for players in L. While it's hard to replace Reggie Miller's stomach tattoo, which is just waiting to be accompanied by a pierced belly button, or Starbury's Tyson-esque face too, there is currently a lot of tattooed talent in the NBA today. Inspired by Jason Terry's
brand new Celtics championship tattoo
, which is clearly a desperate attempt to recreate the Larry O'Brien trophy tat that predicted a Mavericks title, we at GREAT MAMBINO decided to create an inaugural All-NBA Tattoo Power Rankings.
While diving into the various ink acquired around the league, there were a lot of commonalities and trends. Hands down, the most common tattoos feature a basketball – sometimes being played with by an angel, being set on fire, or accompanied by one's roots (like home state or family members). NBA players are also a surprisingly sentimental group, with many tattoos serving in memory of close friends and loved ones. When it comes to sleeves, there are too many guys with complete ones to sort through, so we'll move on.
Examining the tattoos of the various NBA players was kind of a nostalgic exercise. Who doesn't remember where they were the first time they saw DeShawn Stevenson's Abraham Lincoln neck tattoo or like to crack jokes at K-Mart's neck tattoo? Although we all love strolling down memory lane, it's time to get down to it. What are the top 10 most aggressive tattoos in the NBA?
1. Marquis Daniels
"
Only the Strong Survive
." With as much ink as there is in the NBA, it was surprising how quickly (and convincingly) Marquis Daniels eliminated the competition. However, a tattoo this morbid and graphic, depicting a man shooting himself in the face with a shotgun by pulling the trigger with his toe, really had no peers. Congratulations, Marquis!
2. Al Harrington
"
Lifted by an Angel
." Al Harrington had a nice little resurgence this season in the NBA and it's nice to see that his ink has kept up with his play on the court. His bizarre tattoo of himself with a cape being lifted by an angel is either so meta that it goes above the heads of us mere mortals or is completely insane.
3. Kenyon Martin
"
Kissed by a Rose on the Neck.
" In an ode to a classic that has haunted the league for years, we have to give K-Mart the proper respect. It takes a certain kind of man to have the kind of self confidence required to get a big set of lip marks on their neck in a place where they'll be seen for the rest of their lives. And K-Mart is that kind of man.
4. DeShawn Stevenson
"
Abe Lincoln.
" Another all-time classic and one of the most inexplicable tattoos in the League, DeShawn decided to commemorate the Great Emancipator, our nation's 16th president. DeShawn's
infamous P tattoo on his face
merits honorable mention consideration, but we decided in favor of Abe Lincoln as his most deserving ink. Stay crazy, Mr. Stevenson.
5. AK-47
"
Wings of a Freak.
" Accompanying the already frightening and bird-like features of Andre Kirilenko is a tough task, but this back tattoo certainly seems to do the trick. Is it a dragon? A run of the mill flying lizard? Or something more sinister entirely? We're not sure but it's certainly one of our favorite pieces of ink flying around the league.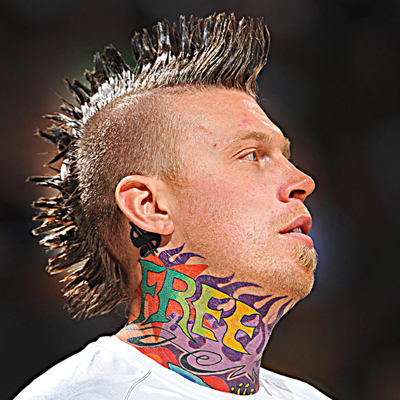 6. Chris Andersen
"
Freebird's Neck
.
" Perhaps the most completionist tattoo fan in the League, Chris "Birdman" Andersen's multi-colored celebration of both his nickname and the anthemic Skynyrd tune. It was inevitable that we'd see an entry from the Birdman, but this neck tattoo takes the cake. With that much color and completeness on his neck, this was also probably among the more painful tattoos to get as well.
7. Michael Beasley
"
Supercool Beas.
" This infamous Michael Beasley picture not only introduced the world to the non-sensical concept of Supercool Beas, but served as yet another confirmation that Beas couldn't keep away from the, erm, scooby snacks and kept violating the NBA's substance abuse policy. No one has ever accused Beasley of being the most cerebral of NBA players, but tweeting out a picture of your stash is low even by his standards.
8. Shawn Marion
"
Demon Bird Mothballs.
" A fan favorite for it's complete lack of accuracy, Shawn Marion attempted to get his nickname, the Matrix, tattooed onto his leg, but didn't get the translation double-checked. Instead, it reportedly translates to "Demon Bird Mothballs". Smooth move, Marion.
9. Gilbert Arenas
"
The Catface.
" Assuming Gilbert Arenas manages to stick around the league for a few more years, this tattoo will remain among the best. One of the most enigmatic players should naturally have his share of crazy tattoos, and Gilbert doesn't disappoint. In addition to his impressive catface abdomen, Gilbert got a
tattoo in honor of Obama's election along his knuckles
, and will also make an appearance in the family appreciation section of the list.
10. J.R. Smith
"
Young Money
." Another bold entrant in the neck tattoo continuum, J.R. Smith doesn't disappointed with his neck's doubleheader, featuring both a Young Money and a multicolored Swish tattoo. Never change J.R., never change.
Family Appreciation Division
Among family tattoos, Monta Ellis (left) is the tops with his
literal family tree,
complete with faces. Unsurprisingly, he and Gilbert Arenas
apparently had the same idea
. Similarly, Jordan Farmar has a spectacularly tacky tattoo of him and his sister
walking into the sunset with a basketball
. In addition, both
J.R. Smith
and
Glen Davis
are apparently Momma's Boys.
Youthful Indiscretions
Richard Jefferson's RJ looks like it was designed by a
particularly talented second grader
and is a perennial favorite in the Indiscretions Division. Mike Bibby's "
Only God Can Judge Me
" seems a little defensive, as does Shannon Brown's "
I Am Me, But God is my Judge
." Along those lines, JaVale McGee's
fingerstache tattoo
seems like it has the shelf life of approximately how long it took to get the tattoo in the first place. Mo Williams has chosen
a lifetime of Mr. Peanut on his arm
, but the peanut endorsement dollars never came in. Our last runner-up, Jameer Nelson,
thinks he's 2Pac.
Most Ironic
Although LeBron's
Chosen One tattoo
is no longer quite as silly after he's become the undisputed best player on the planet, we'll still take exception to the validity of a "
Loyalty
" tattoo. Not unless that's about your country, LeBron, and thanks again for your exceptional play this summer.
Dungeons and Dragons Fanclub
Fans of elves and darkness, rejoice, for the NBA has fans among you as well. Tim Duncan's more traditional
wizard
is accompanied by Cory Maggette's
wizard of the basketball playing variety
.
Best Play on a Name
Rajon Rondo (left) has a
pretty incredible play on the Rolls Royce
logo and deserves some credit for his creativity with his initials. Joining him is Darrell Arthur, who has a fantastic
King Arthur-inspired back tattoo
that is also the stuff of legends. These are some great pieces of work.
Most Intriguing
Anybody who enjoyed watching the Warriors' miracle run in 2007 will probably get a kick out of
Matt Barnes' fantastic neck tattoo
in honor of the "We Believe" team. Paul George has a very interesting chess-themed arm
tattoo that proclaims his desire to be crowned king
. Good luck taking down LeBron, Paul.
Up and Comers
As the league grows the sport, we here at GREAT MAMBINO hope they also continue to grow collection of ink as well. Looking at the rookie class, there are already a few likely torchbearers. Damien Lillard already has an entire psalm
written on his arm
and Austin Rivers has
MOAM (Man on a Mission) tattooed on his wrist
. Carry the torch proudly, young rookies.