(KOBEsh: Presented here is the maiden post from MAMBINO contributor and soon-to-be media darling The King. Our newest correspondent comes to us by way of New Hampshire, where as a kid he had access to a handful of channels, including FOX and TBS. Thus, his allegiances are a strange brew of the Atlanta Braves, Dallas Cowboys and Boston Celtics. He is known around the Boston area for being the kid who would attempt (and fail) any eating challenge in the Boston College cafeteria, and is still the only man to nearly paralyze himself doing pull-ups in the D train on the Boston T)
Parker, shocked at BK leaving him off the roster
BockerKnocker, I feel bad for you man. After publishing your post on the 2012 NBA all-stars, you must be more embarrassed than Christina Aguilera was at Etta James' funeral. I thought you knew basketball, but leaving MVP candidate Tony Parker off your Western Conference All-Star roster exposed who you truly are. You are just like too many other NBA fans who do not give Tony Parker the respect he so deserves. The fact is, Tony Parker is an elite NBA point guard and one of the most underrated players in the National Basketball Association. Here's why:
Winning – Simply put, Tony Parker is a winner. Post season success? He's the only player in the NBA under 30 years old who has three championship rings. Regular season dominance? Going into his eleventh year, he's never been on a team that's won less than 50 games. It's not as if he's just benefited from playing with star players Derek Fisher-style either. Excluding his rookie year, he's been a top-three player for the Spurs every season. The ultimate goal of basketball is to win and few in the league have done that more than Tony Parker. It's too bad people don't necessarily remember that when discussing the best point guards in the NBA.
Sacrifice- Every sportswriter and announcer claims that sacrificing personal numbers is a vital characteristic of winning players, but it's all lip service. The fact is, unless you are an established NBA superstar well into his career (e.g. the 2007-2008 Celtics), sacrifice is not recognized. Nobody is better proof of this than Tony Parker. The Spurs PG has routinely sacrificed his own numbers in the pursuit of the ultimate goal – winning. As discussed above, he's been pretty successful at that. Yet, despite the Spurs success, people don't praise Tony Parker for the sacrifices he has made. They criticize him for the lack of numbers he puts up and claim that he's a tier below the NBA's elite point guards.
Look at what he's done when he didn't have two other elite players he had to share the ball with and you can see that this is complete crap. He put up 22.0 points-per-game and made All-NBA 3rd team during the 2008-2009 season in which Manu Ginobili missed 38 games (Dwayne Wade, Chris Paul and Brandon Roy each had career years that season or he would have made second team). He absolutely dominated the Dallas Mavericks during the playoffs that year – scoring 28.6 PPG while shooting 54.6% from the field – despite having only one legitimate NBA playoff-caliber starter on his team (Tim Duncan). With Manu playing less than 200 minutes so far this season, Tony Parker is a top-3 NBA MVP candidate leading a mediocre roster to a 24-10 record, good for second place in the deep Western Conference (and calling the Spurs non-Parker roster mediocre is Mother Theresa-like generous – did you see how the Spurs did when they rested Parker and Duncan against Portland before the all-star break?) When he's playing with two other stars, Parker sacrifices himself for the good of the team. When one of them is injured and he has to pick up the load, he plays like an NBA superstar. If that type player isn't elite, I don't know who is.

Plays Well When You Need Him To- Truly elite players such as Tony Parker step up their game when it matters the most – during the playoffs and when injuries or when a lack of talent on their roster require them to pick up more of the load. I've already discussed Parker's ability to elevate his game when one of his teammates goes down with an injury. As for the playoffs? Tony Parker has been one of the top playoff performers over the last six seasons. He steps up his game come playoff time and has had some absolutely stellar performances including his 2007 NBA performance which earned him the Finals MVP award (24.5 PPG on 56.8% shooting, including 57.1% from 3-Point range.) In his last six playoff seasons (71 games), he's averaged 21.2 PPG, higher than his regular season average. When the Spurs need him most, Tony Parker performs. I will concede that he had his ups and downs during his first four years in the league, but that's what happens when you're playing a major role on a championship contender while your peers are throwing down some Natty Ices in college or sitting at home for their lottery-bound teams. Since reaching the still young age of 23, few players have performed better in the playoffs than Tony Parker.
Current Point Guards – Another reason why Parker doesn't always get the recognition he deserves is that there is a lot of good point guards in the league right now. Some of those point guards are certainly better than Tony Parker such as Derrick Rose and Chris Paul (though it should be noted that Parker has badly outplayed Paul over the last two years). Others such as Rajon Rondo and Russell Westbrook get more attention than Parker because they are flashier or have more jaw-dropping athleticism. The fact is, while both of these point guards have the potential to be better than Parker one day, neither of them currently are despite popular opinion. Don't believe me? Compare Westbrook and Parker. In five head-to-head games over the last two seasons, Parker has dominated Westbrook as evidenced by the statistics below.
Parker – 21.0 PPG, 58.3% TS%, 7.3 APG, 3.8 RPG, 1.5 STL, 0.3 BLK, and 1.5 TOV
Westbrook – 14.5 PPG, 45.7% TS%, 5.3 APG, 4.3 RPG, 1.3 STL, 1.0 BLK, and 3.3 TOV
But OKC made it to the Western Conference finals last year and have a better record this year you say. While that's true, this has nothing to do with Westbrook and Parker. OKC's roster is top-to-bottom is far superior to the Spurs' roster. If Westbrook had taken advantage of this and sacrificed his own shot attempts for the good of the team, just as Parker has done his whole career, Oklahoma City may have won the Western Conference last year. Actually, if you had replaced Westbrook with Parker for last year's playoffs, I'm not positive that Dallas ends up winning the championship. If I'm OKC and I had the choice between one of these two guards for this year (and this year only, so forgetting age and upside), I may be picking Tony Parker over Russell Westbrook.
Small Market – Everybody knows that your reputation is largely affected by the size of the market you play in. The Spurs have the fourth best record in the NBA and Tony Parker has had some ridiculous games. Yet, no one talks about Parker or the Spurs because they play in such a small market. Playing with Tim Duncan also doesn't help as what little attention is paid to the Spurs is usually focused on Tim Dunacn (and deservedly so).
Perception – Certain unique circumstances and situations have resulted in a perception of Tony Parker that is far from reality. These circumstances and situations include:
Joined a Winning Team – Many stars reputations are built when they turnaround non-playoff teams. As the 28th overall pick, Tony Parker joined one of the best teams in the NBA, so he never had a chance to build his reputation by turning around a non-contender. He should get credit for helping the Spurs remain an elite team when stars such as David Robinson retired, but unfortunately that's not necessarily how most NBA fans think. It's a shame because if you replaced Tony Parker with a league average PG, I'm not sure the 08-09 or this year's Spurs teams make the playoffs.
Trade Rumors – Tony Parker has been the subject of two major trade rumors – the sign and trade with Jason Kidd in 2003 and the trade rumors of the past year. Usually elite players aren't the subject of trade rumors, so this has affected the perceptions about him. However, when you really dig into the trade rumors, it makes sense why his name was floating around the rumor mill. The Spurs were in win-now mode in 2003 so it made sense for them to trade for Jason Kidd, a point guard in his prime, even if it meant giving up a potential star. Who knew back then that the Spurs title window was going to be open for so long?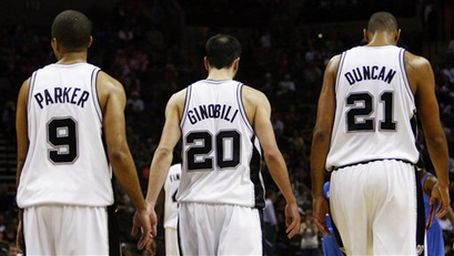 That was certainly not the case this past summer when there were many trade rumors going around about Tony Parker. With that said, you have to be aware of a) why the Spurs would consider trading Parker and b) what actually happened. Specifically, everybody knows the Spurs have, outside of Parker, two rapidly aging stars (Duncan and Ginobili) and a bunch of other crap. Their title window may not be closed yet (because of Tony Parker's brilliance), but it's not going to be open much longer. It make sense to try and trade your star now and start rebuilding for the future, particularly given the lack of young-impact talent on the team. Furthermore, it's important to note that the player that was actually traded was George Hill (Parker's heir apparent), not Tony Parker. Why is that? It's because Tony Parker is an elite player and it's near impossible to trade a star for full value.
If Tony Parker had been drafted by some crappy, large market team, he would likely have a few more All-Star appearance under his belt and be mentioned in the same breath as the league's other elite point guards. Instead, Tony Parker's Hall of Fame career continues to be underappreciated by the majority of NBA fans. I'm not sure how much more he can do, but hopefully a few solid years from Parker in the post-Duncan era will help fans finally recognize how great he truly is.