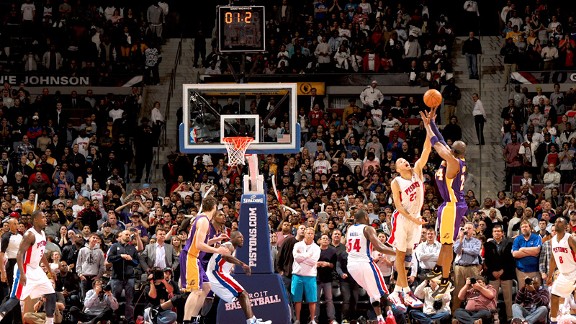 The only good part of the Lakers' week
Statistically, Derek Jeter had a great 2010 season for a shortstop. 111 runs scored, 67 RBI, 10 homers, 18 stolen bases and a low, but respectable .270 batting average. But the reality was that anyone that watched Derek Jeter in 2010 would tell you that it was the Captain's worst year of his career. He hit a career-low .270 to go along with a .710 OPS (barely league average), and lacked the dynamic flare on the field that was always buoyed by his world-famous competitiveness. Whether it was age catching up with him, or it was just a player, even one of Jeter's immense stature and reputation, having a down year, DJ knew that he had to change in order to stay relevant in a league that he had for so long lorded over.
When the 2011 season started, much talk was made of how Jeter had tinkered with his swing in the offseason. Rather than the inside-out swing that helped the Yanks get to number 27, his motion became longer, the circumference of his bat movement wider and his stride almost non-existent. Both the coaching staff and Jeter thought that this would the Captain improve with age, relying on mechanics and his hitter's guile rather than the quickness and explosion that had helped him become one of the greatest ever to play the game. While a simple swing of the bat doesn't seem like a major change, even minor adjustments in a hitter's mechanics can be just as drastic as say, changing a team's coach or making a huge in-season trade. It's monumental. Could be, anyway.
Well, it didn't work. DJ ended up on the 15-day disabled list in June, only after hitting a meager .260 with a .649 OPS. He came back in July, dropping a winter's worth of hard work and adjustment, and went back to the swing that made him the Yankees all-time hit leader. And, impressively, it worked. Though certainly not the player he was for the majority of his career, Jeter bounced back to a massive second half, raising his batting average to .297 and his OPS to .743.
Sometimes adjustments back to form work, like Derek Jeter. He realized a weakness, tried to change it and realized that perhaps that wasn't the answer to begin with. Perhaps a refocused, back-to-basics approach would be the only solution to his declining production. He was right, but this methodology isn't always the correct solution.
After Finals collapse to the underdog Detroit Pistons, the Los Angeles Lakers in 2004 decided that the Phil Jackson era was over, that the triangle offense was a antiquated method to construct and operate a basketball team. New coach Rudy Tomjanovich was brought in to lead Kobe Bryant's team, sans Shaquille O'Neal, Rick Fox and Derek Fisher, and forge a new direction for the Lakers.
It didn't work. Halfway through the season, Tomjanovich quit, citing that the stress of the job had brought on health issues, and Jackson assistant coach Frank Hamblen was brought back to implement the triangle offense, to little success. The Lakers missed the playoffs for the first time in over a decade and it was the only time in the past 12 seasons Kobe didn't get a single MVP vote. Hamblen's interim coaching stint turned out to be a prelude to Phil Jackson's return, which was hugely successful, but only if you consider three more NBA Finals and win two more titles success.
That was the smarmiest thing I might have ever said about the Lakers, but I'm coping with a rough sports week. Let me be.
So here we are with these Los Angeles Lakers. Last year's team needed change, though perhaps not the overhaul that the front office implemented, in order to compete going forward. Defensive guru Mike Brown was brought in, as well as a host of new players, each with questions, but hopefully upside to match.
It's March 9th and the Lakers are coming off of two devastating losses, each of which they led by 15 plus points. As if that wasn't enough, the two teams thought to be under Kobe's massive boot were the Detroit Pistons and the Washington Wizards, whose pedestrian records don't even properly illustrate the stunted development that these bottom feeding teams have been going through rebuilding the past few years.
The Lakers were pasted with two back-to-back losses, only days after handily, and stunningly, dealing the Miami Heat a loss in LA. Standing alone, losses to two lottery-bound teams like the Pistons and Wiz is an embarrassing enough blow for a team like the Lakers with championship dreams. However, out of Wednesday's second loss in a row, statements are surfacing saying that the team is not confident in Mike Brown's offensive system, with many players wondering if a mid-season move back to the vaunted triangle offense is the direction the team should go in. It seems almost as if the Lakers left Detroit and Washington covered in the same stink of turmoil that has invaded these two franchises.
Many are suggesting a move back to the triangle offense, a system that most of the rotation knows well, that would not require a trade for a playmaking point guard. Some are saying that maybe the personnel just isn't right for Brown's overall coaching style, and that he needs to leave the organization altogether. Others are saying that this team needs to be rebuilt completely.
As much as many people are thinking that a wholesale change in direction mid-season is the solution to an imperfect Lakers team, I just don't buy it. Yes, the team's weaknesses were highlighted this week, but I think that these two losses aren't nearly as devastating as previously forecasted. I actually think that they were the best things that could have ever happened to the 2011-2012 Lakers.
We've gone over the major defects before Mambinites; this Lakers team sorely lacks a point guard and scorer off the bench. Without those two salves to allay the major deficiencies LA carries, notions of a 17th championship is as ridiculous as Troy Murphy winning a beauty contest
I really don't want to go back to anything
this guy suggested.
But as the Lakers have gone on a tear in the past week and a half, I feel like we're all losing sight of that. The Show had benefitted from an unlikely 30+ point contribution from Lakers other than Kobe, Bynum and Pau in the Miami game, as well as the two games preceding. Even without a point guard, the Lakers were scoring well into the hundreds, with Steve Blake and Derek Fisher playing adequate enough to supplement the scoring aptitude of the three All-Stars. Andrew Goudelock was rapidly turning into a less troublesome alternative to Gilbert Arenas, while Metta World Peace looked somewhat similar to the years-gone Queensbridge psychopath with a heart of gold. Some broadcasters and writers opined that perhaps this was the team that the Lakers were going to go to war with, that the squad currently constructed was good enough to win a championship.
As Grant Hill and Jared Dudley say seemingly every 8 minutes on my television, EHHHHHHHH.
What these two losses have shown us, with less than a week left until this season's trading deadline, is that this Lakers team is not close to competing for a championship. The team that came out well-rested and hungry after the All-Star break was a mere illusion caused by a week off and games against a Kevin Love-less Timberwolves, a Chris Bosh-less Heat and a poor Sacramento Kings team. Moreso than a loss to say, Dallas, Oklahoma City or Chicago could ever teach us, losing to Detroit and DC has highlighted in nearly isolation the exact problems that the Lakers have faced all season long.
After the Piston's loss, Andrew Bynum tried to shoulder the weight of the loss on his own, noting that in the second half, he personally lacked the intensity that led to the team's first half dominance. Unfortunately, it's that type of mental and physical commitment that is required to offset its deficiencies of being short-handed on both talent and their requisite skill sets to compete night in and night out.
1992 Charles Barkley in a Trevor Booker costume
Every game, Bynum, Kobe and Pau have to be 100% focused for this team to win. Even as the rest of the team wanes in performance, those three have to put forth full effort and concentration for this role playing crew of scrubs to be dragged to victory. When that very precarious surface tension is busted, whether it be a lackadaisical focus from Drew or a terrible shooting night from Kobe, the Lakers become this slow, plodding, Luke Walton-like pile of mush. In both games, Bynum, Kobe and Pau weren't able to make plays for the rest of their team, and LA played two second halves more reminiscent of as if the 1948 Minneapolis Lakers played them today. There was no point guard to help facilitate plays for his weary big men, easy buckets that could have effortlessly reignited a lead for the Lakers. Quite simply, if the three All-Stars aren't trying really really hard on both ends of the floor, Trevor Bookers throw a 18/17 on you and Kevin Seraphin, or the "French Moses Malone" as MAMBINO correspondent AO calls him, establishes career scoring highs. Pretty easy.
From there, the second flaw was exposed. The Lakers infamously employ one of the lowest scoring bench crews in the entire league. In a situation where the starting line-up can't get key buckets to halt guys like Nick Young and Roger Mason from turning into the Ultimate Warrior after 7 Macho Man flying elbows, there should be an explosive offensive contributor from the bench that should provide such a scoring punch. However, Troy Murphy, Josh McRoberts and Matt Barnes are miscast in their roles worse than Jonah Hill in any action movie. Andrew Goudelock, for all of his rookie brilliance, is still a 2nd round pick in a horrible draft from a small-conference college.
I've been saying it for weeks and I won't stop until Thursday's trade deadline comes and goes; this team needs a facilitating point guard (so let's allow those Jamal Crawford rumors to pass along, yes?) and a bench scorer immediately.
What they don't need is a gigantic philosophy change in the middle of the season. This Lakers team has some of the talent needed to win a title and is dangerously close to having a full deck. Yes, reverting back to the triangle offense could have some benefits, similar to the Captain changing back to his old swing and resuscitating what many called a lost season by June. However, the team could find itself careening right out of the playoffs, just like the last time they tried to change directions mid-stream.
As devastated as those two losses made me, I'm happy they happened. Even in my euphoric, post-Heat victory haze, something in the back of my mind let me know that we were just temporarily in a world of make-believe and Unicorn kisses. Losing to Detroit and Washington and the manner in which both losses happened, did nothing but highlight how imperative Kobe, Pau and Andrew are to the Lakers' success and exactly what (and who) the team's biggest weaknesses are. The losses showed us that the Lakers MUST make a move. Action must be taken. Was it worth me milling about my apartment at 11pm two night in a row, completely disconsolate after two relatively meaningless losses? Absolutely. That's just a normal weekday. Go get it, Mitch.