Over the next two weeks, the 27th Olympic Games will take place in London, United Kingdom. The Games traditionally overtake the current events sphere, with various websites and newspapers delivering an unnatural amount of attention to sports, both popular and obscure. Daily conversation will turn from local news and politics to how many records will Michael Phelps break and how close that gymnast was to Mary Lou Retton's perfect score. I suppose the Olympics are part sports, part human interest stories and of course, the undividable bond to politics. Either way, every four years, the average Joe with zero interest in athletics will wade into the waters of watching competitive games. For many of the sports, the learning curve is slim; there are very few that are dedicated swimming aficionados, and the greco-roman wrestling fanbase hasn't exactly grown by leaps and bounds.

Which of course leads us to men's basketball. Now I realize that if you're a regular MAMBINO purveyor, you probably have some interest in hoops. However, I've realized that in the next few weeks, unlike diving or equestrian, there's going to be quite a few people who can talk basketball up and down, all day and night.
Us being the magnanimous writers that we are, the MAMBINO team wanted to throw up a crash course post on everything you'd need to know about the US Olympic Basketball squad, and the competitive field in general.

After reading this post, those of you that are casual fans can sound like the psychopaths that reside on the digital high horse that is this blog. Presenting "Team USA For Dummies".
How many teams are there? And which countries are in it?
Basketball starts off with two separate "pools" of six teams. After a week of games between the squads in each pool, the top four teams with the best records will be filtered into an eight-team, single elimination tournament . The top two countries will play in the gold medal game, with the runner-up getting the silver, while the third and fourth-place teams will play a consolation game for third-place.
The two pools consist of the following teams:
Pool A: USA, Argentina, Lithuania, France, Nigeria, Tunisia
Pool B: Spain, Great Britain, Australia, China, Russia, Brazil,
I feel like a lot of sports, for example swimming and archery, take a matter of days to finish up. How long does basketball last?
Basketball is unlike almost all Olympic competitions, with the tournament lasting nearly the entirety of the games. Men's hoops starts on the third day (the 29th) and last all the way up to mere hours before the closing ceremonies.
What's different about the international type of basketball that everyone's talking about? Are there different rules?
Yes and no. On the surface, this is still basketball: five guys playing five guys, and the main objective is to put more balls in the hoop than the other guys. All basic rules apply: you must dribble the ball, there is "out of bounds" lines, a three-point shot and six fouls put you out of the game, to name a few. However, here are the wrinkles:
·

Once the ball has touched the rim on a shot, the defending team is allowed to grab the ball, even if it's "within the cylinder". In NBA basketball, once the ball hits the rim, it needs to be clearly out of the imaginary boundaries of the iron hoop in order for a team pull down the rebound. While this might seem like a small change to the game, it's actually a rather large factor.
·

The three-point line is slightly shorter than NBA distance.
Stylistically, international ball is much different than the NBA game. There is a much larger focus on ball movement (passing), transition points (running the ball down the court quickly after a miss by the opposition to score a quick bucket), perimeter shooting (three pointers) and free throw shooting. There is less of an emphasis on half-court offense, meaning a guard taking the ball at the half-court line and running set plays, especially attacking from a player in the post, making an offensive move close to the basket.
In a nutshell, the game is much faster, and focuses greatly on athleticism, quickness and shooting, rather than the physical, grinding basketball that is employed in the NBA.
Okay, well, who's on Team USA then?
The roster rolls out as follows:
Guards: Kobe Bryant (LA Lakers), Chris Paul (LA Clippers), Deron Williams (Brooklyn Nets), Russ Westbrook (Oklahoma City Thunder), James Harden (Oklahoma City Thunder)
Forwards: LeBron James (Miami Heat), Kevin Durant (Oklahoma City Thunder), Carmelo Anthony (New York Knicks), Kevin Love (Minnesota Timberwolves), Andre Iguodala (Philadelphia 76ers), Anthony Davis (New Orleans Hornets)
Center: Tyson Chandler (New York Knicks)
Wait, wait...Oklahoma City has a team? Seriously?
Yes, Oklahoma City has a team. They're actually the former Seattle Supersonics, and they relocated to Oklahoma five years ago. For the reasons why, go to "www.google.com".
Anthony Davis? The guy with the unibrow in the March Madness tournament? Is Tyson Chandler some sort of model or rapper? Why is a guy named Andre Iguodala on this squad? Where is Dwight Howard, Dwyane Wade and Derrick Rose? The guys I see on commercials and TNT games?
Throughout the 2011-2012 NBA season, Team USA was supposed to look something like this:
Guards: Kobe Bryant (LA Lakers), Chris Paul (LA Clippers), Deron Williams (Brooklyn Nets), Russ Westbrook (Oklahoma City Thunder), Derrick Rose (Chicago Bulls), Dwyane Wade (Miami Heat)
Forwards: LeBron James (Miami Heat), Kevin Durant (Oklahoma City Thunder), Carmelo Anthony (New York Knicks), Kevin Love (Minnesota Timberwolves), Chris Bosh (Miami Heat) , LaMarcus Aldridge (Portland Trailblazers)
Center: Dwight Howard (Orlando Magic)
However, a litany of injuries knocked out the following players:
Derrick Rose: Tore his ACL in the first game of the playoffs. He's expected out until at least March, 2013.
Dwyane Wade: Battled moderate knee injuries the entire playoffs, which noticeably changed his style of play. Had arthroscopic knee surgery weeks ago, but should be ready for the start of the season.
Chris Bosh: Pulled his abdominal muscle in the second round of the NBA playoffs. Managed to come back and play an important role in the NBA Finals for the eventual champion Miami Heat, but decided to take the summer off and not risk further injury for a disability that should have sidelined him for months, not mere weeks.
LaMarcus Aldridge: Had hip surgery late in the season. Will be ready for the beginning of the 2012-2013 campaign.
Dwight Howard: Missed the playoffs and end of the regular season with back surgery for a small hernia in his back. Will be ready for the beginning of the season.
Blake Griffin (LA Clippers): Griffin was brought on a replacement for Bosh, Howard and Aldridge, but he partially tore his meniscus after making the team during a workout in Las Vegas. He recently underwent surgery and will be ready for the beginning of the season.
In short, Team USA has suffered a lot of casualties throughout the shortened NBA schedule this year, and thus the team of replacement players (Harden, Iguodala) and rookies (Davis) you see before you.
But that still doesn't explain why some of these nobodies are on the team. What about Rajon Rondo? Or Kevin Garnett and Paul Pierce? They're all American and amazing!
There are a few great NBA players that aren't on the team for reasons not pertaining to recently sustained injuries.
Rajon Rondo (Boston Celtics) is universally regarded as one of the top five point guards in the game. However, he's a rotten three-point and free throw shooter (keys to the international game, as I pointed out), and quite frankly, he doesn't play nice with others. He's kind of a dick.
Andrew Bynum (LA Lakers) has the standing as the second-best center in the league behind Howard, but has been susceptible to injuries his entire career. He declined the invitation to the team mostly on those grounds, but also that he's just a strange fellow.
Paul Pierce (Boston Celtics), Kevin Garnett (Boston Celtics), Tim Duncan (San Antonio Spurs) and Amar'e Stoudemire (New York Knicks) are all established names that could definitely have made the team, but all declined due to their ages and injury history. Before you ask, Steve Nash (LA Lakers) is Canadian. Not all white people were born in America, you arrogant Yanks.
Who's the best player on Team USA?
The answer is the same as it at the end of June, and in the middle of May when he got his third MVP trophy. LeBron James is the best player in the world, and without a doubt the best player on this squad. Kevin Durant and Kobe Bryant follow, in that order.
Let's get down to it: Who's going to win the gold?

America, of course. No other Olympic team is composed entirely of NBA players, nor can any of them boast either the sheer talent or explosiveness that Team USA has. For a more detailed account of why we here at MAMBINO HQ think the US is capable of a gold medal victory, check out The CDP's excellent examination of the
Pool A teams
(and his
Pool B preview
, while you're at it).

I've heard that "the rest of the world is catching up with the US" though. How can you so definitely call a Team USA victory with those type of sentiments floating around?
That's not an untrue statement. In 1992, the Dream Team won by an average of 44 points. Last Olympics, that wasn't the case, with the US Team going undefeated, but only winning a hotly contest gold medal game by a mere eleven points against Spain.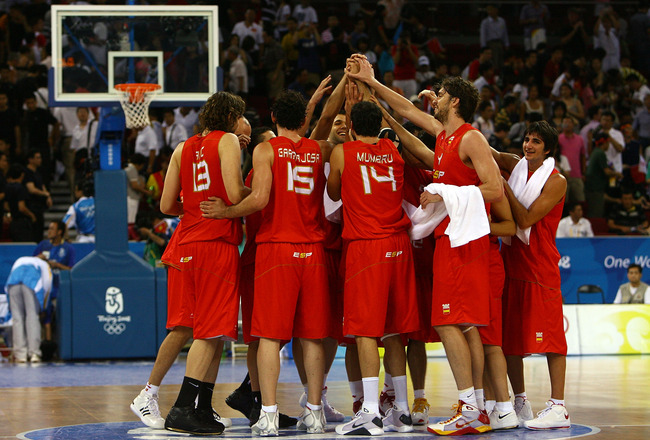 Some teams, Spain especially, will match up well with America, but even in a bad matchup, the sheer talent of LeBron, Kobe and Durant (who will all be on the floor during the end of games) is better than any advantage another team can throw at them. I know that's not a technical explanation, but the truth is that this US team is better constructed to play the international style of ball than any team we've ever fielded. Expect a clean sweep from Team USA as they work their way undefeated towards another Gold.

Then who's the biggest threat to Team USA repeating as gold medalists?
Spain, Argentina and Brazil. Again, The CDP summarized their teams excellently, but those teams have the most NBA talent that can compete with the US. Brazil and Spain in particular have a definite size advantage, while Argentina is experienced, though growing older.
Set the record straight: I've heard Kobe's quotes. Could this team really beat the Dream Team?

Uh, no. I would love to leave it at that, but let's take a quick look here: The Dream Team featured 11 Hall of Famers, 9 of which were playing at the peak, or near the peak of their powers (Jordan, Pippen, Stockton, Malone, Barkley, Drexler, Mullin, Ewing, Robinson). More importantly, 8 of those guys were in their primes and ended up being one of the top five players ever at their positions (Michael Jordan, Scottie Pippen, John Stockton, Karl Malone, Charles Barkley, Clyde Drexler, Patrick Ewing and David Robinson).

Yes, Magic Johnson and Larry Bird were both on the team as well, but Magic had retired almost a year earlier after his announcement that he was HIV positive, and Bird had just played his last season due to a severely injured back. Also, Christian Laettner was on the team, but amounted to little in the NBA compared to his halcyon days at Duke University.
On the flip side, the 2012 team could potentially host 10 Hall of Famers (which is reaching a lot for Anthony Davis, who hasn't even started his rookie season, and Kevin Love, Russ Westbrook and James Harden have just started their ascent into superstardom). However, only

LeBron, Carmelo, Durant, Kobe, Deron and Paul are in their primes, or close to it, while the other guys are still improving. This doesn't even get into the equation that I'd only consider LeBron, Durant, Kobe and Chris Paul as having a chance to end up as one of the top five players at their positions.
The Dream Team could play at any speed, any size and had no weaknesses. Their confidence and fortitude was punctuated by three of the greatest gamers of all-time, including Barkley, Jordan and Magic. Looking at the 1992 squad, I'd agree with Charles; only Kobe, LeBron, Chris Paul and Durant could even fathom making the Dream Team.
Kobe backed off his statement saying that the 2012 team could beat the 1992 team, if only in one game, rather than a seven-game series. I disagree. Yes, anything can happen in one game, but I think that the Dream Team wins 10 times out of 10. This blog is named after the greatness that is the Black Mamba, but not even Kobe, not to mention LeBron and Durant, could beat the Dream Team even once. With Howard, Wade and Rose healthy though, that's another question entirely.
I feel educated. Now I won't be embarrassing myself in the lunch room tomorrow. Thanks, MAMBINO!