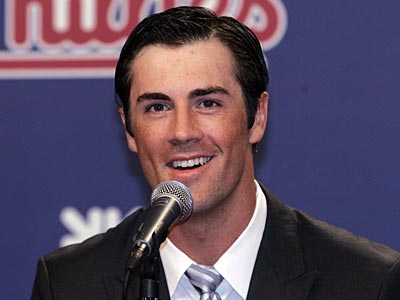 Philadelphia Phillies get:
SP Cole Hamels, six years, $144 million dollars
Cole Hamels signed up for six more years with the only team he's played for earlier today. It was the second biggest contract in terms of dollars ever shelled out to a pitcher. After all the
gushing things he had to say
about the Phillies and their fans, it is probably safe to assume that he's off the market. That means that the 19 teams that are competing for either the Wild Card or the division right now need to turn their attention elsewhere.
What it doesn't mean though is that the Phillies are going to make a run.
Signing Hamels was more of a move to ensure that he never had to deal with the temptation of free agency. He is 28 years old, won a World Series MVP (and NLCS MVP that same year), throws left-handed, has the 9th best active ERA, and 3rd best active WHIP. Dude can pitch and has done so every year of his career. If he hit the open market, he could get as much as Josh Hamilton or any other player this winter.
That said, the Phillies now have a huge imbalance at the top of their payroll. Hamels is going to make an average of $24 million per season during this contract. Next year, Roy Halladay ($20 million) and Cliff Lee ($25 million) will combine with Hamels to make more money than
the entire payrolls of six different teams
. When you factor in a deteriorating 33-year-old Ryan Howard at $20 million, the team's payroll is over the league median. Include Jonathan Papelbon, Chase Utley and Jimmy Rollins who all make more than $10 million and you have seven players that will make over $120 million.
And then there are still 18 slots to fill.
Usually that's where a minor league roster comes in to play, but according to Baseball America the Phillies had the
27th best system
coming into this season. Having said all of that, the Phillies need to get younger and cheaper.
Shane Victorino needs to be traded before July 31st. The thin trade market gives him extra value and the CBA just makes it look like bad business for the Phillies not to deal him. The same can be said of Hunter Pence who isn't a free agent after the year, but might as well be given that he will need a deal well over $10 million in his final year of arbitration and the fact that the Phils might not be able to afford him in the winter of 2013. These players should be moved along with other smaller pieces such as Placido Polanco and Joe Blaton from the Phillies, but the Hamels signing impacts nobody more than Zack Greinke.
Since 2010, only 14 pitchers have had a better wins above replacement players than Hamels; Greinke is one of them. He is an obvious number one starter and as far as impacting a race or in the case of a team like the Yankees that is already in the playoffs, nobody would make more of an impact. Of course the Bombers aren't thought to be interested because of Greinke's well-documented battle with social anxiety disorder, but that isn't stopping
seven other teams from being interested
. Hamels being off the market should give Milwaukee more leverage in a potential deal, and also give Greinke leverage should that team try to resign him. Greinke is only a year older than Hamels and because he could go to the open market, his deal will more than likely become the third biggest contract ever signed by a pitcher.
From here, the dominoes continue to fall: when six of those seven teams strikeout from their pursuit of Greinke, the door will open to players like Ryan Dempster (Atlanta isn't out yet), Josh Johnson, Matt Garza, Francisco Liriano, and even James Shields. All of them will cost slightly more in terms of prospects because of Hamels. This second wild card means that there are still 19 teams competing in late July for a playoff spot. With so many squads, there are still bound to be some losers.
Give Bud Selig some credit for once. This second Wild Card berth is going to make for an interesting week.