The shadow of 2004 still looms over the US program
With its rich history and unparalleled talent pool, anything less than total domination by the United States will be seen as an abject failure. Since the Dream Team in 1992, the rest of the world has been playing catch-up, but the US has shown a renewed enthusiasm for Olympic basketball in recent years. After succumbing to improved competition and a bronze medal with 2004's Starbury-led disaster, Jerry Colangelo took the reins, convinced Coach K to head the program, and emphasized commitment and continuity for future rosters. The result was 2008's Redeem Team, which was packed with NBA players like Kobe and LeBron in their prime and had a collective chip on its shoulder. They breezed through the competition until meeting Spain's Gasol brothers in the title game, but emerged victorious. The 2010 World Championship Squad, with the next generation of NBA superstars like D-Rose and Kevin Love, had similar success and cruised to a gold medal. The 2012 team is essentially a mixture of all the healthy parts from 2008/2010 with a few new faces.
The format of the Olympics is simple: there are 2 groups (A and B) with 6 teams. Each team plays the other 5 teams in their group and the top 4 teams in each group advance to the quarterfinals. With the Venezuela tournament concluding this week and the groups finalized, we at GREAT MAMBINO wanted to provide an Olympic basketball primer on the competition as well as our predictions.
Despite the recent string of successes, this year's Olympic field should present a formidable challenge to the 2012 edition of the US team.
Group A
United States (FIBA Rank: 1) is the clear favorite, with its immense resources and top to bottom NBA talent. Led by Coach K and an army of quality assistants like Boheim and McMillan, the US team is smaller than you'd like to see, especially against the Gasol brothers/Serge Ibaka front-line representing Spain, but it is perhaps the most athletic and fastest international team ever assembled. With Chris Paul, Deron Williams, Kobe Bryant, and James Harden in the backcourt, the US has plenty of scoring and passing options with its guards. Colangelo has filled the forward positions with versatile talents who can play multiple positions, including LeBron "NBA Finals MVP" James, Kevin Durant, Andre Igoudala, Kevin Love, Carmelo Anthony, and Blake Griffin.
Although Chandler is the only pure center on the team, expect LeBron and maybe even Melo to play small-ball center along with Griffin and Love. While this team is certainly undersized against some of the bigger frontlines in this tournament, Team USA should be able to assemble another stifling, full-court defense that creates havoc with turnovers and points in transition. With so much offensive horsepower and versatility, this team should be able to put up points at will and against anybody. They just cannot afford to get into a battle of half-court execution with a team like Spain or Argentina who can out-muscle them in the post.

Argentina (FIBA Rank: 3) presents the most formidable challenge to the United States in Group A. Back in 2004, it was Argentina who denied US the opportunity to play in the championship game and took home the gold. A deep, veteran team that has superior continuity and been playing together forever, Argentina has well-defined roles and an unselfish offensive mentality. In terms of NBA pedigree, few teams can rival the experience of Argentina, who have Manu Ginobili, still one of the best guards in the world when healthy, and NBA veterans like Luis Scola, Andres Nocioni, and Carlos Delfino; however, they are starting to become an older team and you have to wonder if this is their last run without a real infusion of young talent.
Lithuania (FIBA Rank: 5)
will also be a tough out that cannot be discounted going into this tournament. Lithuania exploded onto the post-USSR, international basketball scene with
Grateful Dead-sponsored
uniforms
and a bronze medal in 1992. A team with impressive staying power, Lithuania also managed bronze medals in 1996, 2000, and in the 2010 FIBA tournament. Another team with plenty of NBA talent, Lithuania is led by current Toronto Raptors Linas Kleiza/Jonas Valanciunas and underrated NBA veteran Jasikevicius.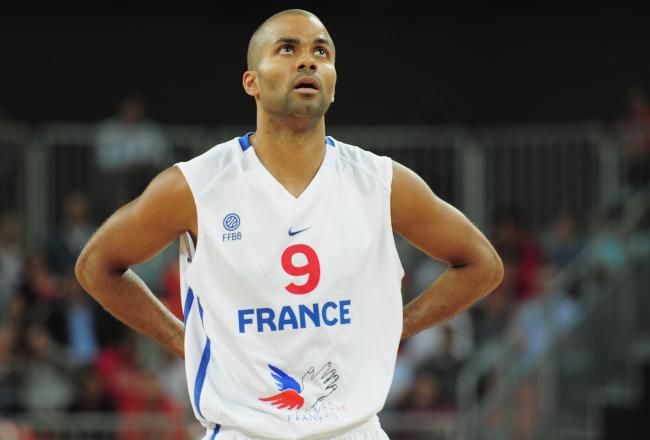 TP will be under a lot of pressure
to lead his team in a tough group

France (FIBA Rank: 12) is an international team on the rise. They have been extremely competitive internationally (silver in EuroBasket in 2011) and boast tons of talent, but have yet to win an international tournament. With NBAers like Tony Parker, Nicolas Batum, Kevin Seraphin, Ronny Turiaf, and Boris Diaw in tow, the French team should be able to make the quarterfinals relatively easily. Let's hope Tony Parker's eye recovers in time, but also imagine that frontline if Joakim Noah was healthy.

Nigeria (FIBA Rank: 21) and Tunisia (FIBA Rank: 32) are both among the best teams from Africa and boast plenty of talent themselves. Nigeria will have both Al-Farouq Aminu and Ike Diogu filling out forward spots, but are facing an uphill battle in this group. Tunisia is fresh off a 2011 FIBA Africa Championship, but has no notable NBA-quality players on its roster. Instead, watch for Amine Rzig, who plays professional basketball in Egypt and was first-team for the 2011 FIBA championship at the forward position.

Group A Predictions: I love to see an underdog story as much as anyone, but I just don't see it happening here. The US, Argentina, and Lithuania are just too good and experienced not to make it out of pool play, while France is really coming into its own as an international entity. The two African teams will be the odd men out, setting up a showdown between Argentina and the United States for the right to represent Group A in the gold medal game. Unlike 2004, the United States will prevail this time and compete with the winner of Group B for the 2012 gold.

Who knows if the US will continue to receive this kind of talent and commitment from the NBA in the future, but as presently constructed it should be a powerhouse for years to come. The US National Team has gone from an afterthought to an honor and priority for these young players and coaches to represent their country. Next time around in Brazil, Kobe and Coach K will almost certainly be gone, but here's hoping that the US basketball machine continues to roll on.
Stayed tuned for Part B tomorrow, brought to you by MAMBINO's own El Miz...