Earlier in the week, BockerKnocker went over our latest MAMBINO rant on the All-Star game. Over the years, the rosters have expanded to a mind-numbing 34 players even though an actual, functional MLB roster will only have 25 men per squad.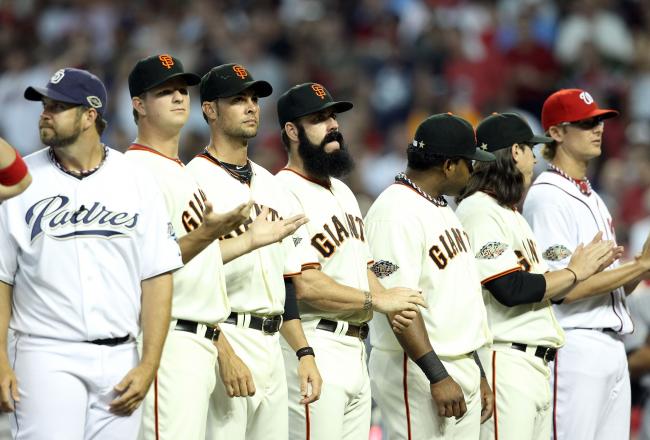 But 34 is just where it begins - after injuries and "respectful" declines towards selections thin the ranks, the "outrageous snubs" that everyone seems to rail about almost inevitably get rectified. In a game that's already a glorified exhibition, the spirit of competition has becomed more watered down than a cold Natural Ice with All-Star berths mandatorily given to teams that certainly don't deserve it and second-tier players.
This is where we've come in. My blog brother already selected
his 25 American Leaguers
that truly belong on the field on Tuesday. Here are my National League selections, assembled as if I were putting together a...
real
baseball team.
C:
Carlos Ruiz, Philadelphia Phillies
By any metric the Philadelphia Phillies are underachieving at the halfway point this year. Though the entire internet, including our own Pucklius, knew their offense wouldn't be as prolific as in seasons past without aging slugger Chase Utley and Ryan Howard, no one knew the pitching would be quite so terrible. However, one of the bright spots for a surprsingly mediocre Phils squad is the ever-dependable Chooch.
Ruiz is well on his way to annhilating career-highs in nearly every offensive category, including rolling an incincerating 1.015 OPS, 13 homers and 46 RBIs at the half (he's topped out at .847, 9 and 54). Buster Posey, the fan's vote selection, is a fine, fine player who's having a great year and commanding a dominant San Francisco staff, but what Chooch is doing with the bat this year has to be rewarded. The Philly rotation isn't destroying all comers like everyone's come to expect, but I'll go ahead and rely on the past few years of performances when picking my NL catcher.
1B: Joey Votto, Cincinnati Reds

Canada's favorite $200 million dollar athlete (are there any others?) is also their best on the baseball diamond. Just months after the Reds gave Votto a bank-breaking $225 million dollar deal to stay in the confines of small-town Ohio, their first baseman has rightfully gotten voted in to this game. he's batting right in the middle of my order, with his bonkers .619 slugging percentage and 48 (!) extra-base hits belong. What a stud.

2B:
Aaron Hill, Arizona
Dan Uggla was selected by the fans in this spot in complete error. Yes, those 11 jacks and 43 RBIs look really nice, but that .223 batting average and 98 strikeouts is just as aesthetically displeasing as the second baseman's last name.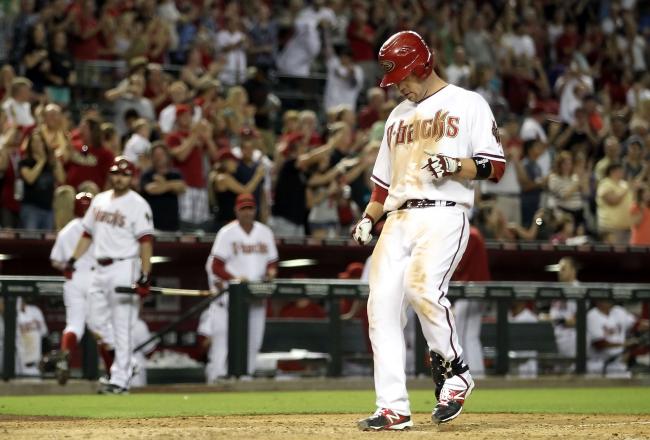 Aaron Hill is the right choice here. He's rounded back into form he flashed on the Blue Jays in Toronto several seasons ago, hitting near .300, and a .864 OPS with 36 extra base hits. On the whole, he's just a much more efficient player than the wallop or whiff outcome that is Dan Uggla. Also, not that fielding is a huge criteria for an All-Star berth, Hill is just a much better gloveman than his Atlantan counterpart (9 errors to Hill's 4). Finally, the guy hit for the cycle twice in a week. That's gotta count for something.
3B:
David Wright, New York Mets
In a decision that rendered our own Pucklius apoplectic, David Wright was SNUBBED by the fans in favor of the Pablo "He's Still Fat No Matter What Anyone Says" Sandoval. Also, I got to use the word "apoplectic", which makes this writer very happy.
Wright is arguably the National League's Most Valuable Player so far, wielding the bat Thor does a hammer, leaving all mere mortals crippled and awestruck in his wake. Sandoval has appeared in half as many games as Wright, which adds even further insult to Queens' 1.010 OPS machine. Just another reason to hate the Giants. As if you need another.
SS:
Ian Desmond, Washington Nationals
Desmond eventually made the All-Star squad as a reserve as an understudy to the starter Rafael Furcal, but on my team, there's no way this game begins with Washington's stud SS on the bench. In a relatively weak year for NL middle infielders, Ian Desmond has paired some nifty glovework with a solid .496 slugging percentage, tops amongst qualified shortstops. He's a high-strikeout guy at 69, but with his place in the Washington lineup batting sixth or seventh, he's expected to drive in some runs.
LF:
Ryan Braun, Milwaukee Brewers
Well, I guess
they do prosper
. My mom was wrong.
There's a lot anyone can say about Ryan Braun, but criticizing him as a hitter isn't one of them. In a career where he's done nothing but mash, The Good Land's resident masher continues to wild anything but a PEDestrian bat. Manager Tony LaRussa just replaced an injured Matt Kemp in the starting outfield with Braun, so a season of .988 OPS and 24 homers will be rewarded.
CF: Carlos Gonzalez, Colorado

A .339 batting average, on-base nearly 40% of the time, 17 homers and sensational center field defense? Sign me up. Gonzalez is on the NL All-Star team as a reserve, sitting in favor of a stunningly fine replacement in Melky Cabrera (albeit with less power) and a resurgent Carlos Beltran. However, I've got to give him a little extra credit for continuing to mash on a team mired in the middle of a nightmare season. Aside from Votto and Chooch, the easiest selection on my roster.

RF:
Andrew McCutchen, Pittsburgh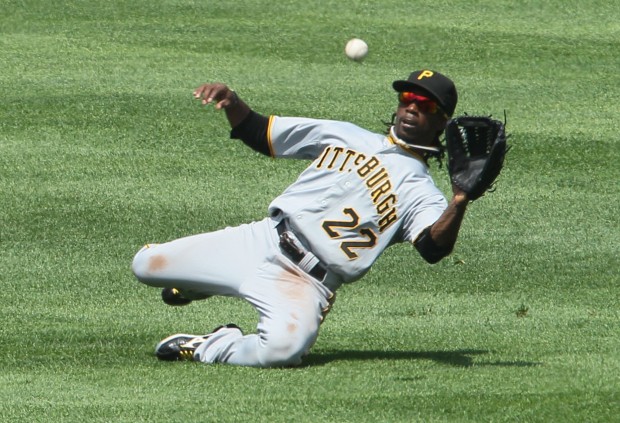 Let's take Carlos Gonalez, make him black and place him in western Pennsylvania. Also, let's make him a little stronger, a little more athletic and a little bit...better? My God. You've got Andrew McCutchen.
Undoubtedly the best player on an unbelievably solid Pirates team, McCutchen has turned into the all-world player that everyone thought he could be upon his entry into the majors. He's hitting a searing .360 with a 1.023 OPS, taking zero prisoners when racking up 108 hits, 14 bags and a silly 56 RBI. Like Gonzalez, his defense is still fantastic. Both men, along with Matt Kemp, are a part of a unbelievable wave of extremely athletic, versatile, five-tool baseball players gracing the game.
Bench: C Buster Posey, San Francisco Giants; IF Martin Prado, Atlanta Braves; OF Melky Cabrera, San Francisco Giants; OF Hunter Pence, Philadelphia Phillies; OF Carlos Beltran, St. Louis Cardinals

What I've selected here is a versatile bench with a lot of speed and power. In an AL ballpark like in Kansas City, Carlos Beltran (.307/.393/.561, 20 homers) is our DH, preserving both his injury-prone legs and our chance to hit 4 homers from one batter. Buster Posey is the greatest back-up catcher in the history of mankind, and will be able to play first base if anything should happen to Joey Votto. Cabrera and Pence shore up an already ridiculously quick and agile outfield corps, adding some power and base-stealing should we need it. Finally, Martin Prado, left off the All-Star team altogether in lieu of mandated spots for modern-day Mantles in Jose Altuve, Bryan LaHair and Starlin Castro (two All-Stars for the Cubs? Are you serious?), is our utility man. His fantasy stats (9 homers, 35 RBI, 48 runs, .321 average) certainly are enough to warrant him entrance to the game, but it's the fact that he can play almost anywhere on the diamond that really gives him some extra pull. Even without it, Prado should have made the team.

SP:
RA Dickey, New York Mets; Matt Cain, San Francisco Giants; Stephen Strasburg, Washington Nationals; Gio Gonzalez, Washington Nationals; Clayton Kershaw, Los Angeles Dodgers
Very plainly, these are the best five starting pitchers in the National League right now. Between them, Gio Gonzalez has the ugliest numbers, with an unsightly 3.01 ERA and a 1.12 WHIP, and only 112 strikeouts in 95 innings. As for the rest of them? They represent 4 out of your 5 NL strikeout leaders. Not one has an ERA over 2.82, nor more than 30 walks in more than 99 innings.
While the competition between RA Dickey and Matt Cain for starting honors remains close as we discussed last week in
this post
, the distinction has to to go to the Mets' ace. He's somewhat separated him in the past week, destroying the Dodgers over the weekend and tidying his record to 12-1, with a 2.40 ERA and a 0.93 WHIP. Both guysare done for the first half, so the nod has to go to Dickey.
RP:
Johnny Cueto, Cincinatti Reds (long reliever); Aroldis Chapman, Cincinatti Reds; Tyler Clippard, Washington Nationals; David Hernandez, Arizona Diamondbacks; Joel Hanrahan, Pittsburgh Pirates; Jonathan Papelbon, Philadelphia Phillies (set-up); Craig Kimbrel, Atlanta Braves (closer)
No one is ever scoring on this 'pen. Ever.
Every relief pitcher here has at least 1 strikeout per every inning pitched. Tyler Clippard and our closer Craig Kimbrel have ERAs under 1.80. Jonathan Papelbon is the weak link with a 3.45 ERA and 38 ks in 31 innings. Aroldis Chapman has 66 strikeouts in 37 innings, allowing 29 baserunners. And he's the
lefty specialist
. Just lethal.