Can hosting the Olympics propel England to basketball
relevance in 2012?
Welcome to Part II of the 2012 Olympic basketball primer. Last week in
Part I we covered Group A
, which includes Team USA, a veteran Argentina team, and an up-and-coming French squad loaded with NBA talent. Group B may not be as top-heavy, but it is a bracket without a weak link and lots of teams that expect to make it out of group play. As a reminder, each team in both brackets will play all 5 other teams in their group and the top 4 teams advance to the quarterfinals.
Group B
Spain (FIBA rank: 2)
is seen as the biggest threat to US hegemony in Olympic basketball. Spain won in 2006 and was barely edged out by Kobe & Co in
2008's truly incredible gold medal game
. Spain has size in the frontcourt, tons of international experience, and continuity with a team that has played together for years. On paper, Spain should be able to give the US (and anyone else) everything they can handle. Between the Gasol brothers and Serge Ibaka, they have the best frontcourt in the world and complementary pieces to boot. Spain boasts Jose Calderon, Sergio Rodriguez, Juan Carlos Navarro, and Rudy Fernandez on the perimeter.
Before we hand Spain an appearance in the gold medal game, there are some cracks in the foundation as well. They are an older team that will really miss Ricky Rubio's presence in a lot of ways, and not just because he played well against the US in 2008. Beyond his athleticism and court vision, he also is their best backcourt defender. This Spanish team has the size, shooting, and veteran savvy, but it is lacking in athleticism. It can win if it gets a team like the United States into a slower game of execution, but they cannot afford turnovers leading to easy baskets. Furthermore, who is going to guard LeBron James or Chris Paul on this team?
Australia (FIBA rank: 9)
is a team that has historically dominated its region and done well in international competition. They have been almost medaled quite a few times and are looking for their big break. After playing Spain very closely twice in recent exhibition games, Australia needs to be taken seriously and should make it out of group play. Although they are missing Bogut, Patrick Mills is a capable NBA floor general that can fly up and down the court. Australia also features former NBA player David Andersen and Joe Ingles/Brad Newley, who both play in Spain.
China (FIBA rank: 10)
has traditionally been a basketball power in Asia, carried recently on the giant shoulders of Yao Ming, but has yet to win much in major competition. Their current roster is respectable, but not a real threat to win during these Olympics. Former NBA players
Sun "Monkey King" Yue
and Wang Zhizhi form a solid foundation with Yi Jianlian that should be a threat when some of their young talent develops in a few years.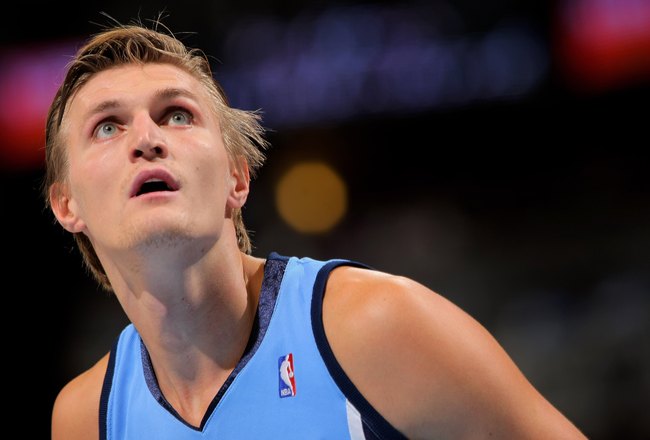 World beware: the beak is sharp!
Russia (FIBA rank: 11)
is quickly becoming everyone's surprise pick for Group B. Russia is a hungry team that has had 4 top ten finishes between the Olympics and World Cup since 2000. Led by All-Star and All-Ugly Team MVP AK-47 (
if you don't know about his deal with his wife, please read this
), Russia also has NBA talent and size with Timothey Mozgov and Viktor Khryapa on the roster. This is a tough team that will assert itself during these Olympics. If their team defense can fall into line with AK-47's pitbull impression, they could cause a lot of teams to have a long night on offense.
Brazil (FIBA rank: 13)
is on the verge of becoming a powerhouse, but has yet to win big in international competition. They have not qualified for the Olympics since finishing 6th in 1996, but they have consistently done well at the World Championships and have a strong team. Brazil has a huge frontcourt with Nene, Tiago Splitter, and Anderson Varejao in tow. Aside from Leandro Barbosa's steady scoring hand, PG Marcelinho Huertas does a poor man's Steve Nash that gave the US fits in last week's exhibition game. This team stayed with Uncle Sam's cowboys until the very end and is a dangerous team heading into group play.
Great Britain (FIBA rank: 43)
won't totally embarrass FIBA during these Olympics, but they are easily the weakest team in this group. While a developing team with plenty of talent, British basketball has not qualified for an Olympics since 1948 and is mostly hoping to put up a good fight this time around. With NBA veterans Luol Deng, Pops Mensah-Bonsu, and Blazers rookie Joel Freeland, this team could easily steal a game or two, but there's just too much talent in their group to see them coming out of it. If they had managed to swing Ben Gordon and BJ Mullens hadn't gotten hurt, it might be a different story…
Group B Prediction:
Looking at Group B, Spain is the only absolute lock to make it out of pool play. With their international track record and talent, Australia and Russia should also survive, but they will have to earn their spot with some tough games. In the end, I think Brazil's experience will edge out the young Chinese and British teams, but it will be closer than most would expect. The lead-in to the gold medal game will be another showdown between Spain and Australia, with Spain just getting the right to face the US in a rematch of 2008.
Finals Prediction, US 115, Spain 99:
The United States team will just be too deep, too fast, and too good for Spain and will ultimately take home the gold. They'll have to avoid a half-court battle as much as possible by controlling tempo and leveraging their superior athleticism, but this team can shut down anybody. They will be able to give the Spanish guards lots of trouble bringing the ball up the court and will force a lot of turnovers, but they also need to capitalize on them.
Defensively, the United States needs to game plan around Spain's size. Spain has the best frontcourt in the world and the US will have to be clever. The US can shift in and out of zones, double hard when Spain tries to establish the Gasols in the low post, and tire out their bigs by running them up and down the court. The US has the speed to recover on rotations, but if they aren't crisp Spain can make them pay with outside shooting. If Chandler is in foul trouble, the US will need to rely on strong efforts from LeBron, Anthony Davis, and Love to guard the 7 foot frontline of Spain.
In the end, I think that the US will prevail in another close game. It won't be a blowout, but the Red, White, and Blues will be on the top podium when all is said and done. With Kobe, LeBron, and Durant all on the same team, the US has a myriad of options at the end of games that Spain just cannot replicate. For the bronze medal game, I like Argentina's experience over Australia and this team making one last Olympic run.