Hi, friends. Welcome back for the last installment of WWE for a NBA Fan. For those of you that don't know, in my darkest NBA lockout doldrums, I started concocting alternative entertainment streams for those of us who missed basketball more than our own grandmothers. For a sundry of reasons, I realized that the WWE was a perfect alternative for the NBA, and for reasons that you wouldn't think. Knowing the 30 NBA fan bases, as well as the WWE Superstars as well as I do, I identified and matched up teams with various wrestlers, division by division.
Even though we've been writing these posts for months to little fanfare and zero critical acclaim, Grantland's Masked Man popularized the concept better than we could. In our 1-way rivalry with the mainstream's best pro wrestling writer, we're currently the Virgil to his "Million Dollar Man" Ted DiBiase. Except without all the racial discrimination subtext. Hopefully.
Today, we'll be finishing up the series by looking at the Pacific Division.
Golden State Warriors: Jack Swagger
I love the Bay Area. Great place to visit, plenty to see and undoubtedly, a great hoops town. They know their basketball, and love their crappy team unconditionally. They've been privileged to see 20 years of great offense, from Run TMC to Baron to Monta to Steph. They know what ball is supposed to look like, and despite the Warriors portraying none of the game's fundamentals, but they support them unconditionally.
But a question out to Oaktown and beyond - what if you could have a guy who is fundamentally sound? What if you could cheer for a guy with all the right tools who you can see going straight to the top? What if you didn't have to watch an entertaining, yet vitally flawed team that will never quite give you the hoops you deserve? That would be nice, wouldn't it? So that's why you're rooting for Jack Swagger.
A product of Perry, Oklahoma, Swagger comes straight from the wrestling program at the University of Oklahoma. After learning and perfecting grappling collegiately, Swagger entered the ranks of the professionals in the WWE. He's already won the World Championship, and with his improving mic work augmenting his already prodigious skill set in the ring, more title reigns are certain to follow. Like the young player the Warriors seem to perpetually attain, Swagger is gifted and ready for the future. However, unlike them, he has the tools to take him and keep him at the top. The Golden State Swaggers? Sounds good to me.
Los Angeles Clippers: Chris Jericho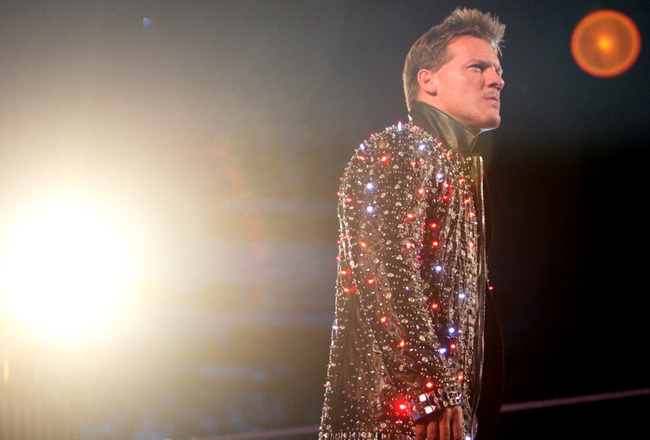 Writing this hurts me more than I can possibly bear. Chris Jericho has long been my favorite WWE superstar, and the Clippers have always earned by most sincere bile and hatred. Still, even through my haze of detest, I can't deny the comparisons.
Chris Jericho is a six-time World Champion. He's competed in federations all around the world, winning titles in every single one of them. He's recognized as one of the greats of his generation, alongside Stone Cold Steve Austin, The Rock, Triple H, Mick Foley, and The Undertaker.
However, next to those names, Jericho runs at a distant 2nd tier. Somehow, Y2J's massive accomplishments and talent haven't put him quite at the level of those guys I just mentioned. Austin, The Rock, Hunter, Foley, and the Undertaker have all transcended past the characters that they played on TV, and became larger than wrestling figures. They are household names, guest stars on television shows and in some cases, massive movie stars. When someone asks who are amongst the biggest wrestling stars of my generation, I'd name all of those guys first...and oh, also Chris Jericho. As CM Punk mentioned before Wrestlemania, Jericho had the strap and was the man, but not quite in the way that "the man" is supposed to be the most popular guy in the company...like CM Punk is.
And Jericho fans -- well, we're all deeply aware of Jericho's cultural and industry inferiority next to those gigantic megastars. Even those his accomplishments are right up there with anyone, in a somewhat unfair twist, Jericho is a footnote rather than a main attraction. At every message board and conversation, I hear Jericho fans defend their idol, with a protectiveness that illustrates just how much he's been undercut in the eyes of the pro wrestling public.
Sound familiar Clippers fan? A talented guy standing in the shadows of a much more popular older brother? An inferiority complex that goes unsated year after year? Wanting to take your place next to the greats of the game? Chris Jericho is your man. I'm going to throw up now.
Los Angeles Lakers: The Miz
Mike Mizanin grew up in suburban Ohio, dreaming big. Unlike a lot of other kids who hit the road to Hollywood with notions of movie stardom or rocking the mic in front of an adoring arena of fans, Mike wanted nothing more than to be a professional wrestler. However, like most kids who take the long road in entertainment, Mike's journey to the top of the WWE ranks is a winding one.
America first got to know Mizanin as a sheltered, naive teenager in the tenth season of MTV's Real World. Mike was constantly mocked and derided on the Real World for making fake wrestling belts and calling himself by his fantasy wrestling moniker "The Miz." Regardless of everyone's playful, but perhaps deeply sincere disdain, Mike perservered, and after the conclusion of the show, pursued his dream of becoming a pro wrestler. He soon found himself on the show
WWE Tough Enough
, an elimination-style reality program where amateur wrestlers got their shot at a real WWE contract.
Mike, who got on the show in the first place in part because of his reality TV roots, was now known simply as The Miz. While the veterans of the company looked down on him just as disrespectfully as his roommates in the Real World house, The Miz found himself with a WWE contract even without winning Tough Enough. He made his way through the ranks first by portraying an arrogant "chick-magnet" dressed in outlandish outfits, and against all odds, rode his undeniable charisma and Kobe-esque work ethic to the top of the industry. Just last year, The Miz headlined Wrestlemania, retaining his WWE Championship in the show-closing match against golden child John Cena.
The Miz is about showmanship and charisma. He is part arrogance, part ignorance, but proof that talent rises to the top. He is the personification that dreams can become reality only if coupled with hard work, a couple lucky breaks and undaunted resolve. Mike Mizanin is a guy who knew his goals were bigger than his small-town roots, and rode his hard work and charisma to championships and worldwide celebrity.