As an LA native and UCLA fan, I've been a huge fan of his for the last 15 years, since the day the young phenom stepped foot in Westwood. In high school, BD was a McDonald's All-American and Gatorade National Player of the Year who also happened to win the Slam Dunk Contest. To say that he was exciting in college would be a tremendous understatement. Baron Davis was a freak athlete, a dynamic force on the court, and an unbelievably creative playmaker.
He possessed an intangible star quality while dominating at UCLA and was one of the best in-game dunkers I've ever seen
. Despite an ACL injury in college, he was drafted third overall by the Charlotte Hornets, where I continued to follow his career.
BD spent six seasons in Charlotte where he was twice an All-Star and peaked at 22.9 points, 4.3 rebounds, and 7.5 assists per game. Charlotte won a couple of playoff series under his leadership and
he had some amazing moments
, but Baron left his mark after his trade to the Golden State Warriors. After Don Nelson came on as coach, he put in an up-tempo system designed for Baron's strengths and
served as the perfect outlet for his game
. This was where the casual NBA fan fell in love with Boom Dizzle, who was fearless and daring in his role as composer of the chaotic symphony that was Warriors basketball.
Armed with a not quite senile Nelson daring to play small ball and a cast of characters, Baron Davis led his team to a 4-2 first round upset of the 67-win, top seeded Dallas Mavericks. It was the first instance of an 8 seed upsetting a #1 seed since the NBA changed first round series to 7 games.
The highlights still give me goose bumps
. Baron Davis averaged 25 PPG and was the clear ringleader of those NBA misfits, whose ranks included Stephen Jackson, Jason Richardson, Monta Ellis, Al Harrington, and Matt Barnes. Afterwards, Steve Kerr called BD, "outrageous...stunningly athletic and creative and explosive." Although the Warriors fell to the Jazz in the next round, their team, as well as the slogan "We Believe," will live on in NBA lore (
as will this monstrous dunk on AK-47
).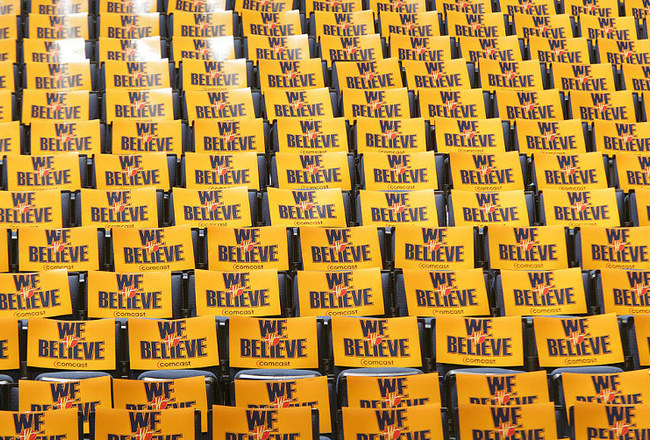 This was undoubtedly the peak of Baron's NBA career, but he spent one more season in Golden State before withering outside of NBA relevance for the Clippers and then the Cavaliers. This year, he resurrected his career for the playoff-bound Knicks, but was out of shape and not able to truly contribute despite a wide-open starting spot after Jeremy Lin went down. Between the injury problems and extra weight he's carried nearly his entire NBA career, you get the sense that Baron only scratched the surface of what he's capable of. Still, there's no doubt he was one of the top point guards in the league in his prime and left us plenty to wax philosophical about.
I've always thought Baron was the NBA player I'd most like to be friends with in real life. Just look at this
awesome video he made with Steve Nash spoofing Step Brothers
. Instead of creating a support network from his bank account for his friends, he helped buddies like Cash Warren get honest opportunities to be successful. He and Warren started a production company and have produced several movies, including a
powerful documentary on the origin of Bloods and Crips in Los Angeles
. He's an active member of the community and comes across as one of the more thoughtful players in the L. I don't think anyone is worried about Baron Davis having something to do with himself after his playing career is over.
At the end of the day, BD is simply one of those guys with incredible charisma that manages to be a fearsome competitor who is also universally liked by his peers. Although at the time I was focused on the gruesome injury, BD's spirit shines through in what has to be one of the most painful moments of his life.
Go back and look at the injury link, but jump to 30 seconds
. As he's carted off the court in a stretcher, Baron is smiling and giving high fives to everyone within reach. It was an inspirational sight and in that moment I knew that no injury could keep BD down, no matter how severe. Something tells me that we haven't seen the last of BD, even if he never steps on the court again.