The never-ending first round of the NBA playoffs has finally concluded, with both LA teams winning some unbelievably close Game 7's, the Lakers at home and the Clips on the road in Memphis. The matchups are set and to So Cal's chagrin, pretty lopsided in regards to pre-game prognostication. Bummer.
But that's why we're here Mambinites. The MAMBINO roundtable is here once more to give our official prediction, but also why a curveball could be thrown into the works. Read on, friends.

(1) San Antonio Spurs vs. (5) Los Angeles Clippers: SPURS IN 6
Mr. Fundamentals will teach Blake a lesson.
BockerKnocker
: I was actually trying to find reasons to pick the Clippers because it takes a true NBA nerd to appreciate the beauty of watching San Antonio play. The farther the Spurs advance, the more a casual fan turns to a flavor of the month sport like hockey. But the smart money is on Popovich and Duncan to advance to their 7th conference finals together.
When is the smart money NOT on that duo to win? Well actually, while everyone remembers their surprising defeat at the hands of Memphis last year, San Antonio hasn't reached the WCF in four years. And while the upstart Clipshow is entering nearly uncharted territory by getting to the 2nd round, this type of finish doesn't cut it for an organization that currently features one of the best players to ever play the game.
The Spurs demonstrated a killer instinct by brooming Utah last week, and by Tuesday's tip-off, the veterans will have had 8 days of solid rest. On the other hand, Darrell's favorite team is coming off of a knockdown, drag-out slugfest (
always wanted to use that cliche
), punctuated with a solid win in
The Grindhouse
. And as if San Antone didn't need any more of an advantage, Chris Paul and Blake Griffin are playing hurt. With only 1 day off before Round 2, they can't possibly be at 100%. Paul was able to rest a little bit on defense by guarding Tony Allen, but if SA plays the Tony Parker and Manu Ginobili backcourt, I expect Paul to be attacked constantly.
I never did find that reason to pick the Clippers, and that's probably a good thing, because we can't stand FLOP City.
Why the Clips might only win 1 game

KOBEsh:
Because this Clippers team was extremely lucky to beat a Grizzlies team doing it's best
Walking Dead
impression. Two of Memphis' key players, Tony Allen and Zach Randolph, were operating at 70% or lower, which is only bad if you consider the fact that Allen is the team's best defender and Z-Bo is the team's best scorer. Oh, wait.
More importantly, in a slowed-down, epic 7-gamer, the Clips showed their true colors all over the court. With the game on the line, Vinny's squad largely relied on momentum threes from a super streaky Nick Young, Eric Bledsoe doing an unimaginably dominant Tony Parker impression and Chris Paul being the best player in this year's playoffs so far. Yes, I said it.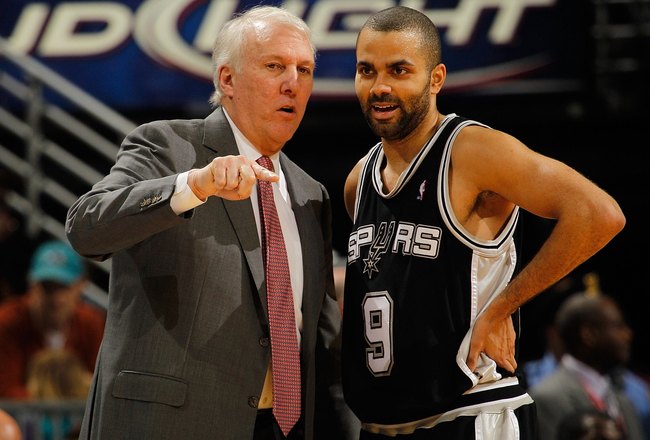 However, a hobbled Blake Griffin didn't play the fourth quarter yesterday. Newly re-signed $45 million dollar man DeAndre Jordan was outplayed by Reggie Evans. Caron Butler is playing with a broken hand, and while it's not affecting his shot, it's certainly affecting his defense and ball handling. Mo Williams forgot how
to play basketball
. As a team, their ball-handling skills were sloppy, with 15 turnovers a game (up from 13 in the regular season) and 25 fouls per contest (up from 21). Gregg Popovich is going to dissect them with surgeon-like accuracy, making the Clips earn it at the line (where they're shooting 67%), playing pressure defense and capitalizing on turnovers. With Vinny del Negro on the other side of the scorer's table, the coaching matchup her is akin to Josh Groban taking on Marlee Matlin in a singing contest; it's not fair, it's cruel and we're all going to Hell for even mentioning it.
So many things went wrong for the Clippers last series, it's hard to believe that they survived. The Spurs on the other hand, as BockerKnocker pointed out, are playing flawless basketball right now. The only hope they have against San Antonio is an atomic Chris Paul dragging them to a sixth or seventh game. However, considering how many imperfections they showed in the last round, I can't see the Clips taking more than 1 game.
(2) Oklahoma City Thunder vs. (3) Los Angeles Lakers: THUNDER IN 7
KOBEsh:
Oh God. I hate writing this more than any Thunder fan would love to read it. But I just don't know how the Lakers pull this one out.
The only saving grace for the Lakers here is that they're a team that has regularly played down to competition during the regular season, while playing up to truer contenders. Also, the Lakers just came off of beating a Denver squad whose offense attack somewhat mirrors Oklahoma City's. So there's that.
But...in Denver, the Lakers were trying to contain Danilo Gallinari, Al Harrington and Ty Lawson. Now they're dealing with Kevin Durant, Russell Westbrook and James Harden. Shit.
As I wrote in Silver Screen and Roll's pre-series predictions
, there are a lot of unknowns in this series, but let's just go with what we know. The truth is that the Lakers, for all their defensive brilliance (at times), won't be able to cover all three of these guys at once. As you saw with Denver, it only took Ty Lawson and a couple of hard-rebounding bigs to take down the Lakers, with some supplementary help from a few other shooters. The formula for OKC would be very similar: Kendrick Perkins and Serge Ibaka know how to stuff the paint and can play both Gasol and Bynum straight up, while Westbrook and Harden will be attacking the basket and leading the break to capitalize on any of the Show's mishandling of the ball. This is a Thunder team that will knock down their open jumpers (unlike Denver who just shot 28% from 3-point land in 7 games), play a much more physical game against a bruising Lakers team and in KD, Russ
and
the Bearded Wonder, can close out a fourth quarter each on their own. Essentially, LA is playing against a souped-up, confident and more battle-tested Denver team in the Thunder. The reason why I think the Lakers can take a few games off them is because they'll be extremely motivated playing against what they see as the only stumbling block between them and title number 17. This is going to be a bloodbath (maybe literally), with the Harden/Metta and Fisher back to LA storylines saturating every single game-break timeout video montage.
More important than anything else though, it just
feels
like the Thunder's time. This is the classic "passing of the torch" series, a la Jordan's Bulls beating the Isaiah Pistons or San Antonio overcoming the Lakers in 2003. OKC thinks they're better than the Lakers, and dammit...they just might be. I hate myself.

The CDP:
In a word, here's why I think the Lakers will beat the Thunder: experience. The Thunder have had a better regular season and are younger/more athletic, but they've never won a championship and that matters. No offense to Durant (
plenty intended for Henry Abbott
), but Kobe is the best closer in the game and is still able to will his team to victory. Furthermore, I think that it's a much better matchup for the Lakers – Denver head coach George Karl may be a creative chessmaster but anyone who has seen the Thunder in crunchtime knows that Scott Brooks is more of a checkers guy. Mike Brown, a man with a dearth of creativity himself, is much more suited to prepare for this kind of traditional showdown.
On a individual level, Kobe has shown the ability to really bother Westbrook, and MWP, with his physicality, is one of the premier defenders on Durantula. The Lakers will have to find a way to slow down Harden when all three stars are on the court, but let's not forget that LA also has a huge frontcourt advantage. Bynum/Pau should be able to dominate the boards and score easily against the Thunder bigs with their length, and injuries are relevant here. OKC traded Jeff Green and overpaid Perkins on his extension for this exact moment, and he's hurt. Perkins is a very effective post defender against Bynum in particular, a job that Collison/Ibaka can only handle in spot duty. Unlike the erratic Denver series, Bynum will need to truly assert himself this time around.
This series is closer to a coin flip than either side would like to admit and will likely come down to execution, particularly in late games. If the Lakers can take advantage of Perkins' absence and at least split in OKC, they'll have the edge in the series.
__________