9 unanswered points in two minutes. The Lakers blowing a seemingly insurmountable 7 point lead with 2:07 left in the game. Kobe Bryant resembling a flacid lifeless toy snake rather than the killer Black Mamba we've all come to know, respect, in some situations love, but in most, hate.
Two days later, it still doesn't add up for me. Not in what I saw; I watched every minute of that game. But how did a Lakers team that had complete control over the game's pace for 46 minutes suddenly abdicate the reins over to the Thunder for the final two deciding minutes? The loss still stings, and hopefully it hasn't lingered in the minds of YOUR...Los Angeles Lakers for more than a couple hours the other night.
How do you get over this? How do you shake this feeling of doom? Even a win tonight in Staples Center will still only put the series at a 2-1 Oklahoma City advantage, with the fourth game coming just 24 hours after the third? The answer is that maybe you can't. Maybe this one will stick in our minds for a long time to come, just as we could say about the Lakers if they falter tomorrow night.
Shortly after the conclusion of Game 2, I wrote up a
Silver Screen & Roll recap
, which I had committed to days earlier. Little did I know that I'd have to write the thing with a rattled brain and a heart in the clutches of two grown basketball players who looks like they lived in Williamsburg. Not too long after I hastily put together my frazzled thoughts, a commenter left a response that Wednesday night was one of the worst Lakers losses he'd seen in 45 years.
Instantly, and even with only 27 years of Lakers fanhood under my belt, I recoiled with rejection and disbelief. That couldn't be true. Could it? I taxed my brain, and when I came to a familiar standstill that I so often encounter when I, you know, think, I turned to my other, more functional and easily edited brain, Wikipedia. After gathering the facts, I replied that this wasn't even in the top 5 losses...of the past 15 years. Instantly I started reeling off game after game, with each playoff disappointment more painful than the last. As the barren, stale hole in my chest became larger and larger, I actually started to feel a small sense of relief. By burning myself longer and deeper with painful memories of past Lakers failures, I actually started to feel better about Game 2. In comparison, this was cake! Sarah Lee confetti cake from an erotic bakery! With a picture of a young Meg Ryan! Sweet!
So here we are Laker fans -- staring at the end of our season, for all intents and purposes, with a loss tonight. Needless to say, a 3-0 hole is a chasm not even the mighty Kobe Bryant and his Lakers can claw themselves out of. Much like any other facet of our lives, the best way to feel better is to put everything in perspective and say calmly, with the even handedness of the Zen Master himself, "it could always be worse".
The criteria for these rankings is that the loss has to be followed, either instantly or at some point that postseason, with an elimination and NOT a championship. Thus, losses like Game 1 of the 2001 Finals against Philly (the Iverson game), Game 5 of the 2002 Western Conference Finals (Mike Bibby's dagger) or Game 4 of the 2010 Finals (Shrek & Donkey Game) are not valid for the purposes of these rankings. Furthermore, the loss is taken in context; so you'll see that while 3) wasn't a Finals game, or even a Conference Finals game, the resonance of that loss has simply added to the instantaneous devastation we all experienced in the moment.
Presenting the 5 worst losses of the Kobe Bryant Lakers.
Dishonorable Mentions: Game 1 and 4, 2011 Second Round vs. Dallas Mavericks | Game 5, 1997 Second Round vs. Utah Jazz | Game 7, 2006 First Round vs. Phoenix Suns | Game 2, 2012 Second Round vs. Oklahoma City Thunder
As mere painful memories rather than a piece of shrapnel on a never-ending path to our purple and gold hearts, these losses just have some roots, but ultimately just scratch the surface of misery. The closeout games against Phoenix and Dallas hurt just in how lifeless the Lakers looked in the face of elimination, especially the sight of the obsessively competitive Mamba simply giving up and mailing one home against PHX. Game 5 against Utah sticks out because of the 4 infamous Kobe airballs, and Game 1 of the Dallas series last year featured a comeback that didn't quite rival Oklahoma's, but was devastating none the less.
Onward into despair!
5) Game 5, 2004 NBA Finals vs. Detroit Pistons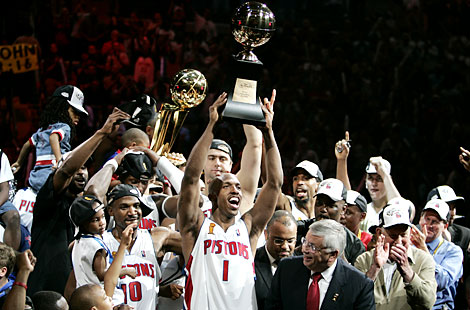 To this day, almost 8 years later, I still don't believe that this one happened. In one of the biggest upsets in NBA history, an upstart Detroit Pistons team made up of 4 castoffs and a coach who couldn't stay in one place for more than 3 years at a time beat the Hall of Famer-laden Los Angeles Lakers for the title. With Karl Malone and Gary Payton added to the duo of Shaq and Kobe, Phil Jackson's team was unstoppable at times, squabbling at others, but was always the over-arching favorite in 2004.
In a "gentleman's sweep", the Pistons dismantled the Lakers, and if not for a classic Kobe Bryant scoring outburst in Game 2, Detroit would have won flawlessly. This particular game was even more out of hand than the 100-87 score suggests, with the Pistons winning the first three quarters by 27 points. The Lakers had fallen apart after Derek Fisher's legendary 0.4 shot in the Conference Semi-Finals, with Detroit's physical defense and athleticism outplaying and outhustling an old Lakers squad. This game was just the exclamation point on an entire series of bone-crunching dominance by the Lakers' opponents. What really makes this game especially painful is seeing Kobe, Shaquille and Phil walking off the court separately, and even at the time knowing that that particular era of Lakers basketball was over.
4) Game 6, 2006 First Round vs. Phoenix Suns
Otherwise known in my household as the "Tim Effing Thomas" Game.
True story: I didn't even watch this game live. I was studying abroad in Japan, and in a brutal, archaic time before order and civilization, where League Pass via Broadband was not available, I followed the game on my cell phone. Knowing that Game 6 should have been the Lakers closeout game, I jumped up and down, shouting "Yes! Yes!" amidst a sea of confused Japanese, who looked at me like the savage, inappropriate American that I am. Then the Phoenix points kept coming. And coming. And all of the sudden I read "PHX: Tim Thomas makes 3-point shot".
I dropped to the ground and fell to my knees in horror. Of all the players, Tim Effing Thomas would be the one to beat...the Lakers? If the shot was from Nash, Marion, Barbosa or even Amar'e, I would have looked down at this piece of futuristic Japanese technology and said "Well. Okay". But instead, one of the
most despicable wastes of potential Hall of Fame talent of our time
was the one to lead this historic comeback.
Besides the epic 3-pointer from a specimen of even more epic awfulness, there are still so many levels at which this loss stings despite it A) not being an elimination game and B) being in the first round.
You have to remember, this was a rebuilding Kobe Bryant team where his 3rd through 6th best players were (in order) Kwame Brown, Luke Walton, Smush Parker and Chris Mihm. Somehow, Kobe (the best player in the league at the time, by far) had dragged this team of stiffs, rejects and retreads to an amazing 45-37 record and the 7th seed in the playoffs. The Lakers had a 3-2 advantage (after being up 3-1), were at home with so much momentum on their side. This loss didn't just negate an entire season of overachievement for the Lakers -- it negated two last-second shots from Kobe in regulation and overtime in Game 4, which rank amongst his most spectacular. Whenever I sit down to have a rice bowl, I can still taste this loss.
3) Game 5, 2003 Second Round vs. San Antonio Spurs
Otherwise known as Robert Horry's in and out three point shot game.
In an all-but deciding Game 5, the Lakers had the opportunity to go up 3-2 in San Antonio against the number 1 seeded Spurs. Tim Duncan and company got off to a hot start, putting the Lakers in a 25 point hole. The defending champs rallied back on the performances of 36 points from Kobe and 20/12 from Shaq, as the game came down to a last LA possession.
In the same position he'd been in just one year before, Robert Horry found himself with the ball in his hands, the game on the line. It was a shot that we had seen Big Shot Rob hit time and time again, most notably and famously on that fateful tap out from Vlade Divac.
I've gone over this chain of events multiple times, roughly 5 dozen too many. In my revisionist history, if Horry hits that shot, the Lakers go home with a 3-2 advantage and pockets full of swag that they'd need to finish off the favored Spurs. If they were to win Game 6 (this Lakers team thrived on momentum, so I'd always hedge on their side in a pressure game), the Lakers move on to face an inexperienced Dallas team that couldn't defend anyone and a hapless New Jersey team that the Lakers had swept just a year earlier. Even Kobe and Shaq's rapidly eroding relationship wouldn't have fractured quite as soon with the salve of a fourth title in five years. Could this have led to another title? Or two? Or three? Maybe. I'm not sure they could have fended off a young and hungry Spurs team, or even the very same Pistons they faced in 2004.
None of this matters really. Because Robert Horry missed that shot at the top of the key, the one he had made countless times before. In fact, he didn't hit one three-pointer that whole series, going 0-18. It's not just the future what-ifs regarding that miss -- it's that this, not 2004, was the final nail in the coffin for the Shaq/Kobe/Phil era. And that hurts more than missing a game-winner.
2) Game 6, 2008 NBA Finals vs. Boston Celtics.
I want to die a little bit right now.
The 39 point loss. I still genuinely don't know what the final score was, only that we lost by that much. I avoided any sports news outlet for a week, didn't wear green for 6 months and did not read anything Bill Simmons wrote for a full year (until we won in 2009), for fear of being brought back to that fateful night in Boston. I still get legitimately sad when I think about this game, or see a shot of Paul Pierce holding up his Finals MVP trophy in the NBA on ABC pregame montage. I can't write about this anymore folks. This is only 2nd on our rankings here because of the blowout nature of the loss, even though it was an elimination game. Because number 1 was just that bad.
1) Game 4, 2008 NBA Finals vs. Boston Celtics.
You might remember it as the 24-point comeback game. I desperately want to forget it.
Facing a 2-1 deficit, the Lakers were in the second game of three at home against the Celtics, in a Finals series featuring the two teams for the first time in 21 years. The resurgent C's were on a mission, with vets Kevin Garnett, Paul Pierce and Ray Allen sacrificing personal achievements for the good of their first collective NBA championship. The Lakers had been surprised by Boston's physicality in the first two games, their new acquisition Pau Gasol being dismantled by KG and Perkins in the paint. However, Game 4 had a different tone than the previous 3 - the Lakers got out to an enormous lead. 24 points, in fact.
And then it happened. Aided by 29 points from subs Eddie House and James Posey, the Celtics stormed back into the lead with only 4 minutes left in the game. They ended up winning by 6 points, 97-91. Looking back on it, that Celtics team was much better than the Lakers, and it showed in a 6-game series that, in my opinion, should have been a sweep. But at the time, it was the most shocking turn of events that Staples Center had ever seen. Still is.
Talking heads and writers alike attacked the LA crowd for "sitting on its hands" during the furious Celtics rally. Being there, I can tell you that it wasn't an unethusiastic Lakers crowd that lacked the usual spirit that goes into a Finals game; it was that we were all so stunned at what we'd seen. At the time, we all thought that the Lakers weren't just the favorites to win the title - it was merely a formality that LA had to go through Boston to get it. With a 24 point lead at home, it only emboldened everyone's thought process. It wasn't that the crowd lacked energy or excitement - it's that every bit of it was melted away with each Posey jump shot.
I was there. At the end of the game, I leaned over, hands on my knees and my head down, as it I was the one who had played the game. In the 40 minute ride home, my dad and I didn't say a thing.
Looking back at the record books, this was one of the worst losses in Lakers history. Only a pair of Game 7's - during the 1984 Finals (a 7th straight Celtics win in the Finals over the Lakers, with no losses) and the 1969 Finals (a Celtics win in LA over the heavily favored Lakers) can be considered worse. I think I need to vomit right now.
__________
So fret not Lakers fans. Wednesday's devastation was nothing in comparison to the misery that's already happened to us -- it could always be worse. I hope you feel better!