Before the game started, I had goosebumps. You hate being in a Game 7, particularly when you've had a chance to avoid it, but it's a truly special moment in sports. I just wanted to get off to a good start and help the Lakers settle into their game. Being successful in a Game 7 requires managing emotions and playing in rhythm. This is where legacies are created and the palpable weight of history can sometimes suffocate a team.
After it was all over, Lakers 96, Nuggets 87
, I could finally exhale. Denver put up a hell of a fight and will be dangerous next year, but there would be no more waking up in the middle of the night thinking, "What if…" Ty Lawson's Speedy Bunch is gone and hopefully lit a fire for Round 2. Special props to Afflalo, Lawson, and Al Harrington for bringing their A-Game tonight and all series long. Overall, the Lakers exhibited a great team effort tonight, a game to be proud of. Denver never buckled and the Lakers earned every inch. They ground it out as a team, even when the shots weren't falling.
Here are the highlights: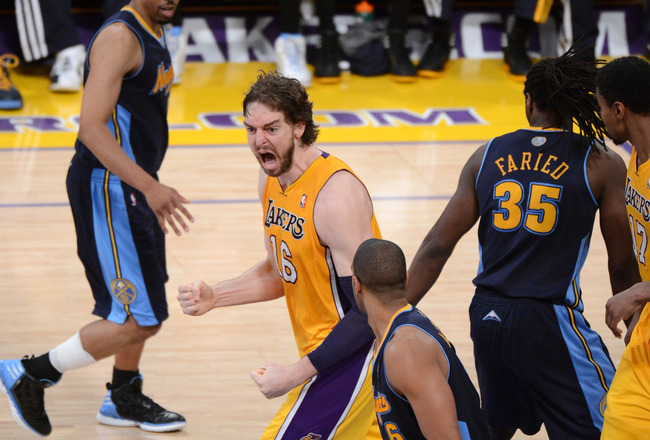 Your face says it all Pau.
The much maligned Lakers bigs. Pau and Andrew were the first teammates in history to combine for 30 points, 30 rebounds, 20 offensive rebounds, and 10 blocks. Dominant. Paufollowed through on the good omen of swishing his first jumper and both were much more aggressive at getting their own shot, even if that meant playing volleyball on the offensive glass. On one possession, Pau had 7 tips to himself in a row (authors note: I counted, it's at 3:05) and ended up with a bucket. Defensively, they were much better at containing Denver's explosiveness on the boards and contested everything in the paint. I love how the crowd gave Gasol props for his gritty performance after harassing him last game. He deserved it both times.
Metta World Peace's triumphant return. Although he had 4 threes/steals, Tenacious MWP changed the game with his vicious defense and his physicality caused matchup problems all over the place. He's a nightmare for Denver's shorter bigs because they can't punish him down low or rebound over him like they can Kobe/Barnes at the three. MWP completely shut down Gallinari and Miller, holding them to a combined 2-19 with 9 turnovers.
Steve Blake was just a monster last night. His five threes, some of which were unbelievably tough shots, were absolutely pivotal and we don't win without him. He also picked up his defense for Game 7. Happy for Blake – he's an easy guy to cheer for.
Team execution. The Lakers executed well right out of the gate, keeping them from an early hole. By taking care of the ball and shooting less midrange jumpers, there was less fuel for Denver's transition, which slowed the tempo and forced them to execute in the half-court. Although outrebounded, the Lakers protected the ball, blocked shots, and forced turnovers. Offensively, the Lakers seemed much more comfortable in their sets and moved the ball around unselfishly.
Kobe Bean Bryant. While the undeniable MVP of the series, Black Mamba was content to pick his spots and facilitate last night. He passed effectively out of double teams (8 assists) and let his teammates do the damage until late. Of course, Kobe still got to relish putting the nail in the coffin with a deep three. I was amused to see him high-five Justin Timberlake on his way back up the court. Only in LA.
Phenomenal postgame performance. A visibly psyched Gasol cursed on live TV, "I had to get my ass back in the paint." Artest's usual genius ended with a shoutout, "The only thing that's important is basketball and repping my hood. Queensbridge projects you know what's good."
And now the lowlights:
Extending leads. The Lakers had a 16 point lead in the third quarter that had evaporated by the beginning of the fourth. I know that Nuggets clawed their way back, but you have to hold onto a double digit lead in a game like this. The stakes are too high not to go for the jugular when you have a chance.
Free throw shooting. The Lakers finished a pedestrian 65% for the line, not enough to get it done most nights. While Pau and Andrew iced the game at the line, there were multiple opportunities to extend the lead where the team, including Kobe, bricked their freebies.
Containing Denver's speed. Lawson burned Bynum again and again off the switch. Why not make them hit outside shots and sag off screens? Lawson is just too fast for Bynum at the 3 point line. I wonder where Lawson ranks amongst PG's? Definitely below Rondo, CP3, Williams, Kyrie, Rose, Westbrook, T. Parker, maybe Nash one more year... Then it's tough. He's on par with Steph Curry, but more reliable (see: healthy). I'd put him above Lowry, Jennings, Lou Williams, and John Wall. Dragic's report card is still incomplete. So he's probably 9 or 10 at this point. Crikey.


Looking forward to the Thunder, it's a much more conventional series, which plays a bit more to Mike Brown's strengths. Brooks isn't going to concoct a new crunch-time strategy at this point, meaning this series comes down to execution and effort over complex strategy. I think the Clippers showed the blueprint for beating the Thunder back in April: abuse their frontcourt for second chance opportunities and try to get Ibaka in foul trouble. Meanwhile, the Thunder are at their most dangerous when playmakers like Westbrook/Harden slash their way into the defense or when Durant gets the ball in his spot near the elbow. You need to play Durantula, Harden, and Russ Westbrook very physically and make them outside shooters, where they are streaky and can bring the offense to a halt. The Lakers will struggle to contain the athleticism of Westbrook and Harden, but it will help if they play the physical, team defense they showed in Game 7. As usual, Metta World Peace is the huge X factor in this series. If he can do a good job harassing Durant while playing his part offensively, the Lakers have a real shot.