As we noted in
our season preview
, any Dodgers fan should have been satisfied with a team who merely competed for 162 games this year, not while jockeying for a playoff spot, but rather in trying to preserve the dignity of a once proud franchise in transition.
Miraculously, here we are on May 31st, at 32-18, the best mark in all of the majors.
Despite a recent slide that's included three straight losses at the hands of a struggling Milwaukee Brewers club, YOUR...Los Angeles Dodgers have embarked on a start that hasn't been seen in the City of Angels since the 1981 championship season. Two months ago, most fans would have been ecstatic with a .500 record and a team that played with hustle and grit. Now looking at the best winning percentage in all of baseball and in a division that's a combined 38 games under .500, the Dodgers are thinking that the NL West crown that was once thought highly improbable, is now strong probability.
So the prevailing question here is: How the hell are they doing this? How is a team that we all had earmarked for 81 victories on pace for 105 wins? Que-Ese and I examine the primary reasons why:
Frank is gone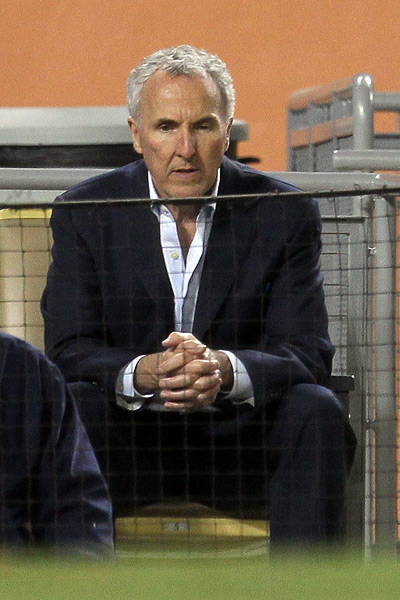 Que-Ese: After being cosmically destroyed in every manner by the McCourt regime, a cloud has lifted in Los Angeles. All last year we heard players talk about how "they didn't care about the ownership situation", but I don't buy it for a second. If your boss drove your organization into bankruptcy wouldn't you care? If the guy signing your paychecks had spent millions of dollars on himself, ultimately costing your organization solvency, wouldn't you find yourself a little less willing to put 110% into your work product?
With McCourt gone (well... sort of) and swimming in his pool of money once again, the fans of LA can once again take pride in their organization (as an aside, I am still very concerned about the profits McCourt is making from Chavez Ravine and the sketchiness with which Magic and Kasten have approached the subject). This means people are at the ballpark spending money, drinking beer, and generally being good fans. I am not a professional athlete but I do remember that playing baseball in high school (glory days for KOBEshigawa) was way more fun in front of a crowd of supporters than all alone at an empty field.
Simply put Frank is gone, and we are winning. It's not a coincidence
The Best Pitching Staff in the National League
KOBEsh:
Well, that'll help a bit. The Dodgers currently rank in the top 5 of the following categories: ERA, WHIP, quality starts, batting average against, opponents OPS, strikeouts and strikeouts per 9 innings. Not bad.
Led by who some would call the best pitcher on the planet, Clayton Kershaw, the starting rotation isn't just the strongest part of the team - it's one of the strongest in the league. Chad Billingsley and newly signed Aaron Harang are giving the team solid, if unspectacular inning, but everything that the Dodgers could have expected of them. However, it's the two lefties, Ted Lilly and Chris Capuano, that are changing the complexion of the team.
Lilly (5-1, 3.14 ERA) has controlled the tempo of almost every single game he's been in, painting the corners and allowing just 1.13 combined walks and hits per inning. Though not the strikeout pitcher he once was, Big Game Ted (that's not his nickname - I just made that up) has shown up to the park every day with his usual stoic demeanor and gone to work.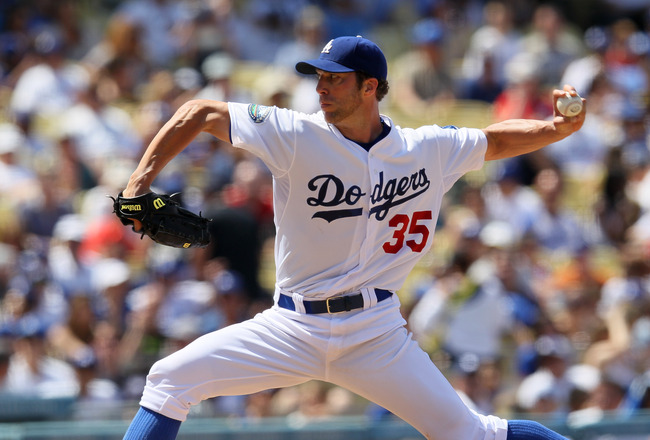 Capuano (7-1, 2.14 ERA) has arguably been the best starting pitcher on a staff that features three former All-Stars. Once a wild but sometimes dominant starter with the Brewers years ago, Chris' days as an elite starter were thought over when the surgeons ran out of elbow ligaments of his to replace. Capuano has been beset by arm troubles his whole career, which once led to him going over 3 years without a major league win. The lefty's 2012 season has been damn near miraculous: looking at his stat line versus Kershaw's, they're nearly identical. For a guy who everyone thought was overpaid and overextended with a 2 year deal in the offseason, Capuano has been one of the team's MVPs.
Even with an embattled closer to the start the season in Javy Guerra, the Dodgers 'pen has been surprisingly dominant considering how many moving pieces it's had. Two key preseason pieces have departed (Matt Guerrier through perhaps a season-ending injury and Mike Macdougal getting cut), while Scott Elbert, Josh Lindblom and Kenley Jansen have stepped up to form one of the most dominant relieving corps in the league. The bullpen currently stands as having the sixth-best ERA in the NL, the 3rd best K/9 and allowing the 2nd least amount of bases.
Minor Leaguers Gone Wild

Que-Ese: Every team has a AAA club with some hand-picked prospects. The Dodgers do not. Under the McCourt regime, they traded away every ripe up-and-comer they had for any spare parts dangling on the trade market (looking at you, Casey Blake's beard). As the cupboard became more and more bare, the Dodgers shrunk their player development budget substantially and spent less and less on drafting quality youngsters each year. This has left the club with a AAA team full of assembled parts and no superstars. Shockingly enough, these boys can play and they have nothing left to lose. Here's a quick peak at the lifer minor leaguers who have helped drive the Dodgers forward.
Elian Hererra, IF - Years in minors: 8. Not drafted, initially signed as a catcher. Currently hitting .292 in 14 games with the Dodgers.
A.J. Ellis, C - Years in minors: 9. Drafted in the 18th round of the 2003 draft (541st overall pick). Hitting .313 in 40 games and leading the best staff in baseball.
Jerry Hairston, Jr., IF - Years in minors: 3. Hairston is a different story, as he once was a legitimate big-leaguer who was traded for a fading Sammy Sosa in Baltimore. However, he has played on 8 teams in the last 6 seasons. Point being, he was signed to be an extra part down on the farm and has turned out to hit a very hot .366 this year, providing a boost off the bench and a solution to the "we can't keep Kemp or Rivera healthy" lineup problem the Dodgers have had thus far.
Andre Ethier's Contract Year
KOBEsh:
Not since the days of the legendary NBA baller Tim Thomas have we seen a player who gloriously overachieve for that next big contract.
Joking aside, Ethier is supposedly healthy for the first time in years, and it's showing. Dre has been punishing opposing pitchers this year, leading the majors in RBI, while throwing down a career-best .959 OPS and already totaling half the amount of bases he touched last year (103 in 2012 versus 205 last season). Most importantly, he's hitting .324 against left-handed relievers, as opposed to the feeble .249 mark he's known his entire career. Not only does that mean he's raking against pitchers that usually stick it to him, but manager Don Mattingly has been able to leave him in the game. Along with his all-world defense in the outfield, Ethier's bat has been an able complement to the possible NL-MVP in Matt Kemp.
Don Mattingly as a Brilliant Manager
There are three hallmarks typically apparent in a great baseball manager. First and foremost, you've got to be able to motivate your players into hustling and playing hard over a unfathomably long 162 game season. Second, you've got to be able to maximize the best performances out your team, no matter how little talent they may appear to have. Third, a great manager will consistently make decisions that look strange at first glance, but are in fact brilliant, under the radar maneuvers.
With as little as we could tell about Donnie's managerial acumen throughout the quagmire of a 2011 baseball campaign, the one thing we knew for sure was that he could motivate his guys. Last season's Dodgers team was consistently under-manned and marginally talented, but somehow found a way to scratch and claw out an above .500 record. Mattingly has again gotten the Boys in Blue to play hard every single day. This squad, much like last year's, is light on talent, but a behemoth on hustle. There's not a single Dodger that takes a day off in the field, playing every day like it could be his last in the majors. And as we noted, for a lot of these guys, it very well could be.
Que-Ese highlighted this earlier: out of this year's regulars, only Andre Ethier, Matt Kemp, Juan Uribe, Mark Ellis and James Loney have been every day position players for the past 5 seasons. Everyone else - Justin Sellers, Jerry Hairston, Elian Herrera, AJ Ellis, Juan Rivera, Adam Kennedy, Matt Treanor, Tony Gwynn Jr, Ivan DeJesus Jr, Dee Gordon and Scott Van Slyke - have all been prospects since the beginning of time, or washed-up shortly thereafter. Somehow, every single one of those players have had a memorable in-game moment this season. This isn't to say that guys can't come out of nowhere to play a major role on a MLB team; this happens all the time. However, life-time minor leaguers and prospects get called-up to the show all the time, underachieve and never leave a mark. Mattingly has been able to put these guys in the right spots to succeed. That's what's so amazing. It's not just a confluence of right time, right place. These are calculated moves by Donnie.
Last week against the Houston Astros, Mattingly ran a line-up that ran Jerry Hairston batting fifth, while the team's second best hitter AJ Ellis languished in the seven spot and veteran and regular first baseman James Loney hit sixth. On paper, this looks foolish. Why would you throw your hot-hitting catcher in the 7th spot? Because Hairston is hitting .333 in the five-hole, as opposed to a measly .262 in the six-slot.
This is just one example of Mattingly looking at his line-up and not being afraid to be unconventional with a team that's already had nine disabling injuries to starters and back-ups this season, including one (and perhaps now two) DL stints for MVP candidate Matt Kemp.
The Bottom Line: Can they keep this up?
Yes, they can. However, the most prevailing question and biggest obstacle that comes to mind is if they can keep on withstanding these injuries.
The short answer is no, they can't. Though Gwynn, Sellers and Hairston can play great in stretches, they can't maintain this type of pace all year. These players haven't been able to keep every day jobs in this league because of their inability to adjust to pitching and stay consistent. They've all wielded hot bats lately (I'm not concerned at all about their fielding - the Dodgers are one of the best in the league), but over a whole season I'm not confident at all that they can keep playing above replacement-level. Donnie can keep opposing staffs guessing by switching them around the diamond and giving them new looks in the batting order, but overall, the Dodger MUST get healthier, specifically Matt Kemp and Mark Ellis.
However, most of the other Dodger reasons for success this year aren't fluke-ish at all. The pitching staff has been phenomenal, but aside from Capuano's Cy Young worthy performance, certainly not unexpected. The bullpen had had its share of early struggles, and since then has thrived with new guys in the spotlight. Andre Ethier's bat has been incredibly hot, which has largely been because he's been healthier than he has in 3 seasons. AJ Ellis has been the team's 3rd best hitter, and according to all the minor league scouts, he's had this type of bat all along, but has never manifested itself in the majors.
Also, keep in mind this number: 38. Again, that's how many games under .500 the rest of the division is. The Dodgers still have 4 months of games against the worst division in baseball. They've proven how dominant they can be against the NL West with an already sterling 17-6 record, so as long as they can keep up anything close to resembling that mark, they'll be able to win the West with a 2 or 3 game cushion. I certainly don't expect them to come close to 105 wins, but with better health and hopefully some mid-season offensive reinforcements, they'll be able to coast to a NL West title.