On Wednesday night, the lottery results were released, with the New Orleans Hornets coming out on top as the night's biggest winner. In true Mambino fashion, we present to you the first version of the 2012 NBA Mock Draft, consisting of all lottery selections.
As always, this mock draft is based on what these teams "should" do, as opposed to what we think the teams "will" do. To choose the latter over the former is an exercise in futility, as readers of our NFL Mock Drafts know quite well.
Participating in v1 are your regular TGM cohorts, KOBEsh and I. Obviously. But we have some help, in the form of irregular correspondent El Miz, and brand new guest poster, 6 on Hibbert. Any NBA fan or recent Georgetown alum/student knows about the transformation of Roy Hibbert, who earned his first All-Star nod as the Center for the Indiana Pacers this past season. Well our boy 6oH, as you may guess, scored 6 points on Mr. Hibbert not too long ago. Eat it, Roy.
And now, onto the picks:
We spend so much time on the Brow.
But good Lord, check out those teeth!
1. BockerKnocker selects Anthony Davis, Kentucky PF/C, for New Orleans
Easiest pick to make. So easy that I wrote this little thing before the Lottery results were announced, and so easy that this pick will probably be skipped in version 2. The conspiracy theories have started ever since Adam Silver revealed that the Charlotte Bobcats, the league's worst team by a mile, would be picking 2nd overall. What's wrong with NOLA picking 1st?
THE TEAM GETTING DAVIS IS OWNED BY THE NBA.
Let's just move on. Davis' athleticism, and therefore potential, are screaming off the charts. He is agile enough to wreak havoc defensively, but what makes this kid so unique is his ability to stay with guys on the perimeter while also patrolling the paint. He swats a good number of shots and alters even more. That's what happens when you grow SEVEN inches from junior to senior year in high school. He's been playing guard all his life and already knows the basics of playing free safety. And who would want to get close to that devastating germ-infested eyesore of an eyebrow anyways?
2. 6 on Hibbert selects Andre Drummond, Connecticut C, for Charlotte
This might be a slightly unconventional pick, especially for the Bobcats, who always take the best NCAA player available (see Walker, Kemba; May, Sean; and Morrison, Adam). However, the Bobcats are the worst team since the Washington Generals and they need to swing for the fences. How much does MKG help this team? He doesn't. How much does Thomas Robinson help this team? He doesn't.
Their only choice is to hope and dream that Andre Drummond mixes Hasheem Thabeet's raw talent with Emeka Okafor's IQ. I wouldn't bet on it but it's high risk-high reward time for MJ and his laughingstock of a squad. They need a franchise player and this is their only choice.
3. KOBEsh selects Michael Kidd-Gilchrist, Kentucky SG/SF, for Washington
The complete makeover of the Washington Wizards continues.
Looking at this Wiz team, the best case scenario in this draft would have been Anthony Davis, but unfortunately for everyone in the District it was not to be. However, GM Ernie Grunfeld has very clearly signaled to the Zards faithful that boneheads like Nick Young, JaVale McGee, Andray Blatche, and Gilbert Arenas will no longer be tolerated. Instead, hard-working hustle players like Trevor Booker, Kevin Seraphin, and Nene are going to be valued despite lesser skills and lower ceilings.
MKG could be the very personification of everything the Wiz could want going forward. Everything I've heard and seen about Kidd-Gilchrist revolves around his athleticism and an incredibly competitive motor that won't ever allow him to stop playing hard. He doesn't seem to be the type of player that will be able to easily get his own shot, but with the Pope John Wall running the offense, a hustling, physical slasher is going to be rewarded with easy buckets. Just a perfect fit at number three, if Washington can get him.
4. El Miz selects Bradley Beal, Florida SG, for Cleveland
The Cavs struck lottery gold last year, winning the lottery by way of owning the rights to the Los Angeles Clippers' winning lottery combination and then selecting Duke guard Kyrie Irving over Arizona forward Derrick Williams. Irving displayed great moxie for a lead guard in his rookie campaign and went on to win the Rookie of the Year. The Cavs other first round pick -- Texas forward Tristan Thompson -- had a less impressive but still decent rookie campaign, averaging 8 points and 6.5 rebounds in 24 minutes per game.
The Cavs would like to use this lottery pick to complement last year's duo, and the best fit is Florida shooting guard Bradley Beal. Beal is a similar player to former Indiana guard Eric Gordon -- a slightly undersized 2, but a guy who can create his own offense and bury the NBA 3. Gordon's college percentages for his one year at Indiana were 43% from the field, 33% from 3, and 83% from the line; almost identical to Beal's 43%/34%/79%. Beal's picture-perfect stroke would have plenty of wide open looks playing in the same backcourt as Irving, a point guard who excels at getting to the hoop and drawing the extra defender.
Some would pine for "The Brand" Harrison Barnes, but his inconsistent effort would be a negative on a team that had great chemistry last year. Kansas forward Thomas Robinson is probably too similar of a player to Thompson. Beal has the highest upside, and he's the most logical fit.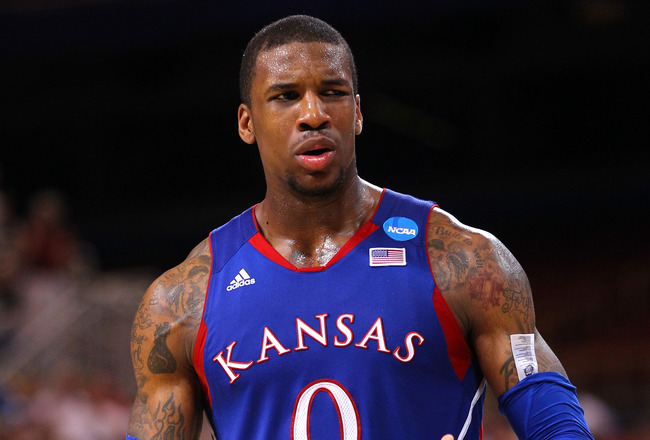 Boogie Cousins can pick fights all day with Robinson at his back.
5. BK selects Thomas Robinson, Kansas F, for Sacramento
Robinson is a tough SOB. He combines a relentless motor with an above-average vertical leap to stake his name as the best pure athlete in this draft class. (Yeah, I said it.)
Sacramento, on the other hand, has a roster full of players that are exactly the opposite of Thomas Robinson. Tyreke Evans and DeMarcus Cousins are natural scorers, but their intangibles are through the roof. Oh, and what I mean by "through the roof" is that both players literally decided to chuck their intangibles out of the house when they developed as basketball players and human beings. The Kings need a lot of help, both on the court and with the city of Sacto, and while Robinson won't provide them with instant contender status, he will do things on the hardwood that nobody else on that team can or will do. He doesn't need the ball to be effective, and with all the ball-stoppers there, it's a perfect fit.
6. 6oH selects Damian Lillard, Weber State PG, for Portland (via New Jersey)
The Blazers find themselves in a fairly difficult spot here. They have a solid, but uninspiring core going forward with All-Star LaMarcus Aldridge, and capable wings in Nic Batum and Wesley Matthews. Their biggest needs are very clearly point guard and center. Fat Ray Felton and Johnny Flynn aren't getting it done at Point and the only real Center on their roster is Joel 'Ghostface' Pryzbilla.
The best PGs available are Lillard, Dion Waters (not a typical PG), and Kendall Marshall. The best Cs available are Tyler Zeller and Meyers Leonard. The Blazers have another draft pick, their own, which slots in at #11. Personally, all the guys that fill needs for them seem like reaches at #6, and they can definitely get one of the top PG prospects at #11.
The best available players are Harrison Barnes, Jared Sullinger, or one of the Joneses (Perry and Terrence). Do you take Harrison Barnes, play Matthews occasionally at Point, and add some depth to your wing? Do you take Jared Sullinger, and duplicate one of your strengths at PF where you already have Aldridge and JJ Hickson? Do you reach a bit for a guy the average fan knows nothing about, but fills your biggest need? Point Guard is too important in David Stern's current version of the NBA. They take Lillard.
(Editor's note: HAHAHA NEW JERSEY.)
You guessed it! Barnes has already created a logo for himself.
7. KOBEsh selects Harrison Barnes, North Carolina SF, for Golden State
With the 7th pick, GS will be hard pressed to pass up a guy who could have been selected as high as number 2.
Just as you see in this mock, Harrison Barnes' stock has gone from a prodigal MJ-Kobe archetype all the way down to a questionable mid-lottery pick. Quite the fall for Mr. Barnes, and with good reasons. In his two seasons at UNC, the small forward has yet to show the all-around game suggested by his NBA-ready body and deft shooting touch. Yesterday, I heard Jay Bilas describe him by saying "right now, he's a catch and shoot guy, and can he shoot!" Not exactly the praise you want from a prospect that was once thought to be a franchise changer.
But at the 7 spot, you're starting to draft on potential rather than need. The Warriors foolishly have Richard Jefferson locked up for two more years, as well as Dorell Wright for next season, but that's how long I think it'll take for Barnes to develop into anything. At his best, he's dropping 40-points while shooting from everywhere on the floor, like he did against Clemson in the ACC tournament in 2011. However, he's also drawing comparisons to a passive Marvin Williams. He'll need to understand what his role in the NBA is, whether it's a glorified Dorell Wright or hopefully a more aggressive Joe Johnson. If you're Golden State, you have to take Barnes at this spot and hope for the best. But you don't feel great about it.
8. El Miz selects Terrence Jones, Kentucky SF, for Toronto
Last year the Raptors selected Lithuanian big man Jonas Valanciunas, who thrived in Europe this season and should be headed to the NBA next year. With Valanciunas in the fold, that gives the Raptors a nice group of bigs to build around, including former number 1 pick Andrea Bargnani, former prep-to-pro defensive big Amir Johnson, and former Carolina big man Ed Davis.
The Raptors need an identity. After hiring former Seven-Seconds-or-Less Suns' GM Brian Colangelo as General Manager, most figured the Raptors would be an up-tempo offensive team like the team Colangelo was leaving in the desert. That hasn't really worked out, and the Raptors have wallowed as a team that loses more than it wins, but sort of hovers around .500. After the Mavs won the title in 2010, the Raptors hired away Dallas assistant Dwayne Casey, seen as the defensive coordinator of the title-winning Mavs. Now the Raptors are a defensive team? Who knows, but Casey seems intent on getting the Raptors to respectability on defense.
Terrence Jones is something of an enigma, but he was on a team that absolutely dominated college basketball last season. Although moody and temperamental, the 6'9", 250-pound wing put up a per-game line of 16 points, 9 rebounds, 2 blocks, and 1 steal. He clearly bought into the team concept preached by John Calipari and was pivotal in many of the Wildcats' wins last season. The question mark about Jones is that he's a guy who could loaf through games, but with a coach like Casey breathing down his neck and telling him to man-up on D, Jones would be a player-coach fit. With the biggest doubt about Jones erased, he is a very appealing prospect: excellent size, Swiss-army knife offensive skills, good rebounding, and both the physicality and quickness needed to be a very good defender in the NBA.
9. BK selects John Henson, North Carolina PF/C, for Detroit
Not to be confused with former "Talk Soup"
and current "Wipeout" host John Henson.
I was shocked when Joe Dumars didn't win Executive of the Year. I mean, when you can put your organization in a position to owe Ben Gordon and Charlie Villanueva (aka Cancer 2 Team + League) a combined 42 milly for the next 2 years, plus almost 22 million to an on-the-decline holdover in Tayshaun Prince for the next 3 years, what more is there to do to clinch the award? Oh right, Dumars wasn't done, drafting Brandon Knight last year. Knight seems to have the drive to get better, and this pick may work out eventually, but Dumars passed up players like Kawhi Leonard, Kenneth Faried, MarShon Brooks, and Chris Singleton, all of whom could have given Detroit a much-needed boost in either frontcourt athleticism, on-court toughness, or both.
This year, I hope Dumars doesn't go for someone like Austin Rivers, who, like Knight last year, would be a decent value pick, at least according to experts. John Henson, however, is the better pick. The kid plays above the rim on both ends of the court, averaging more than 3 O-boards per game and more than 3 blocks per game. His individual offensive game is still going through its learning stages, but he showed just enough promise in Carolina last year to make you think that he can put it all together. Greg Monroe is the centerpiece of the Pistons for years to come, so pairing Monroe's post game with the athletic Henson would work out nicely...unless Dumars decides to extend Jason Maxiell for 40 million more dollars.
10. 6oH selects Kendall Marshall, North Carolina PG, for New Orleans (via Minnesota and Los Angeles Clippers)
The Hornets win the Draft. They had a no brainer at #1 with the Brow, and as far as I'm concerned, Marshall is another no brainer if he's available here. You have to like what you've seen from Marshall in his two years in college. He's the prototypical pass-first leader that you want in a PG. He's got ideal height for the position (6'4") and court vision as good as just about anyone currently in the L. I see a little bit of Ricky Rubio in Marshall and I think watching UNC this year after he got injured proved his value as a leader and orchestrator of that offense. Almost as important as watching him thread pinpoint passes between ACC defenders was seeing him on the bench after he injured himself, urging his team on and continuing to lead from the bench.
If the Hornets can convince Eric Gordon to stay, they are a team to keep an eye on with Marshall, Gordon and Anthony Davis. And if Al-Farouq Aminu realizes his potential, he could be a nice 4th banana. And finally, if Gustavo Ayon is for real, this team competes for a playoff spot immediately.
11. KOBEsh selects Austin Rivers, Duke G, for Portland
This pick is more of a need selection rather than most talented on the board. Jared Sullinger, Perry Jones III and Arnett Moultrie are probably the next best prospects on the board, but Portland's PF slot is going to be occupied by LaMarcus Aldridge for years to come. Thus, we're going to the backcourt.
Along with 6oH's pick of Damian Lillard at #6, Rivers could stock Portland's guards for years to come. He's a fearless shooter who's been very impressive off the dribble in his one year at Duke. He doesn't seem to mind taking the last shot and has confidence that's hopefully not a disguised form of arrogance. Again, I'd rather take Sullinger or Jones here, but Rivers' explosive offensive potential is too good to pass up. With Lillard, a dead-eye shooter like Wesley Matthews and Aldridge down low, Portland could be a playoff team next year if Rivers has the cajones he had at Duke.
12. El Miz selects Tyler Zeller, North Carolina C, for Milwaukee
Having just dealt Andrew Bogut to the Golden State Warriors in exchange for backcourt sparkplug Monta Ellis, the Bucks can get the closest thing to Bogut in this draft in Carolina's Tyler Zeller. Zeller is a legit seven feet, who can score with his back to the basket and hit a jumper out to 18 feet. Although he only averaged 16 points, 10 rebounds, and 1.5 blocks for the Tar Heels last year, he was playing on a team with a lot of talented scorers that really tried to establish Harrison Barnes as the go to guy. He could have easily put up 20 on an inferior team.
Zeller is the rare four-year college letterman who has improved every year and has NBA-ready skills in the post. He gives the Bucks guard's Ellis and Brandon Jennings a big to set picks for, and his soft touch will open things up for them in the middle. There may be other players with more upside than Zeller available, but Zeller is a sure-fire double-double and, at 7 feet, could actually play center in the NBA (even though he could use another 10-15 pounds of muscle). You can't teach size.
Anytime you can get a Fathead cutout of your face, you gotta do it.
13. BK selects Dion Waiters, Syracuse G, for Phoenix
Whether or not Steve Nash dons a Suns uniform next year does not matter for the purposes of selecting Waiters, an explosive combo guard with impressive strength on his dribble drive. Currently, Phoenix has the following guards under contract: Jared Dudley...and that's it. While Dudley will always hold a special place in our Chestnut Hill hearts, Waiters fills a huge need for Phoenix. If Nash incredibly decides to stay, Waiters is instantly a Rookie of the Year candidate, as he will have all the opportunities in the world to put points on the board. If Nash leaves, then the Suns can try the Syracuse standout at point. While he's not your dream floor general, Waiters consistently beat his defender off the dribble and found open teammates in college. If he doesn't work out at the 1, then Phoenix still has a quality, albeit a tad undersized, shooting guard.
14. 6oH selects Jared Sullinger, Ohio State PF, for Houston
This works out very well for general manager Daryl Morey and the Rockets. They're in a position to take the best available talent, as they have talent at every position. Sullinger is arguably a top 5 talent in this draft and if he has the desire to, could become a Kevin Love type. I don't see him becoming Kevin Love because he doesn't have the same knack for rebounding or the Wes Unseld-esque ability to throw perfect outlet passes, but he should be a solid pro and a starter on most teams.
This is a really good value pick for the Rockets and would make a nice trade chip if they want to renew talks to get Pau Gasol or another big man. Ultimately, you have to assume that the Rockets are going to be major players in the offseason for any stars who find themselves on the trading block and so they shouldn't be as concerned with needs and positions.
__________
Look out for Version 2 of the Mock Draft in a couple weeks!
@TheGreatMambino