(I'm posting for Pucklius, because Blogger sucks.)
At the beginning of the 2012 Major League Baseball
I wrote on this here blog
a forecast of the New York Mets with such doom and gloom it might have sent the most optimistic fans running for the hills. In short I said that the real pain of watching this team was not how good or bad they would play this year but that the bleak financial outlook left a fan without any hope at all for this season or the next. I'm not going to say I was wrong, because the financial situation of the team, cloudy as it is, still leaves a great deal of concern for the future. I should also say that while I thought this would be a year in which the team went nowhere and made few strides toward being a consistent postseason contender, I didn't think it would really be
that bad
.
Of course, I didn't think it would be
good
either.
I thought that like every season there would be the occasional moments of joy and excitement, the rare comeback win or the fun rookie hot streak by the latest incarnation of Timo Perez in which a callup drums up excitement until the rest of the Majors had scouted him to death and adjusted for him. But I didn't expect or count on a few things. I didn't count on the Mets sweeping the Braves to open the season and get off on the right foot, I didn't count on Johan Santana smoothly coming back from major shoulder surgery, I didn't count on David Wright coming back to life and I didn't count on a suddenly pleasant and happy locker room that made its impact on the field because the 25 guys on the roster all genuinely like each other.
And I certainly did not count on Robert Allen Dickey suddenly becoming the most dominant pitcher on the planet. Dear God, I did not count on that.
All of this is good news for any Mets fan and shockingly it has given us all a reason to hope and a reason to believe, but before we all start high-fiving raucously and sending in our deposits for playoff tickets, I think it would be sane on everyone's part to dial down the optimism for a bit and take a look at a few things. The Mets are six games over .500, which is good, but it's not great either. Their run differential is an unimpressive +3 and was negative for nearly the entire season until this week. They've scored fewer runs than Milwaukee, Colorado and Toronto, and they've given up more than Pittsburgh, Oakland and Kansas City. First baseman Ike Davis, who is expected to be one of the few dependable cogs in the New York Mets machine for this season and the future is teetering uncomfortably around the Mendoza line, rarely cracking a .200 average and staying below .300 with his on-base percentage -- though his power numbers are decent and he has been hitting far better of late. But perhaps most concerning is the fact that the Mets have been a maddeningly inconsistent squad all season. Before a sweep Baltimore at home this week (the franchise's first time beating the O's in three straight at home since the 1969 World Series), the Mets were swept by the Reds after impressively beating up the Tampa Bay Rays on the road in a sweep after being swept by the Yankees after dropping two of three to the Nationals after taking three of four from the defending-champion Cardinals... well, you get the point. The Mets have their share of impressive showings so far this season against top-tier competition, but they've also been swept by the Houston Astros, an outfit that would probably lose to some better AAA teams.
So in the end, all of this adds up to, well, no one really knows. The 2012 New York Mets are an enigma wrapped in a riddle wrapped in an IRS audit. It's just about as easy to see this team making a miracle run to the postseason as it is seeing them hit the skids and spiral to 25 games out by September 1st. We don't really know what the outlook is or how they'll finish.
But at the very least, for the sake of the fans, we do know that they're an awful lot of fun to watch.
This is a team that has clearly taken a cue from its manager Terry Collins to have a relentless, nerver-say-die tenacity that has shown itself consistently in the late innings all season. The Mets' youth and energy shows itself night after night, and the lineup has its fair number of consistent hitters (Daniel Murphy, Wright) and men who can hit for power (Davis, Lucas Duda) to go with a bullpen that has been mostly solid and an ace (Santana) who has finally given the franchise its first no-hitter and returned to his consistently impressive level of performance.
And then there's Dickey. Good lord, what got into R.A. Dickey? As
some of the web's wiser scribes have noted
, Dickey's performance this season, or more specifically over his last five or six starts, is among the most dominant stretches by a starting pitcher in Major League history. This is a fact that BockerKnocker reminds me of every time he completes an impressive start, as Bocker told me to pick Dickey up off my fantasy league's waiver wire back in April. While I had been considering it already, I'm willing to give him some credit for the best move my fantasy team has made all season (the worst: dropping Mike Trout while he was in the minors). Going into his start against the Yankees this weekend, Dickey will be coming off consecutive one-hitters -- a first in the National League since 1944 -- with a total of over 10 strikeouts in each of those starts -- a first in Major League history. The knuckleball is an eternal baseball mystery that has befuddled pitchers, catchers, hitters and umpires for decades, but Dickey has made a strong argument lately that he might me the first to master the unpredictable pitch and throw it while consistently hitting the plate and changing speeds to keep hitters off balance. Each of his starts has become a dazzling array of must-see viewing in a way that hasn't happened to a Mets pitcher since I was first cognizant that baseball actually existed.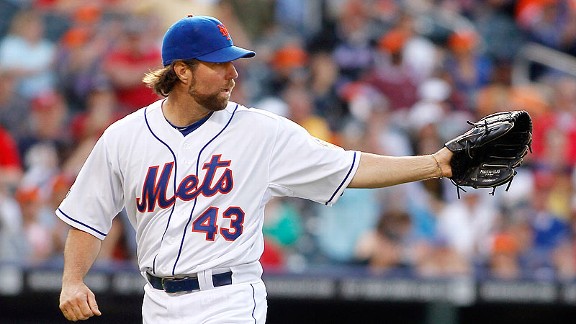 Dickey's emergence as one of the game's top pitchers may very well disappear after he takes the mound for his likely All-Star Game start in July, or it may well continue through the end of this season and the next, but if it does continue that would give the Mets an absolutely lethal top of the rotation twosome that could spell doom for any potential opponents in a short postseason series. In addition, the rubber arm necessity of throwing the knuckleball means Dickey could potentially go three times in any seven-game series if the rotation lined up right. Throw in the fact that Jon Niese isn't a bad No. 3 pitcher right behind them and suddenly the rotation is looking scary. If the lineup continues to gel and give the starters enough to work with the Mets just might be in contention for the playoffs or a deep run once they get there given that no National League team has established itself as separate from the pack like the Rangers or Yankees have done in the junior circuit.
All of these variables would have to break right for that fantasy to come true, and in the end, rationality and the law of large numbers will probably win out. The Mets will probably stumble and begin to fall short as their weak peripheral statistics indicate they will. They will probably miss the playoffs for the sixth straight season and leave the fans anxious over their tenuous financial state and the real possibility that Wright might not be locked up longterm or that Dickey may tumble back to Earth. All of that is very possible -- likely even. It will all probably happen.
But it might not. And that's the glimmer of hope that was missing when this season began. Even if the fans don't believe this team is going anywhere this season -- and they don't if the attendance numbers are any indication -- they still only think it. They don't know it. And therein lies the difference. Misery isn't a certainty anymore this season. There is hope that the year won't end as so many others have before it.
Given what we "knew" at the beginning of this season, that's more than any Mets fan could have asked for through 70 games. We have some hope now. And with the way this season looked in April, I'd rather have hope than "know" anything.