Dead. Man. Walking.
Since the Heat head coach could be putting his hands on his hips or his forehead for the last time in Boston tomorrow night, let's examine how he got here.
November 1, 1970
: Jon Spoelstra, a former executive for 4 NBA teams, and Elisa Celino, hailing from THE Philippines, give birth to baby Erik in Evanston, Illinois. Jon, a Dutch-Irish American, continues a long, still-standing tradition of attempting to
create
beautiful
babies
with our kind. Didn't work out with his boy Erik, but can't blame ya for trying, bud.
Summer, 1987
: After his junior year at Jesuit High School in Portland, Oregon, Jon pulls some strings to get wide-eyed (pun of course intended) Erik at the prestigious Nike All-Star camp (
now known to hoopheads as the ABCD camp
) in Princeton, New Jersey. Somehow, Erik gets paired with the best high school player in the country, Alonzo Mourning.
Five seconds after getting into the Nike camp, 1987
: 17-year-old Erik needs to change his pants.
March 4, 1990
: Now the starting point guard for the University of Portland, Erik and his team suit up to play Hank Gathers and Loyola Marymount University. Erik stood helplessly as a lob was thrown over his head, the end result being a Gathers facial that sent shockwaves throughout the building. As Gathers runs back on defense, he collapses right in front of Erik and breathes his last breath.
No jokes here. Let's move on.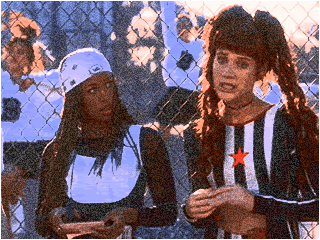 You're lying to me if you didn't enjoy this movie.
May, 1992
: Erik, with his college resume disclosing career per-game averages of 9.2 points, 4.4 assists, and 2.4 rebounds, garnered a spot on TuS Herten. TuS Herten was
on the doorstep of gaining entrance as a franchise in the NBA
a Pro-B mid-level team in Germany. Erik was given the title of player/coach, a title bestowed upon Bill Russell. So how did Erik do in such a position?
"What that really means was the head coach and I would go get some beers and talk basketball and I'd bring the basketballs to practice."
Fine and dandy.
Erik actually also worked with a German youth team, his first real head coaching gig. He laments the days of working with 12-year-olds who couldn't understand English as having "balls flying all over the place." Well there goes your social life.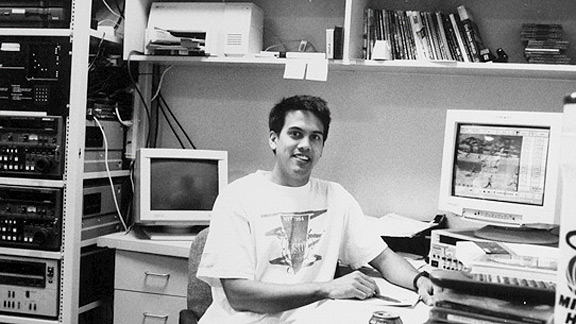 To his credit/dismay, Erik chose THIS...
1995
: Erik gets the break before the break before the break before the break, landing a job as video coordinator for the expansion Miami Heat. Erik earns every single penny in what the team called "The Dungeon." He goes days without returning to his apartment, breaking down game tape.
A 25-year-old male lived in South Beach and didn't leave his place of employment for days. Days! I don't know whether to be sad or impressed.
...over THIS.
1997
: The break before the break before the break -- Erik gets promoted to assistant coach.
1999
: The break before the break -- Erik gets promoted, adding "advance scout" to his responsibilities with the Heat. Then-head coach Pat Riley praises Erik for what Riley calls "above the brain thinking." Riley said that Spoelstra's scouting reports included not just the general Xs and Os, but personal stories about a player, a theme from a book Erik just read, or a news clip from yesterday's paper. No word on whether the homeless trolls on Collins Avenue were cited as sources.
June 26, 2003
: Miami selects Marquette junior guard Dwyane Wade with the 5th pick of the NBA Draft.
No matter what happens in the future, the development of Wade will be Erik Spoelstra's calling card. As a college player, Wade was an attacker. That's what happens in college basketball; when your one elite skill (
in Wade's case, getting to the rim
) brings you success, you stick to that. Erik spent countless hours in the gym working with Wade on footwork, balance, and his mid-range game. "He would literally shove me so I could learn how to shoot with contact," said Wade.
June 20, 2006
: The Miami Heat win their first championship, with Erik still an assistant. Pat Riley wins his first title after leaving YOUR New York Knickerbockers. I want to cry.
April, 2008
: Riley steps down and names Erik Spoelstra the first Filipino-American head coach in professional sports. Good day for the PI.
July 8, 2010
: LeBron James makes The Decision.
July 9, 2010
: The infamous Welcome Party for the NBA's newest Big 3. Erik sits in the audience, wondering how he's going to win "not 7" championships. Good luck, pal.
November 27, 2010
: LeBron "bumps" Erik on the way to the bench, in the midst of an 11-point regular season road loss to the Dallas Mavericks:
June 12, 2011
: The Heat are back in Dallas, just in time for the Mavs to clinch the title. Erik matches the most gifted athlete of our generation to play defense on... you guessed it, Jason Terry. Erik puts Udonis Haslem on Tyson Chandler, allowing Chandler to backtap offensive rebounds time and time again. Dirk is matched up with Chris Bosh, going HAM. Had Erik ordered Bosh to leap with Chandler, and James to shadow Dirk, who knows?
May 17, 2012
: After putting on basketball clinics all across the country, showcasing talent, intensity, and best of all, teamwork, the Heat find themselves in Indiana after the Pacers stole Game 2 in Miami. Wade and Erik have a little run-in:
The Heat survive Indiana when LeBron and Wade make the viewing public cringe in fear for a parade in Florida.
BUT...
June 5, 2012
: The Boston Celtics win the third of three consecutive playoff games. LeBron stands in the corner, Wade takes awkward, step-back threes, and Bosh is found on the bench in crunch time because Erik felt like "it wasn't fair for [Bosh] to be in there." Seriously: those words were actually said.
It's the same song and dance for every big Miami loss. Not enough set plays to enable LeBron or Wade to dictate play in the low post, the opposition sensing the blood in the water and going into overdrive defensively, and the classic hot potato game which ALWAYS ends in poor shot selection.
June 7 or June 9, 2012
: No matter which day it is, Erik Spoelstra finishes his tenure as head coach of the NBA's Miami Heat.
__________