Hello friends, we're back (finally) with another edition of MAMBINO Fantasy Mondays. We give our (supposed) weekly updates and thoughts on Major League Baseball, and of course, the fantasy spin from some rugged veterans of the internet.
The NBA is winding down it's season with the championship round, while the NHL and NFL lie dormant until the fall. If your attention hasn't fully been on baseball the past few months, who could blame you? The NBA Finals is shaping up towards being
one of the all-time greats,
while the
Los Angeles Kings' surprising romp
through a supremely entertaining Stanley Cup playoffs kept us all distracted since essentially opening day.
So if you're just cracking open the sports page, you'd probably take a look at these standings and your face would be contorted into a mess reminiscent of
Jack Wilson's unfortunate mug
. Some of the division leaders are as predictable as a Matt Cain quality start - the Yankees and Rangers are in first, while the Giants and Braves currently hold serve as the NL Wild Card reps and Tampa Bay Rays one part of the AL Wild Card.
But the rest of the standings? Your other divsion leaders (ordered by winning percentage) are the Los Angeles Dodgers, Washington Nationals, Cincinnati Reds and Chicago White Sox.
How...is this happening?The Los Angeles Dodgers, left for dead by
even Chavez Ravine sycophants here on this blog
before the season began, have the best winning percentage in the majors? The supposedly "rebuilding" Chicago White Sox are in first, three games ahead of the presumptive AL Central champions in the Detroit Tigers? The Washington Nationals aren't just the best team in the ultra-competitive NL East...they're the most exciting team in the game?
The world is not round my friends. It is a cube, whose answers are in the form of clown questions, bro. It's MAMBINO Fantasy Monday. Let's unravel how this has happened in the last 12 weeks of Major League Baseball.
Cincinatti Reds - 38-27, leads Pittsburgh by 4 games in the NL Central
How are they doing this?:
By pretty much doing what every good AL team should do - mashing, pitching and fielding. The 2012 Reds were a preaseason pick to be built on solid starting pitching and great hitting in a weak division. However, both sources are somewhat surprising.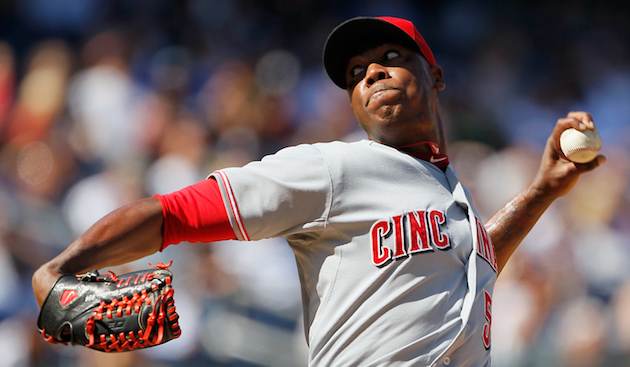 The pitching has been great in southern Ohio, but not because of the Reds' two big offseason trades. Mat Latos, acquired in a blockbuster deal with the San Diego Padres last winter, was supposed to be the savior ace that the Reds had lacked for the past two decades. Quite the opposite once spring training got underway - Latos has surprisingly been the team's worst starter. His rotation mate Johnny Cueto will be an All-Star in a month with his dominant arm, while Bronson Arroyo and Homer Bailey continue their solid, if unspectacular play. The Cincy 'pen, thought to be decent in the preseason, has exceeded all expectations, but not because of import Sean Marshall. Led by destroyer of all men Aroldis Chapman (1.06 ERA and 58 K's in 34 innings), relievers Alfredo Simon and Jose Arredondo have been damn near unhittable.
The Reds' lineup is doing things the old school way: hitting the ball really, really hard. The Reds are third in slugging, first in doubles and fifth in homers, but a tepid ninth in on-base percentage and tenth in hits. Joey Votto might damn well be the best first baseman in the Majors and replacement third baseman Todd Frazier's .914 OPS is keeping a team afloat that aren't complete hitters by any means.
Is this tenable?: Yes.
The Reds were always said to be playing in a weak division, with the Brewers and Cardinals undergoing significant changes (Prince Fielder and Albert Pujols departing via free agency, and Tony LaRussa retiring) and the Pirates, Cubs and Astros being nowhere near ready for contention. Johnny Cueto has always had this ceiling (as he flashed at times the previous four seasons), and Mat Latos is far better than his numbers suggest for the season. The bullpen is dominant, but with Chapman holding down the closer's role and both Simon and Arredondo playing up to what their arms have always suggested, there's no reason to think that will abate. The offense is rolling, and though they're getting by on pure power, that's how this team was built. The Cardinals will make a run with a healthier Adam Wainwright, but I don't see why the Reds can't keep this up.
Fantasy Spin:
Buy low on Mat Latos. He is a historically slow starter and has always heated up around July - for his career, batters hit .197 off him that month. The strikeouts are a bit lower than his career norms, but the later summer months should remedy that.
Los Angeles Dodgers - 42-25, leads San Francisco by 5 games in the NL West
How are they doing this?:
I've discussed this in a post a couple of weeks ago
, and my reasons all still stand. The starting pitching has been better than predicted in the preseason and the bullpen though in a state of flux at one point, has settled down and become one of the most dominant in the league. The lineup has been comically bedridden with injuries (Mark Ellis had to be cut open to relieve building pressure in his leg? Clayton Kershaw has plantar fasciitis, most common in NBA players?), and yet a mediocre offense made up of retreads, throw-aways and rookies has been able to scratch together enough runs to win. None of that explains "how".
Don Mattingly. The mid-season NL Coach of the Year has brought together this team far quicker than anyone had any reason to expect, getting his guys to play hard every single day, every single play, and instilling the belief in them that they're never out of a game, no matter what the score. He's constructed his bullpen that's already had a closer controversy, and not stuck to using players in their roles simply because that's how it's "supposed" to be. Jerry Hairston batting clean-up? No problem. Josh Lindblom setting up? Go right ahead. Donnie's in-game decision making, as well as season-long logistical planning have been nothing short of amazing. This team has no business having
the best record in baseball
. And yet, here we are.
Is this tenable?: Yes.
Not because of the personnel, but rather because of the competition. The NL West is the worst division in baseball, and with the punchless Giants trailing the Dodgers by five even though dudes are throwing down perfect games, can't catch up to an offense that has Adam Kennedy batting fifth some days. The Dodgers won't be able to squeeze performances like these out of guys like Juan Rivera, Bobby Abreu and Elian Herrera all year long, but it should be enough for Matt Kemp to return to form and for the front office to bring in some reinforcements at the trade deadline.
Fantasy Spin:
At this point, I'd be pretty surprised if the Dodgers didn't pick up Kevin Youkilis. It's been in the rumor mill for weeks, and the needs match up so well. If Youk is there to be had in your league, I'd trade for him just in preparation for his eventual move to the NL West. After all, Bobby Abreu was cut by the Angeles, only to come to Chavez Ravine to hit to an .821 OPS. Also, if you're hard up for saves, I'd sell the farm for Kenley Jansen. He's going to be in that role long-term, and the Dodgers have been in 31 one-run games, winning 18 of them. With this type of grinding NL-offense they have, I might even pick up Ronald Belisario or Josh Lindblom for a couple of scavenger saves per month.
Washington Nationals - 38-26, leads Atlanta by 4 games in the NL East
New candidate for the Ugly MLB Player Power Rankings
How are they doing this?:
The aforementioned most exciting team in baseball has done this on youthful energy, but mostly on pitching. The Nats are first in ERA, WHIP, runs allowed, hits allowed, walks allowed, second in homers allowed and third in strikeouts. Led by Stephen Strasburg, Jordan Zimmerman and Gio Gonzalez and Edwin Jackson, the District has the most dominant front four in the majors right now. Cleaning them up at the back end is a dynamic young 'pen full of power arms, with Craig Stammen, Mike Gonzalez, Sen Burnett and closer Tyler Clippard all holding down ERAs below 2.20. Their offense is decent at least, very good at best, but make no mistake - the arms are what's keeping the Nationals in first place.
But also, that Bryce Harper kid is
pretty good.
Is this tenable?: No.
Not really. The upside of young pitchers is not only their "newness" and unpredictability in the face of opposing hitters, but also their electric breaking pitches and velocity. However, with that is the inevitability of the league catching up with them. With each of their four starting pitchers, there's a lot of question marks attached to their respective best career starts.
Gonzalez isn't THIS good
Gio Gonzalez is a fantastic pitcher, but five of his eight wins have been against four of the worst offenses in the NL. Right now he's a Cy Young candidate, but I don't think his performance will stay steady after going through a meat-grinder summer against the NL East. Stephen Strasburg however, is as good as his numbers - 2.45 ERA, 100 Ks in 77 innings - indicate. However, the Nats have said they'll cap his innings at 160. How will that work out for a team that with postseason aspirations? Jordan Zimmermann has always had this type of potential, but with the season 1/3 over, he's already pitched halfway to his career-best of 160 innings. Will he be able to keep up this type of All-Star pace while throwing more than he's ever thrown before? Edwin Jackson signed a make-good 1 year deal last winter to rebuild his value for a long-term deal, and he's certainly done that with a 3.02 ERA and only 66 hits in 86 innings. However, Jackson has always been (since his days in Dodger blue) incredibly inconsistent and a slightly worse performer as the season wears on.
Will all these predictions come true? No. But some of them will. All four of the Nats starters have been dealing like aces, but it won't continue for everybody.
Fantasy Spin:
Obviously, Strasburg is still going to have value no matter what his innings cap is if you're in a keeper league. However, Jordan Zimmerman certainly doesn't have that type of cache. As I said, he's already halfway to his career best of innings pitched, and after that point, I'd definitely expect a decline in performance. Be careful in dealing for him or if you currently own him.
Chicago White Sox - 35-31, 1.5 games ahead of Cleveland in the AL Central
How are they doing this?:
A combination of the following items:
Not being awful at anything really, but not being great at mostly anything: they're very middling in almost all areas of pitching and hitting. There's too many fields to put in here, but take a look at the sortable stats - you won't find the White Sox in the top 4 of any category pretty much.
However, the one thing the White Sox do well is catch and throw the damn ball. They're 3rd best in fielding percentage, second to last in errors and no team has less unearned runs than Chicago's 13.
The rest of the division is awful. Only Cleveland is above .500 at 34-32.
The surprise isn't that Chicago has been "dominant" - far from it. It's more that a team that seemed committed to "rebuilding" this offseason has looked like a very competent ball club under the leadership of reluctant manager Robin Ventura.
Is this tenable?: Yes.
But partially because of the fact that the AL Central is so flawed. Both the Royals and Twins have been putrid and the presumptive preseason division champion Detroit Tigers have hit the
same pitfalls predicted on this blog
. It's hard to criticize a team that doesn't do anything particularly well. Their 36 year-old first baseman Paul Konerko is continues to amaze with his late-career consistency, while Adam Dunn and Alex Rios have shown that last year's historically bad campaigns weren't signals that both were washed-up. However, other than that, the Sox offense has been decent, at best. The pitching has been a mixed bag as well, with the mystery-injury waiting to happen in Jake Peavy the only rotation member holding an ERA below 5.00 right now. There have been four closers already this year at last count, with 20 year-old Addison Reed being the latest.
In the end, the White Sox could very well make the postseason. That wouldn't surprise me nearly as much as how awful this division has been.
Fantasy Spin:
Gavin Floyd is not this bad. I promise. For years, Floyd has been one of my favorite second-half pickups. Check out his
post All-Star stats
. He essentially looks like a different pitcher, lowering his ERA a run and striking out 7.4 batters per nine, as opposed to 6.7 before July. Floyd always does this Harvey Dent impression. Buy on him.
--
@TheGreatMambino