"Ability may get you to the top, but it takes character to keep you there."
John Wooden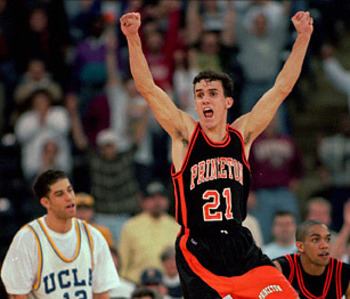 Having been indoctrinated by my father in early childhood, I have been a UCLA basketball fan my whole life and it's been quite the roller coaster ride to say the least. After winning the title in 1995, UCLA was outed in the first round by Princeton in 1996. Shortly after, Coach Jim Harrick was dismissed for off the court transgressions. Steve Lavin, whose rotations still make me angry nearly a decade later, took over and defined "up and down" in his tenure. His teams consistently underachieved with the considerable talent they had and eventually had UCLA's first losing season in decades.


Coach Ben Howland took over a program in shambles but rebounded quickly by recruiting talented but gritty, defensive-minded players like Jordan Farmar, Arron Afflalo, and Darren Collison. In his third season, Howland took these players and started a run of three consecutive Final Fours, something only Tom Izzo and Coach K have accomplished since Wooden. With guys like Kevin Love and Russell Westbrook in the league, UCLA has the best collection of young talent in the NBA. Howland develops players who put the team first and played hard-nosed defense, the kind of players who are able to contribute immediately in the NBA. When nihilistic basketball robot John Hollinger projects NBA performance for college players, he even adds a UCLA coefficient because UCLA players consistently outperform similar rookies from other schools.

Nevertheless, the last three years have seen UCLA regress to a very mediocre basketball team, one that has missed the tourney 2 out of 3 times and been much worse than the quality of the Lavin teams that got him fired. The 2011-2012 outfit figured it out by the end and were a PG removed from being a tournament team and the class of the Pac-12, but people started to wonder what had gone awry at UCLA. Sports Illustrated published an inflammatory article trying to profile a program in serious decay. A lot of people, including me, wanted Howland gone before that article, but strangely that article made me think that Howland needed a chance for redemption and was just a few solid recruits away from legitimacy again.

Honestly, most of the news in that article wasn't news to me. I knew Reeves Nelson was a trouble maker who got special treatment and should have been dismissed earlier. Same with Drew Gordon. Both were a far cry from Wooden's showdown with Walton over a haircut, that's for sure. I was disappointed that Howland had given them exceptions, but the article's other major allegation was that UCLA players partied and drank like normal college kids, which is not exactly a tenure-ending violation. To me, the most damning criticism of UCLA over the last few years is that the teams have lacked Howland's grind-it-out mentality and spunk like the Collison-led teams. They even had to resort to playing zone defense! Upon reflection, I realized that the reason why those Collison/Afflalo/Farmar teams were also successful because they had the right leaders on the team. By all accounts, those players set the culture and tone for the program, getting all the other players to buy in and leading by example. In today's star power driven college game, your best players have to dictate the tempo, not the upper classmen like used to be the case. Simply put, UCLA's stars were the problem. Howland's top recruits were the wrong choices, on and off the court, and it destroyed the momentum his program had been building.

College basketball coaches are required to have a dizzying amount of competencies – they have to be great in-game/off-the-court managers of young men, recruiters, media presences, college figures, and much more. All college coaches are deficient somewhere, and Howland's is that he's not a great presence in his players' lives off the court. He's an incredible recruiter who finds and develops talent as well as anyone in the game, but he probably needs to hire some assistants to better manage that part of the process. More importantly, he needs to bring in recruits with the right caliber of character from the get go. Which is why we can trace all of the program's modern struggles back to the top-ranked recruiting class of 2008. Numerically rated even higher than Michigan's Fab5, this crew became a veritable who's who of overrated NCAA washouts and poster children for character problems.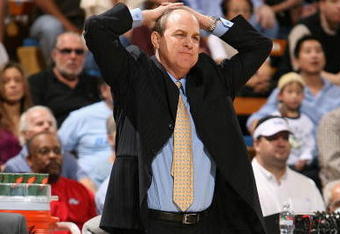 The mega-watt 2008 class believed that just because they were McDonald's All-Americans and accomplished high-schoolers, they wouldn't have to work hard for collegiate success. J'mison Morgan was lazy, saw his weight balloon, and transferred after being dismissed from the team. Similarly, Drew Gordon battled with Howland constantly, never committed to the culture, and transferred after being dismissed. Jerime Anderson was arrested for stealing laptops and never found a way to stay on the court, despite UCLA's desperate need for steady PG play. Top overall prospect Jrue Holiday saw his stock drop at UCLA with his erratic performance, but showed enough to be a late lottery pick who's since become a legit NBA contributor. Malcolm Lee was a great defensive player who bought into the culture, but was a second round pick because his offense never came around (also, we totally needed his guard play this year …).

Although part of me thinks that Howland bickering with his players wouldn't have been news if they had won more (aka Kevin Love's short tenure), it's clear that compromising character for talent led UCLA to forget what made them great. I know that Calipari seems to have been sickly rewarded for all of his ethical transgressions with the last championship, but the Wooden way is the way forward for Ben and this program. The formula for a Ben Howland dream team is a couple of hard-working superstars like Darren Collison surrounded by competent role players with the requisite grit like Alfred Aboya, Luc Richard Mbah a Moute, and Lorenzo Mata. Having a guy like Collison for four years, though, will increasingly be the exception. As collegiate super programs increasingly rely on "one-and-done" type players with NBA pedigrees, they will need their freshmen to be like MKG and Anthony Davis were for Kentucky this year. To win a title, the freshmen stars need to be attitudinal role models as well as stars on the court. Yes, I'm talking about practice.


Enter the UCLA 2012 Draft Class: Shabazz Muhammad, Kyle Anderson, and Jordan Adams. These three represent a great deal of hope for UCLA's future. Depending on who you talk to, this draft class is ranked either second or third in the country. Regardless, it instantly reloads the Bruins' depleted talent levels and provides potential for a deep NCAA run. UCLA's class is a group of humble young stars with the right attitude who decided to come to UCLA because they enjoyed playing together. During his decision, Shabazz Muhammad noted that, "the main reason why I came to UCLA [is] to play with [Anderson]. He's just so cerebral, so smart. The guy knows what he's doing. I'm just happy to have a player like that on my team. I know he's going to make me look good next year." They have already developed chemistry and are up to the challenge of restoring UCLA's historic program to prominence. Howland said that, "these kids are looking at UCLA as a great opportunity to come and help us rise right back to the top where we expect to be."

Shabazz Muhammad is the showstopper and UCLA's 3rd National High School Player of the Year under Howland. He is a 6'6" SF and the number one overall collegiate prospect. Shabazz appears to be both an elite level talent and someone who can help lead the program to great heights. Aside from superlatives about his explosive scoring ability, blazing speed, and dominant physical presence, his scouting report reads like an intangibles wishlist for a UCLA fan. His profile calls him a capable lockdown defender with a contagious competitive nature. From ESPN's report: "Each class has a prospect that is willing to do anything to win. For the class of 2011, it was Kentucky-bound Michael Gilchrist. For the class of 2012, it appears to be Muhammad." Shabazz has the kind of combination of talent and leadership that college coaches dream about and he is poised to be the defensive captain of the Bruins from Day 1.
Our offensive captain looks to be Kyle Anderson. Anderson is a versatile 6'7" PF who ranks as the number three overall prospect in the country. He can play SG, SF, or PF and is very comfortable creating match-up problems by playing point forward if necessary. He is a quintessential example of a guy who makes his teammates better, with his ball-handling, court vision, and passing skills accompanying a basketball IQ that's through the roof. He's even developed a nice little post-up game that he can bring to Westwood. In addition, Jordan Adams, a 6'5" SF, promises to help stretch the defense as an elite shooter who will round out the class. Tony Parker, a top rated PF prospect, is also still considering UCLA in a field that includes Kansas and Ohio State.

Upon arrival, these recruits will find a number of holdovers who will help contribute to UCLA basketball. In the frontcourt, the Wear twins and Josh Smith have shown the ability to dominate the boards. Larry Drew Jr., a UNC transfer, is also eligible this year. Throw in Tyler Lamb and Norman Powell and there should be some real depth on this team next year. Now that the bad eggs are all gone, this team has a chance to be a true team that could do something special this year. With the current level of talent dilution in the NCAA, the Final Four is anyone's game who has the right combination of talent and leadership.