The Jacksonville Jaguars traded the 7th overall pick and their 4th round pick to take the #5 overall pick from the Tampa Bay Buccaneers, selecting Oklahoma State wide receiver Justin Blackmon. Cleveland looks extra stupid.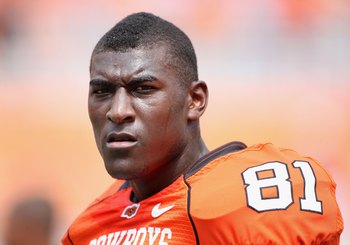 So we have another trade in the books already, 3rd so far in the top 5 including the RGIII trade and the recent Trent Richardson one.
For the Bucs, I think it's a solid trade. They gain a mid-rounder to move down a couple spots and can still take a top tier guy, most likely either Morris Claiborne or Luke Kuechly if the Rams take the CB at 6 overall. (Ed. update: the Bucs selected Alabama safety Mark Barron. They really could have used Claiborne to fill a need, but the Cowboys swooped in ahead of them.)
For the Jags, this is the perfect move for them. Personally, I'm a huge detractor of Blaine Gabbert, cause of all the sucking he does. But, similar to Colt McCoy, he didn't really have anyone to throw to last year. So if they're going to give last year's (crappy) first rounder a chance to succeed, they have to give him someone to throw to. Blackmon isn't on the level of the last few first drafted WRs like AJ Green or his OK State predecessor Dez Bryant, but he's a solid target and will leave Gabbert and the Jags front office no excuse if they don't finish at least 2nd worst in the AFC South. Let's be honest folks, Blackmon or not, finishing better than the Colts is their ceiling for 2012.

And again, on a personal note, Blackmon going to the Jags might be the only scenario I'd consider NOT drafting Trent Richardson 1st overall in my Keeper League. Who else is gonna catch Gabberts limp-dick throws?