No one was a bigger fan of the Boston Red Sox last year than the Atlanta Braves. That's because the story of the Red Sox historical collapse largely overshadowed the Braves' equally historical collapse, saving the Braves from being the main focus of the "What the hell happened?" at the end of the regular MLB season (though Atlanta received more than its fair share of criticism). The Braves' demise is well-documented, so there isn't a need to go into a ton of detail here. The quick summary: Atlanta had an 8.5 game lead over the eventual World Series Champions, the St. Louis Cardinals, on September 5. Due to a combination of an overworked bullpen, an anemic offense (which had struggled all year but particularly down the stretch) and injuries, the Braves had a 9-18 record for the remainder of the year, including a 3-game sweep at the hands of the Cardinals. The Braves were officially eliminated on the last day of the season when a Phillies team with nothing to play for beat them 4-3 in 13 innings after stud rookie closer Craig Kimbrel could not hold onto a 1-run lead in the bottom of the 9th. That choking act was just one of many painful defeats for the Braves during September as they loss some games in truly spectacular fashion (e.g. they lost a game to the Marlins when Chipper Jones lost a ground ball in the lights with two outs and a one-run lead in the bottom of the ninth. How you lose a ground ball in the lights is still beyond me but Chipper has earned the right to make excuses).
Many people have asked whether the Braves will recover from last year's collapse or whether it will be in their heads entering this season. Personally, I don't think they will be affected in the slightest. To me it's a learning experience for both the Braves' players, who are a relatively young group, and manager Fredi Gonzalez who abused his top two relievers last year, Jonny Venters and Craig Kimbrel. To me the more important question is how will the Braves compete in a much more competitive NL East this year? As a fan, you would hope that Atlanta would address some of their weaknesses, in particular the lack of a stud hitter, as a response to Miami and Washington who both greatly improved their teams this offseason. Unfortunately, Atlanta was not able to be significant players in free agency this year, nor will they be for the foreseeable future. This is due to long-term local TV contracts they've signed which are not nearly as lucrative as some of the recent contracts signed by big payroll teams like the Rangers and Angels (which current Braves' ownership has admitted was a huge mistake that puts them at a significant competitive disadvantage) and some bad contracts (who would have thought the Derek Lowe contract would have come back to bite them in the butt? Note to Frank Wren – when Omar Minya is the only other person bidding on the player you want, you should probably reevaluate whether the player's worth the money he's asking for.) Instead, they are left to hope that their young major league talent improves and their highly-rate minor league prospects make significant major league contributions this year. So how will the Braves stack up?
Infield
• Freddie Freeman really shined as a rookie last year hitting 21 HRs while hitting .282. However, if he's going to avoid a sophomore slump, which the Braves will need him to do if they hope to contend, he has to cut down on those strikeouts (22.4% K-rate last year). If he can do that, the rest of the National League better watch out. While he'll never be a superstar, Freddie has the potential to be the above-average middle-of-the-order hitter the Braves so sorely need.
• If Dan Uggla had even played half as well in the first half of the season as he did in the second half of the season, the Braves would have won the NL wild card last year. He needs to step up and be the player he was in Florida.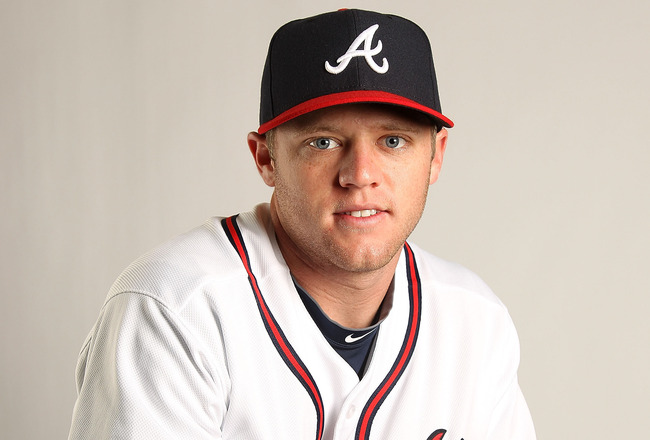 Tyler Pastornicky, or ballboy?
• Rookie Tyler Pastornicky was supposed to be a shoo-in for the starting SS for the Braves. Due to a combination of him sucking and fellow prospect Andrelton Simmons impressing (with his defense, not his bat), the SS battle turned into a competition. Pastornicky still won out in the end, but a slow start to the year and he could find himself in the minors or on the bench. Coach Gonzalez didn't exactly give him a ringing endorsement ("We're comfortable until he makes us uncomfortable, but right now we're moving forward." I guess Fredi doesn't believe young players need confidence to succeed.) Pastornicky is an average defender and a below-average offensive player, but does have speed which the Braves greatly lack. He'll need to start off the year fast as a poor start combined with some success for Simmons in the minors could lead to a quick demotion. Personally, I think Simmons may be the better fit for this team as he provides gold glove defense – a huge need for the Braves considering that they their second and third baseman will be among the worst fielders in the major leagues.
• I have no problem with Chipper Jones getting busy with Hooter's girls (he left his first wife for one), but he needs to start laying off their wings. Even CC Sabathia feels justified making fat jokes at Chipper's expense. He's already going to start the season on the disabled list with a torn meniscus and given his injury history, age and the fact that he is on the Kristy Alley bulking die, there is no way I see Chipper getting more than 300 at-bats, if even that much. That means most of the 3B at-bats will go to Martin Prado, who struggled after two straight .800 OPS years for the Braves, and recently acquired Juan Francisco. You haven't been able to say this in a real long time, but third base could be a huge problem for the Braves this year, particularly if they elect to keep Prado at one position (LF) the whole year.
• Brain McCann is simply a stud. I wouldn't call him a superstar, but he's a perennial all-star and the best player on the Braves. When you take into account his consistency and dependability, he may be the best catcher in the majors. Not much else to say.
Outfield
Locked and loaded
• Jason Heyward is probably the most important player to the Braves' playoffs hopes this year. Heyward had one of the best years ever for a 20-year old during his rookie season. As a sophomore, he really struggled from both power and plate discipline perspective. Many people are attributing his disappointing performance to shoulder and neck injuries he endured last year, both of which he claims are no longer issues. Given his rookie performance and pedigree, I'm inclined to think that the injuries were the main cause for his struggles and he is due for a bounce back year. However, if he doesn't recover, the Braves could be in some big trouble. The Braves have a very solid team, but they lack the superstars who are the difference between "very good" and "championship contender". Freddie Freeman is promising and Dan Uggla has had some good years, but Heyward is the only offensive player for the Braves who has superstar potential. If he fails to develop into a true middle-of-the-order hitter this year, I'm just not sure how the Braves generate enough offense to nab one of the two wild card spots in a competitive National League.
• At one point last year I said to myself, "Brian McCann is not that slow." That's how much the Braves lacked team speed. Seriously, you could have went to random nursing home, picked out any five residents and chances are they could have competed with the Braves in a 4 x 100 meter relay. That's why I loved the Michael Bourn trade last year (Wren's very good at drafting and making trades, but unfortunately he's just as good at overpaying free agents). He struggled upon arriving in Atlanta last year, but I see no reason why he won't bounce back this season.
• Martin Prado would normally be the leftfield but with Chipper too fat and old to play 3B regularly, he'll probably see a lot of time at 3B. That means a lot more of – drumroll please – Eric Hinske and Matt Diaz. This is normally where I would write an unwitty joke about the Braves' pathetic LF situation, but my brain is overloaded right now. Matt Diaz is actually a decent platoon player, but as for Eric Hinske, let's just say that I forgot to pay my Eric Hisnke fan club dues this year. Some people pray for good health and world peace at night. I pray that Erick Hinske doesn't have a hot month to begin the year which inflates all of his stats and helps him keep a job despite sucking for the rest of the season. Let's just move on.
Bench
• Matt Diaz is a good pinch hitter against left handers and Jack Wilson is a serviceable utility infielder. However, the Braves could really use someone that provides some pop against right handers. Rumors state that they are actively looking for bench help, so we'll see where they end up.
Starting Rotation
• Tommy Hanson is the Braves number one starter. Outside of Heyward (and possibly Freeman), Hanson is the most important player to the Braves' success. Hanson, while a very good pitcher, is not yet an ace. He struggles with his fastball command at times, leaving pitches high and in the middle of the plate which is why he gave up so many homers last year. If he can harness his fastball control a little better this year, he'll join the top tier of major league pitchers. The other problem with Hanson is the health of his pitching shoulder which limited him to only 130 innings last year. Tommy did adjust his pitching motion by removing the "pause" in his delivery, but as medical expert (I've spent many hours reading WebMD articles), this change doesn't sound like it will help very much.
• Tim Hudson will be good again this year if he is fully healthy. He'll begin the year on the DL because of a back injury with Randall Delgado starting in his absence, but his rehab is going well. Of course, you have to be concerned with a pitcher of his age coming off injuries.
• Jair Jurrjens, who gets my vote for best name in the MLB, has more red flags than a communist convention. He had a great ERA last year, but the peripherals didn't support his performance and the drop in his velocity was concerning. He was actively shopped during the summer but the best offer they got for him was platoon outfielder Seth Smith.
• Brandon Beachy had an under-the-radar phenomenal year last year. Honestly, I don't see why he can't be one of the top 30 pitchers in the league. Scouts complain about his stuff, but he generates an awful lot of swings-and-misses.
• Mike Minor has looked really good this spring and has put up some great minor league numbers. He hasn't had a lot of major league success, but he's still young and has been killing it this spring. I'm excited to see how he does.
Starting Rotation
• If healthy, the Braves have one of the best bullpens in the majors. However, some people question how their two young uber-studs, close Craig Kimbrel and setup man Jonny Venters, will perform this year after the incredible number of innings they pitched last season. Both pitchers were overused last year, in large part due to the large number of close games the Braves played, and they really struggled down the stretch, a huge reason for the Braves' September collapse. Venters has already been struggling with should issues this spring so Braves' fans are holding their breath.
• Having Kris Medlen back from TJ surgery (he pitched two games in September last year) is a huge boost for the bullpen. He showed some real promise in the bullpen prior to his injury and has the ability to pitch multiple innings.
• Erin O'Flaherty had a fantastic season last year as well. If he can continue his success, that will be huge for the Braves. Having four relievers you can count on will hopefully make Freddie comfortable resting Kimbrel or Venters when there is a string of close games.
Manager
• It's hard to have a lot of success with no superstars, so I give Fredi Gonzalez a lot of credit.
• It's been said a thousand times so I'm not going to harp on it, but he just can't abuse his top relievers like he did last year. I know the Braves played a lot of close games, but as a manager your focus needs to be on the long-term goal of making the playoffs, not just wining each game no matter the cost. Seriously, even Scott Proctor, who stunk it up for the Braves last year, was sitting in the bullpen going "What the hell Coach?"
• Stop playing Eric Hinske. He's not good.
Goals
•
Make the playoffs:
Simply put, if the Braves don't make the playoffs this year Fredi may not be back. He got a pass for last year's collapse, but with essentially the same team coming back, the bar has been set. If you're a long time Braves fan, you're by nature a pessimist. You see the improved teams of the Nationals and the Marlins, an underwhelming offense, several injury risks on the starting staff, a relief staff that may not recover from last year's heavy workload, and the potential for performance declines for players like Jurrjens and you have prepped yourself for disappointment. If you are a young Braves fan who has not suffered through two decades of close but not quite failures, you see the young players improving upon last season, a full year performance out of Dan Uggla, a stud bullpen and an above-average starting staff. Dreams of a championship don't seem too far from reality.
•
Develop young players:
Look, if the Braves don't make the playoffs this year will be considered a disappointment. With that said, a potential silver lining would be the development of some of the Braves young players. The Braves have a young team and some high-end prospects and therefore should be competitive for the next few years, despite their payroll limitations. If their young players show some real progress this year, the Braves would have to be real excited about their championship prospects in the future seasons.
Watching the Braves on TBS as a front-running six year-old, it looked as if the Braves were destined for a decade of dominance. More than 20 years later, the Braves have only one world series ring despite having some truly fantastic teams. After years of playoff failures and last season's heart-breaking collapse, it's hard to be optimistic when talking about the Braves. When I look at this team, I see an offense that's lacking a star player, a much tougher division and potential injury and performance declines in both the starting rotation and the bullpen. I can't convince myself that the Braves aren't destined for another close-but-not-quite playoff run disappointment.