Growing up in Southern California, the UCLA Bruins stood a chance every year to beat the hated U$C Trojans. I have memories of Bruins teams that went to the Rose Bowl (getting crushed by Wisconsin) and squads that consistently produced NFL starters (not simply kickers). Those days are long gone, and since Y2K infected all of our computers and wreaked havoc on the global economy, UCLA has had a crap football team. We hired a boring/awful coach in Karl Dorrell, let him have the reigns for way too long, and felt comfortable with simply qualifying for one of the lower tier Pac-10 bowls.
Then we decided, "Hey maybe we should aspire to something beyond the Sun Bowl!", and instead of hiring a qualified replacement, threw away another half decade on Rick Neuheisel.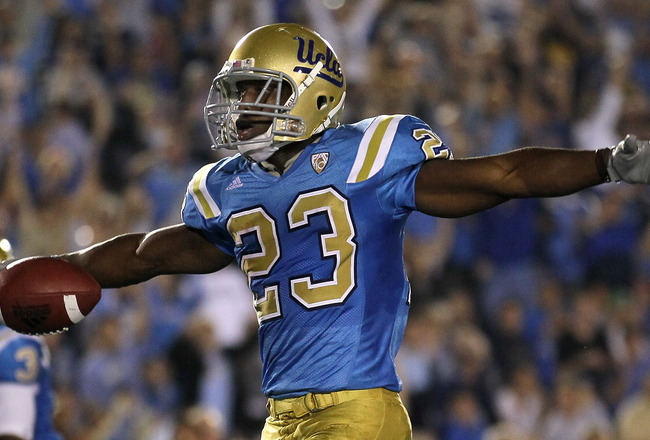 But now, only 10 games into the Jim Mora era, the Bruins stand on the precipice of being relevant once again.
Mora has taken a squad of physical youngsters and has created, by all accounts, a "tough" team. The youth of the Bruins cannot be overstated with a red-shirt freshman quarterback in Brett Hundley boldly leading the way. On more than one occasion this year, Hundley has stared down a 4th quarter deficit and rallied his boys back to victory (watch this drive this kid is good enough to play on Sunday). Mora has been helped by a pair of fantastic veterans in Jonathan Franklin (UCLA All-time rushing leader) and Joseph Fauria (6'7" touchdown machine) as well as a new playing surface on the practice field. Franklin and Fauria have given Hundley the options he needs to establish a true spread offense, and the new turf has kept the Bruins remarkably healthy this season.
On the other side of town, things could not be going worse. The golden boy quarterback Matt Barkley decided to come back for one final year to break every offensive record in the book, win a national championship, and bring the Heisman back to U$C for the first time since Reggie Bush*. Instead, the season has been a series of embarrassing headlines for Lane Kiffin and the supposedly "non-cheating" incarnation of the Trojans.
First came Kiffin's assertion that he would not vote for his own team to be top ranked in the coaches poll, only to do so. The USA Today Sport Coaches Poll Administrator ultimately revealed Kiffin's vote in order to "protect the poll's integrity." Next came a spat with a local reporter Kiffin banned for two weeks for reporting an injury to kicker Andre Heidari. There was some jersey trickeration that many thought violated the spirit of NCAA rules. But the final nail in the "integrity coffin" came last week when it was revealed that a student manager for the team deflated footballs during the Oregon-USC game in order to give Barkley and his receivers an advantage. The manager was fired and Coach Kiffin maintains the coaching staff had no involvement. These incidents, on their own and at any other school would probably not be signs for concern. However, in their first year back from a postseason ban levied by the NCAA for violations during the Bush era, USC is seeing its reputation once again tarnished bit by sordid bit.
All of these incidents could have been swept under the table (or at least ignored by much of Los Angeles) if the Trojans were winning games. But they have been losing when they were largely expected to win, including contests to Stanford and Arizona on the road. Granted, Stanford and Arizona both have strong squads this season, but the Trojans have the talent and depth to handle those conference foes.

Perhaps the most telling loss of the season came two weeks ago against Oregon at the Coliseum. Monte Kiffin's vaunted defense could not hold up against the Ducks and their fast as all hell offense. The Ducks did whatever they wanted to with ball in hand, which is a statement without exaggeration. Out of 14 drives with the football, Oregon was only forced to punt ONCE. The lack of a defensive plan to slow the top offense in the Pac-12 certainly set off alarm bells within Pat Haden's office. UCLA, ASU, Arizona, Utah, WSU and Oregon all run variations of the spread offense and it's a huge red flag that Monte lost to two of those schools already this year. Under any other coach, a change of the defensive coordinator could be imaginable at the end of the season, thus extending the tenure of the head coach. But with Monte being Lane's pops, I just don't see one of them leaving the program without the other in tow.
So that leaves us with Saturday's game. For the first time in over a decade, the Bruins are a tough young team with a chance to control their own destiny. In fact, for the first time in over a decade...we're looking at a probable UCLA victory. A win on Saturday would finally follow through on the Neuheisel promise that "the football monopoly in Los Angeles is over."
It would vault the Bruins into a Pac-12 Championship showdown with Oregon, one that this time, they would deserve to play in. A Trojans loss would signal the beginning of the end of the Lane Kiffin era. A combination of ethical quandaries and blowing what should have been a flawless march to a national championship, may prove to be too much for a coach who was hired by former Athletic Director Mike Garrett.
I refuse to make a prediction on a rivalry game, but I would be remiss to say I am not going to be wearing my blue and gold on Saturday in DC, dangling my keys at any spoiled children who dare wear their colors in public. Here's hoping the showdown at the Rose Bowl is truly the end of the monopoly and the beginning of a new era of respectability (and winning) in Westwood.