This season Sports Illustrated revamped it's NFL predictions from September with the foresight and knowledge of eight weeks of football already past and came up with new picks for the Super Bowl that were different, rational and not far off from what I would have pegged it at myself. The choice by SI's Jim Trotter, with the argument of "Whom do you trust late with the game on the line? Two-time Super Bowl MVP Eli Manning or Matt Schaub, who has never started in the postseason?" was the New York Giants to
win a second consecutive championship
with a 24-20 victory over the Houston Texans in Super Bowl XLVII. At the time that I saw this after I got my issue in the mail I had one thought run through my head.
"Oh, I don't like this one bit."
I hesitate to say that I'm superstitious. After all, the idea that a few words printed on a page in a soon to be forgotten article in a weekly periodical don't actually have the power to unseat or upset anyone or anything. They're just words, meaningless as every game in college football's postseason
with the notable exception of one
. And yet fear still ran down my spine as I saw it, hypothetically jinxing everything I had known to be a true, reasonable interpretation of the season's first half. After all, the Giants had overcome an early season hiccup against Dallas and were 6-2 with a comfortable division lead at the season's mid-way point, their lone other loss being a frustrating, but
forgiveable road defeat at Philadelphia
which had not yet revealed itself to be utterly horrendous.
Otherwise, the Giants were off and running with an offense looking every bit as potent as one would have expected, a solid defense, championship experience in their back pockets and an
absolute thrashing of a San Francisco team
many expected to (and still expect to) compete for a Super Bowl title this February. All of this makes the fact that New York is already home for the summer more than a little baffling, and if you happen to call yourself a Giants fan (spoiler alert: I do), it's more than a little frustrating. I sat in my father's living room in New Jersey Sunday watching my team display in just about every facet why it has the potential to make a Super Bowl run any time it gets into the postseason and the entire time I kept watching Chicago stave off Detroit on my laptop and realized what the Giants did
wouldn't mean a thing
. This is maddening to some extent considering had the Giants done what was required of them in just one of
any
number
of
previous
games
this all would have been moot, but in the end, a rational man takes his gifts and hesitates to get greedy.
This offseason, I am going to pretend that that is me.
After all, with two championships in five years, how upset can I be? There are teams that
wait
lifetimes
for that kind of success, some
longer
than
lifetimes
and in one or two cases,
hopefully forever
. It would be unbecoming to believe you were somehow slighted by a team that in such a small span has gifted you with two titles and arguably the
greatest upset in the history of the sport
. Given that, it's hard to let the disappointments beat you down and even without a track record like that, perspective should keep your head on straight. As I explained to a teenage fan in front of me
when I traveled to Cincinnati
in November to see a game that, uh,
didn't go as planned
, in all likelihood, he would watch the Giants play roughly 700 more times before he died. For your heart's sake, you can't let yourself get frazzled over one of them.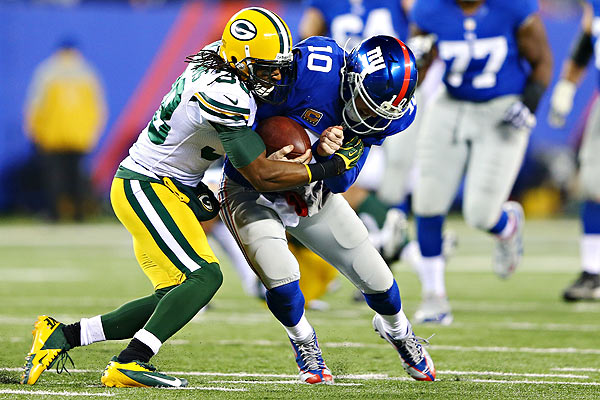 But that doesn't mean I've taken this in stride. To the contrary, if you're a Giants fan this chaps your hide but good. After all, in addition to rocking San Francisco, which many could attribute to Alex Smith's mediocrity, the Giants tarred the daylights out of Green Bay even after midseason in a performance so dominant
even Eli Manning got his licks in
. These Giants were never the same after that though. A bitter loss to Washington a week later sent them into a tailspin and by the end of Sunday a two-game division lead with just over a month to play had evaporated along with the season. That's not an easy pill for any fan to swallow.
As I often tell friends, though, the unfortuante truth is that only one team gets to win the Super Bowl every year and it often isn't yours. Championships are flukish, unpredictable things because as in all sports, the NFL postseason is a small sample size prone to variation and given its capricious, cruel nature, winning a championship is usually less a testament of greatness than it is of luck. Look no further than the 10-6 and 9-7 squads the Giants won their last two titles with for evidence of how getting into the postseason is the only prerequisite needed to make a run at Lombardi. The real truth is that signs of a franchise's greatness are how frequently it can make the postseason and how frequently it can put up double-digit win totals in a 16-game season.
The best you can do is compete year after year and hope once the dice fall your way.
Perhaps that is what makes this non-playoff season so irksome, though. Despite the fact that the Giants have now made the postseason just once in the last four years, this is one of the years in which they should have entered their names in that playoff raffle. New York's postseason window is open right now, and that makes a season without a shot at the Super Bowl a wasted one for all of the talent on the roster. The fortunate thing for Giants fans to take solace in, however, is that most of that talent will be coming back. Manning, an Ahmad Bradshaw that still has fuel in the tank, an emerging David Wilson in the backfield, a healthy Hakeem Nicks that the Giants didn't have all season, Victor Cruz and Martellus Bennett will all likely be back on the offense. The defense is still going to have superior athletes on its line like Jason Pierre-Paul and Mathias Kiwanuka even if Osi Umenyiora is unlikely to return. To put it in Bennett's words, not only is the window not closing, but "It is a big ass window."
"We are not talking about apartment windows on the side. We are talking like mansions. ... Like [Evander] Holyfield's house in Atlanta where he had people working the grounds for you."
There are plenty of reasons to think this team will be competitive in 2013 and plenty of reasons to think its second half swoon was less a product of ineptitude and more a product of an absolute gauntlet of a second-half schedule that included
four
road games against teams that made the 2012 postseason and just two games against a team that finished with a losing record -- and the Giants won both by a combined score of 94-34. New York's schedule this season was the toughest in the league and by December 30 it's entirely possible the Giants were simply worn out. Football players are only human after all.
Next year the talent will be back, the talent will be healthier, one or two additions might bolster a relatively shaky defensive secondary and instead of facing a slate that includes the likes of Oakland, Kansas City, Detroit, Carolina, a rebuilding Philadelphia and five games against teams that will have first-year head coaches. If sitting at home next weekend while watching the first round of the playoffs hurts one as a Giants fan, they can look ahead and know that if the team doesn't get beset with injuries, the ingredients are there to make another run at an NFC East title and a postseason berth.
Come September, I'll be ready to hurt all over again. I just hope Sports Illustrated isn't watching.