explanation
of how the NHL has destroyed the other sports when it comes to All-Star weekend, he pondered the potential of the NBA adopting the Fantasy Draft format. Since David Stern won't return my phone calls, I have decided to give you, loyal reader, the best glimpse possible as to what could have happened if Stern didn't die 5 years ago. Voting for the real All-Stars ended yesterday. The starters will be announced tomorrow, live on TNT at 7 p.m. ET.
I will take over one squad. KOBEsh, the other. We will go back and forth with picks, until the 24th and final All-Star is chosen. At the end, you can decide who picked the better team.
BockerKnocker selects LeBron James, Miami F, as Captain (8th selection)
Crap, we gotta play real
games now?
For the sake of this post, I get to be LeBron James. Let's get the business out of the way: about 29 points, 8 rebounds, 7 assists, and 2 steals in 37 minutes per game so far this year. Absurd numbers for the most exceptional talent (
read: "talent," not player
) in the game, and maybe the world, today. He could average far less than those numbers and there still wouldn't be a good reason not to pick him as captain, unless the game was being hosted by the good folks in Cleveland. LeBron has a few character traits that make any fan squirm at the thought of giving him any sort of leadership role, but this is for a game that means absolutely nothing. And that, my friends, is LeBron's playground. The guy approaches the 4th quarter of an All-Star game in the exact way that we all wish he would approach the 4th quarter of a Finals game. And as a side note, I'd love to see him have the opportunity to pass up picking D-Wade, as well as the possibility of not picking Chris Bosh altogether.
KOBEshigawa selects Kobe Bryant, Los Angeles Lakers G, as Captain (14th selection)
Showing LBJ who's The BOSS
Of the two young balding superstars in the league, I'm really happy I get to be the one who's doing so more gracefully. All the good jokes have probably been made, so I'll spare you; Kobe's summer knee surgery in Germany, coupled with 7 months off without any competitive basketball has really given the Mamba new life. He's currently throwing up numbers that for the most part are above his career averages: 30 points, 6.1 boards and 5.4 assists on 45.5% shooting. He's playing a massive amount of minutes for a Lakers team that seems to need the ball in Kobe's hand every play. If the Lakers can get it together after their rough opening schedule (18 games in a month, against the Bulls, Clips, Pacers and Dalls, with roadies at Magic, Heat, Blazers, Utah and Denver), Kobe could pick up his 2nd MVP trophy. Just sayin.
BK selects Dwight Howard, Orlando C (6th selection)
Very,
very
tempted to have LeBron and Durant play together, but that will happen this summer. And since neither of them is one of my favorite players, I'll have no problem
sending them to the 'Lympics
. Dwight's stats obviously justify the pick: he's averaging 20 and 15 with 2 blocks per game. But the interesting thing to note here is that officials relax their foul calls in the All-Star game. If you watch Howard play, he'll pick up at least 2 offensive fouls that aren't really fouls. The officials just don't know how to call a game when he's involved, much like his Superman predecessor Shaquille. Even the most non-European of post defenders will flop because they just can't stop the man-beast straight up. Dwight won't be limited by such shenanigans in an exhibition game, and for entertainment's sake, that's clearly a good thing. Besides, I can't wait for him to use the All-Star game as another method to throw his Magic teammates under the bus.
KOBEsh selects Chris Paul, Los Angeles Clippers G (5th selection)
Reeeeeunited, and it feels so good!
My next pick is partially a basketball decision, but partially a product of watching YOUR beloved Knickerbockers and my Lake Show plod along this season both without a point guard to run the offense. The choice here would have to be Chris Paul. With all the scorers that inevitably get picked for an All-Star team, you need a guy to distribute the ball and get guys shots. And if all those guys are covered, BOOMSKI, take the shot yourself. CP3 is shooting an astounding 51% this year to go with 45% from behind the arc. His assists are a bit down at 8.9, but there's little doubt that this guy is the best point guard in the league.
BK selects Kevin Durant, Oklahoma City F (3rd selection)
Well if you're just going to give him to me, then fine. Durant is the best pure scorer in the game today, better than Kobe himself, just because Durant gets most of his points with relative ease. This year, the influence of Kendrick Perkins has upped KD's defensive game as well. Durantula is averaging a little more than a steal and a block per game. And just when you think he was too clean-cut, we all found out he has
tattoos
. Music to my ears. Durant-LeBron-Dwight? Please. This game is over already.
KOBEsh selects Derrick Rose, Chicago G (3rd selection)
This is really an argument for a separate post (not to mention hiring a bodyguard to protect me against our resident OKC fan, Thunderstolt), but I really think that Durant might be a bit...overrated. OHHHH SNAP!
As with any early picks of any draft, I'd have to go with talent over need. I'm taking D-Rose. In my mind, he's not really so much a point guard as he is a scoring guard, and he's one of the very best in the league. The MVP plays best with the ball in his hands, which won't be a problem with CP3 and Kobe throwing the rock all over the court (
a common misconception is that Kobe DOESN'T pass the ball -- he does, when he feels like people around him can make a shot. Enter, the 2012 Lakers
). At this point, Kobe moves over to the 3, and him and Chris Paul are knock down gunners when Rose penetrates the lane. But let's face it, I picked Rose here to block you from taking him.
BK selects Dwyane Wade, Miami G (8th selection)
Good move my friend. Too bad there's another stud out there in Dwyane Wade. He's hurt of course, but with the All-Star Game being a month away, he should be good to go as the starting SG for the BockerKnocker All-Stars. This season, D-Wade's points are down, as he's averaging just 20 per game. However, he fills up a stat sheet almost as good as his more infamous teammate, and is now the recognized closer on the league's most talented team. Additionally, Wade is one of the best rebounding guards in the league, and he has a propensity to swat shots in opponents faces (1.5 per game). Wade, Durant, LBJ, and Dwight. Even if Derek Fisher were the point guard, he couldn't screw this up.
KOBEsh selects Dirk Nowitzki, Dallas F (11th selection)
A better vest, and your
suit-and-tie game will
be as good as mine!
I've got to go with size here. Though not currently "in-shape" (have you ever seen a case where a player takes a break and they expressly say it's because he needs to get better conditioned in the NBA? This is the equivalent of a guy in a slump going down to Triple-A ball to get his swing back), Dirka Dirka is the call. Big enough to play the post and the most difficult cover in the league. Remember how deadly Nowitzski's offense was when he was playing with Steve Nash? Imagine that with CP3, but WITH Dirk's evolved post game. Unstoppable.
BK selects Deron Williams, New Jersey G (3rd selection)
Camera inside the backboard!
I'll round out my starting 5 with the most overlooked superstar in the NBA, Deron Williams. It's not your fault Deron,
we do feel bad for you
. I would like for him to be scoring more on this putrid Nets team, but the fact that he averages almost 9 assists per game on a team that features D-League legends makes him perfect for the BK squad. A bunch of scorers just needs the right guy to get them the ball. If Deron were on any team besides the Nets, he would have more of an argument in the "best point guard alive" debate, as his passing skills are second to none. Dwight Howard gets his wish, if only for one night.
KOBEsh selects Andrew Bynum, Los Angeles Lakers C (1st selection)
I gotta do the same. To finish my starting lineup, I've got to find a big with some toughness and rebounding. Someone who can play physical and mean with guys like Dwight Howard and LeBron James. And I can't believe that guy is Andrew Bynum. He's the 2nd best center in the game, and the very best on the offensive end. I think his defense, when properly motivated, is extraordinarily underrated. I think he rounds out one of the most superior starting fives you'll ever see. Also, as a bonus, you'll get to see me cry tears of sorrow as the CP3-Kobe-Bynum core that never was takes the court.
BK selects Kevin Love, Minnesota F (2nd selection)
Don't worry K-Love!
You'll get PT this year!
What a great bonus! Put those tears in a cup, I'll add some mystery mix when LeBron throws an oop to Durant and posterizes Bynum in the process.
For my 6th man, I'm taking the recently-extended Kevin Love. Starting Durant and LeBron at the forward spots gives us a need for a true PF. Love has taken charge of a young and surprising 'Sota team, averaging an attractive 25 points per game to go with his gaudy glass work (14 rpg). He is the
best
rebounder in basketball, and I never thought I'd say that about a white man. He truly deserves his top dawg spot on the
White American Power Rankings
.
KOBEsh selects Carmelo Anthony, New York F (5th selection)
Unfortunately, these two haven't
celebrated much this year.
Damn. Great pick. I'm sorry to insult the great fans of the New York Knickerbockers and their collective bile for their own team right now, but I'm going with Carmelo here. Though extraordinarily disappointing in his first full season so far, Melo lives for these types of games. He's at his best when playing with other guys that are much better than him, in an environment with his friends (Kobe, CP3). Plus, I am fascinated with the prospect of watching you feel simultaneous emotions of anger and sadness as Melo plays to his potential.
BK selects LaMarcus Aldridge, Portland F (1st selection)
Phew, big sigh of relief. The NBA mid-season showcase allows only 24 players (
excluding injured players
) a year to claim the title of All-Star. I was worried that I'd have to defend Carmelo's All-Star candidacy this year, in the one sport where "snub" isn't a word taken too lightly.
That being said, I'm going to shore up my bench bigs with the selection of LaMarcus Aldridge. Aldridge has shrugged off a heart ailment (
he plays for Portland, obviously
) to net 23 and grab 9 per game. He also gained his first invite to Team USA training camp this year, as Brandon Roy's retirement has let the big kid take the spotlight as the unquestionable leader of the Trail Blazers. Aldridge provides a good crunch-time free throw shooter, since Dwight will be parking his butt on the bench if it's a close game.
KOBEsh selects Pau Gasol, Los Angeles Lakers F/C (5th selection)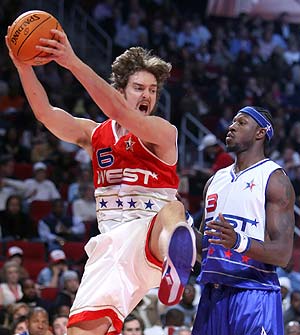 Relax bro, it's just an exhibition.
In that case, I'll go with a BETTER version of LaMarcus, which is Pau Gasol. Considering the Lakers are the worst three-point shooting team in the league and oppositions are double-teaming him at will, Pau's performance this year has been unjustly criticized. It's a pretty overused statement at this point to call him the most skilled post-player in the league at this point, but that doesn't mean it's not true. He's starting to show a little bit of life after a slow start, but Pau playing at a relatively poor level for him is still worthy of an All-Star berth.
BK selects Marc Gasol, Memphis C (1st selection)
Let's not forget what we're picking teams for. Pau Gasol is an All-Star, for sure, but I'm not convinced that he's better suited to win an All-Star game than Aldridge is.
But I'll do you one better: I'm gonna take the BETTER Gasol brother with Marc (
control yourself, Kobash
). The Artist Formerly Known as Pau's Fat Brother has been holding it down for Memphis all season. He's been the Grizzlies' low post rock since Zach Randolph got hurt. The 15 and 11 averages aren't sexy, but he's one of the most efficient players in the League. His 50% clip from the floor is even more impressive because unlike most Centers, most of his shots aren't high-percentage dunks. And if you aren't already totally pissed at me, here's this: I think he's been better than Bynum this year.
KOBEsh selects Blake Griffin, Los Angeles Clippers F (2nd selection)
Blake paying respects.
If I wasn't going to take Marc with my next pick, I would be furious with you. I don't think he's the better Gasol brother, nor do I think he's been better than Bynum this year. BUT, that's not because I think Marc is at all undeserving of being an All-Star, but rather because I think the comparison is bunk. Pau and Marc are completely different players, almost in the way that Dwight and Pau aren't really comparable. I'd take Drew over Marc (which, actually, I did), because of Andrew's versatility on the block, as well as his length.
Like my blog brother, I'm going to go big here. And as much as it makes me want to die a little inside, I've got to go with the Blake Show. I don't even want to explain why, because it's rotting my insides to even make this pick. But suffice to say, he's good. I'm going to take a shower now. I'm disgusting.
BK selects Kyle Lowry, Houston G (1st selection)
Wow! TWO Clippers! Will Laker Nation please take KOBEsh's fan card? But I like the pick. Who's better for an All-Star game than a guy whose claim to fame is dunking over [the small side of] a car
I'm gonna take this opportunity to take a guy that might not make the real All-Star team: Kyle Lowry (
cue --> devilish smile from friend of the blog, El Miz
). The season is young, but I'll say it anyway: outside of Kobe Bean, there isn't a guard playing better ball than the former Villanova standout. He has silenced critics who believed that he would never amount to a true PG, to the tune of 15 points, 8 assists, 2 steals...and 6 rebounds (!!) per game. (
If only Amar'e Stoudemire could reach those numbers!
) Oh, and he's one of the few lockdown defenders at his position -- easy call.
KOBEsh selects Russell Westbrook, Oklahoma City G (2nd selection)
Didn't your mother ever tell you to
find your own food to eat?
I don't know how you could pass over Russell Westbrook. As good as Lowry is playing this year, there's no doubt that Russ is a better player overall. He has big game experience and is completley unintimidated by the big moment amongst big stars. He is one of the most explosive players in the league and as a sub for Rose, we won't miss a beat.
BK selects Monta Ellis, Golden State G (1st selection)
Westbrook is a fantastic player. He deserves the max deal that OKC gave him. You're right; he is a better player than Lowry. But over here in the BockerKnocker locker room, we reward improvement. And in Lowry's case, to say that he's "improved" would still be an understatement. Besides, if I had picked Westbrook, and then Lowry, then I can't justify giving Lowry more minutes. Since he's playing better this year, he's earned those minutes. I also don't think Westbrook's that great for an All-Star game, since he has a slight propensity to take ill-advised, Toney Douglas-esque jump shots. (Did I just compare Westbrook to Douglas? I think we may have lost ThunderStolt. Somebody make sure he's still breathing.)
For my next pick, I have another perfect exhibition game specialist in Monta Ellis. His team defense is very suspect, but last I checked, that's not necessary for the ASG. 21 points, an overlooked 7 assists, and 2 steals per game is worthy for his first All-Star appearance.
KOBEsh selects Josh Smith, Atlanta F (1st selection)
I need a versatile forward here, so I'm gonna pick Josh Smith. Even though Iguodala and Granger might be more superior overall players, J Smoove is probably playing the best on a somewhat overrated Hawks squad. 15 points, nearly 10 boards and a block; defensively, he's probably a better option than most centers.
BK selects Brandon Jennings, Milwaukee G (1st selection)
I'm gonna stick with the new blood approach and take Brandon Jennings. Last year, defenders forced him to take jump shots and he rewarded them by building a brick house large enough to fit all three little pigs. This year, I watched him single-handedly silence the Garden, dismantling the Knicks with an array of dunks, mid-range jumpers, and shot-clock beating 3s. He should have been playing for the home team, but I won't fault
The Wheelchair
for a rare mistake. Rounding it out with my soft spot for southpaws, and this makes all the sense in the world.
KOBEsh selects Chris Bosh, Miami F (7th selection)
(
7? Yeah, I was surprised too
)
Looking womanly as usual.
Well at this point it's starting to be just a talent grab. Jennings is having an unbelievable year; along with this 20 points a game, he's shooting over 44%, compared to his career 38% (!) numbers. Really good call there BK.
Chris Bosh is the right call. He's probably been the most impressive of all the Miami Heat players this year, and in that I mean that he's the only one who's played way over his head. I expect excellence from Wade and Bron, but Bosh has been far more assertive on both ends of the floor. He deserves this honor more than perhaps even Dwyane.
BK selects Paul Millsap, Utah F (1st selection)
I passed on Chris Bosh several times out of spite. With LeBron and Dwyane, I didn't think I could look myself if in the mirror if I took Bosh to complete the third circle of hell.
For my final pick, I needed someone who I could play for 2-3 minutes at the end of the first half and not give me any lip about it. And after thinking for not very long, I came to Paul Millsap. Since recovering from a mild early-season injury, Millsap wrested control of the starting PF position from the over-hyped Derrick Favors. Over the last 10 games, he's been a 20-10 lock. He plays for an awful team, but he doesn't complain about it one bit.
How refreshing
! But aside from his All-Star credentials, Millsap will feel a little out of place in this game. LeBron will throw an alley-oop lob from the opposite free-throw line, Blake Griffin will jump over teammate Chris Paul to grab a rebound, and Kevin Durant will attempt (and make) a shot from half court. Millsap is a bruiser in the Charles Oakley mode; he even attended Oak's alma mater, Virginia Union. He'll give someone a breather, be done with it, and go back home to Utah happy.
KOBEsh selects Ty Lawson, Denver G (1st selection)
For my last pick, I'm going with my choice for player most likely to make "
The Leap
" this year, Ty Lawson. He's the best player on a really good Denver squad, and rounding into the All-Star I thought he could be.
BockerKnocker All-Stars:
Starters
Dwight Howard
LeBron James
Kevin Durant
Dwyane Wade
Deron Williams
Bench
Kevin Love, LaMarcus Aldridge, Marc Gasol, Kyle Lowry, Monta Ellis, Brandon Jennings, Paul Millsap
KOBEshigawa All-Stars:
Starters
Andrew Bynum
Dirk Nowitzki
Kobe Bryant
Derrick Rose
Chris Paul
Bench
Carmelo Anthony, Pau Gasol, Blake Griffin, Russell Westbrook, Josh Smith, Chris Bosh, Ty Lawson
So, who wins an All-Star game between these two?