UPDATE: Check out
our third and final Mock
!
Last month, we posted a
Mock Draft
right after the NFL season ended. Since then, the playoffs have shed more light on what last year's contenders need to get a little farther next season. The Senior Bowl also took place, featuring the country's best NFL prospects who haven't declared early as a junior or red-shirt sophomore, or whose draft stock is entrenched in the early first round.
This time, we changed up the format a little bit. First, we added two more mockers to the stable. Pucklius is a regular contributor to the Mambino franchise; his best
Mambino post is on New Jersey Devils superstar Ilya Kovalchuk
. Zimmy is also in the fold this go-round, taking time out of his regularly scheduled Tim Tebow ass-tasting.
Second, instead of alternating picks between everybody, each mocker was assigned 6-7 different NFL franchises. Each dude controlled the teams not only for purposes of drafting, but also trades. We thought it would add a nice wrinkle, especially for teams that had 2 1st round picks. More stability, accuracy be damned.
On with the show...
1. BockerKnocker selects Andrew Luck, Stanford QB, for Indianapolis
"What the eff I am supposed to do now?" -Curtis Painter
After posting the first NFL Mock Draft in this space, I've heard that our predictions will amount to one correct pick. Let's keep it that way, at the very least. The latest out of Indy is that Peyton Manning's neck is fully fused (
whatever the hell that means
), and he is on the road to regaining his throwing velocity. But that likely isn't going to be enough of a guarantee for owner Jim Irsay to pick up Manning's 28 million dollar option in a couple weeks. Enter Luck, who also recently stated that he'd love to work with Peyton on the same team. It looks to be more of a polite statement from the former Cardinal signal-caller, as only the dumbest of gamblers would bet on #18 playing one more down in Lucas Oil Stadium.
2. TuckRule trades this pick and his 6th round pick from St. Louis to Washington, in exchange for Washington's 1st round pick (#6 overall), 2nd, 4th, and 2013-3rd. BK selects Robert Griffin III, Baylor QB, for Washington
The Redskins beat the Super Bowl champs twice this year, and Mike Shanahan will undoubtedly use that to amp his team up for the 2012 season. He finally has a leader that he can trust in Griffin, whose natural athletic talent made him one of the most watched players in all of college football this past year. Griffin also seems to fit in with the D.C. environment, as he recently delivered the closing prayer at the National Prayer Breakfast last month. As a guest of President Obama, Griffin stood by his family, finished his prayer, and politely challenged Barack to a game of basketball. That, his post-Heisman appearances, and his choice of socks, show that he is quite the ambassador for Baylor University. Giving up a lot of picks is tough, but it's all worth it when you're getting a legitimate "face of the franchise." I would not be surprised if RG3 has a better pro career than Luck.
3. Gotti selects Matt Kalil, USC OT, for Minnesota
Get out of the way, d-back. I will eat you.
Minnesota wastes zero time entertaining trades, for they are tickled purple (see what I did there? Clever, I know) that they can draft the most NFL-ready offensive lineman since Jake Long. The Vikings have desperately needed to bolster its lackluster offensive line to keep Christian Ponder upright and to open holes for Toby Gerhart and Adrian Peterson (if he can return from his brutal knee injury in time).
4. Pucklius selects Justin Blackmon, Oklahoma State WR, for Cleveland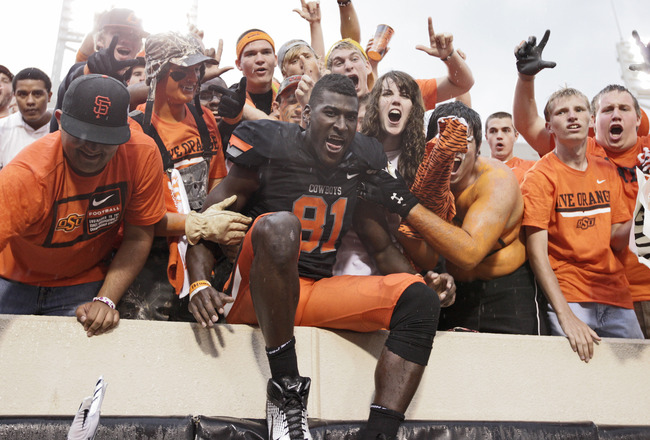 Looking at the Browns, they could use help, well, just about everywhere. Bulking up the offensive line wouldn't be a bad option, nor would drafting Alabama running back Trent Richardson, who could boost a Cleveland running game that will likely lose Peyton Hillis. Hillis is preparing to be among the most overrated free agents in history. The short of it is that Cleveland has several holes to fill and several options for this pick. Browns' President Mike Holmgren isn't one to be swayed by what the sexiest splash just might be, but adding a wideout like Blackmon can infuse the Browns with excitement they haven't had in years. Blackmon can be the dynamic receiver they thought Braylon Edwards was supposed to be. Adding possibly the best athlete on the board and giving Colt McCoy a weapon could make him look more like Bernie Kozar and less like, well, Colt McCoy.
5. Zimmy selects Morris Claiborne, LSU CB, for Tampa Bay
"Morris! Save the touching for later!" -H-Badger
Besides Andrew Luck going first overall, this is the easiest pick of the draft. With Old Man Barber reaching his retirement point (not to mention recovering from a broken arm) and Aqib Talib facing jail time, the Bucs are desperate for some secondary help. Even
with
Barber and Talib, the Bucs gave up 238.4 passing yards per game, and with Drew Brees, Matt Ryan, and Cam Newton lighting up the NFC South, this is a need pick. Claiborne, with his 11 interceptions and 23 pass deflections over the course of the 2 years he started at LSU, is also the top-rated talent left on the board. Rarely does a team pass on a player who is both needed and talented, and the Bucs surely wont.
Iowa produces other
kinds of talent, too.
6. TuckRule selects Riley Reiff, Iowa OT, for St. Louis (via Washington)
The Rams were all set to select Matt Kalil to protect Sam Bradford's blindside when the Redskins came in with an offer they couldn't pass up. Going from the best OT prospect to the 2nd best, however, while also getting extra picks in rounds 2, 3 and 4, was just too good to be true. In the last Mambino Mock, Jonathan Martin went off the board 6th, and Reiff 9th, but
my sources
say that the farm-boy has leapfrogged the smart guy in the ranks. Really, they just need to do everything they can do to protect their zillion dollar (estimated) investment in Sam Bradford.
COOKIE! Give me cookie!
7. TuckRule selects Quinton Coples, UNC DE, for Jacksonville
There are way too many holes to fill on this team, so trying to pick someone based on "need" will just drive you crazy. So we must resort to the old best player available strategy. While he's not technically a steal still in the top 10, Coples is the best pass rusher in the draft and some say he's a better defensive prospect than Claiborne. He had some senioritis issues last year at UNC, but when he wants it, he can get by any offensive line out there. Since the only semblance of a pass rush on the Jags is a 33-year old Aaron Kampman (22 games in last 3 years combined), this is the smartest choice for this spot. I wouldn't be surprised though to see the Jags trade down out of this spot if one of the marquee guys somehow fell to them.
8. Gotti selects Michael Brockers, LSU DT, for Carolina
That beard looks like a turtle neck.
Brockers has been shooting up draft boards because he is big and nasty, and also because he finally declared for the draft. Head coach Ron Rivera has shown in the past that he can do big things with big people on the defensive line (Jamaal Williams in San Diego and various personnel in Chicago), and Brockers may be his next project. Carolina has a ton of holes on defense it needs to fill and could also use a wide receiver, but there simply is no value at those positions given Alabama cornerback Dre' Kirkpatrick's recent off-the-field concerns and Blackmon being off the board. Carolina does, however, secure the best interior d-lineman in the draft.
9. Pucklius selects Jonathan Martin, Stanford OT, for Miami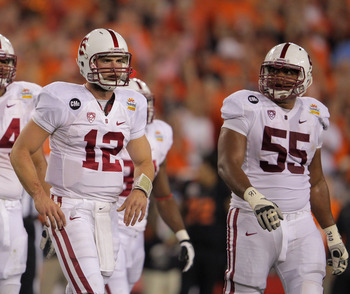 "You know you won't have me around anymore, right?
Have fun getting to know the turf in Indy, Andrew."
Yes, Miami already has one of the top tackles in the game -- and a young one at that -- in Jake Long, the No. 1 pick from 2008. But while there are questions at quarterback here, what with Chad Henne being bad at football and all, it will be much easier to succeed with a pair of young bookend franchise tackles protecting him for the next 10 years. Throw in center Mike Pouncey from last year's first round and the Dolphins will have three first round picks protecting their quarterback and plowing open holes for their running backs. That kind of stability doesn't come often and with the potential to take one of the highest-touted tackles in the draft, it will be tough to ignore the chance to have it. Get these three playing together as a unit and the Dolphins could be primed to take over the AFC East right when Tom Brady and New England's window finally closes.
10. Zimmy selects Courtney Upshaw, Alabama LB, for Buffalo
"[He] followed [me], grabbed [me] by the back of the
neck, and pushed [me]." High marks, Courtney.
This was a tough pick. The Eagles were calling to move up, but wouldn't part with enough picks to make a deal. So, the Bills were left to reach as the top talents left on the board don't fit their need of an immediate pass rush. Buffalo had 29 sacks last year and gave up a massive 371 yards a game. That's embarrassing, so the Bills will do what they do best and reach for a talented player too high, and then promptly ruin that talented player (See Aaron Maybin, James Hardy, Chris Ellis). Courtney Upshaw clearly fits the 4-3 defensive scheme in either the End or the Buck position, and he's a better pick than Melvin Ingram with his stick like arms or the non-SEC DT Devon Still (solely on the grounds that a team is stupid if they have relatively the same player and choose to go outside the conference).
"You said you forgot your cup today?"
11. BK selects Melvin Ingram, South Carolina DE, for Seattle
The Gotti-owned Packers tried hard to push Matt Flynn into Seattle's lap. However, the Seahawks thought they could gamble by trying to sign him in free agency. And why not? Pete Carroll's used to
rolling the dice on other people's lives
. Ingram has notched 18 sacks in the past two seasons for the Cocks (
giggity
). The Hawks found a gem in veteran Chris Clemons, who had a breakout season at DE last year. But as the champs proved, there's always room for another talented edge rusher. One of the knocks on Ingram is that he likes to go for the big hit instead of making the easy wrap around tackle, but that's cool with me. I used to always go with the Madden Hitstick option anyway.
12. TuckRule selects Devon Still, Penn State DT, for Kansas City
Devon Still, Grammar Champion.
Despite what Zimmy might think, college football is played outside of the SEC. And this is coming from a guy who is pretty much devoid of CFB watching outside of the All-State Tostito's BCS Carmax for America Bowl. The Chiefs would seem to have a lot of holes to fill, but their draft spot is not representative of their talent level. They were bit hard by the injury bug last year losing their two best players before October. If everyone comes back at full strength, the Chiefs could easily topple the Denver Jesuses and
that QB from the 2004 draft class that doesn't have two Super Bowl rings
. Hopefully they can re-sign Dwayne Bowe and focus their energies on the defensive side of the ball. Devon Still is a top-10 talent who can immediately slide into the starting lineup and open up holes for LBs like Derrick Johnson to roam free. He would also replace Kelly Gregg who is likely to retire.
"For the last time, Tiger, my girl is
NOT free tonight."
13. Gotti selects David DeCastro, Stanford OG, for Arizona
The Cardinals offense has plenty of talent at the skill positions, but lacks any quality between the tackles. That's where DeCastro fits in. No matter who is quarterbacking the Cardinals next year (odds on favorite is Kevin Kolb unless the Cardinals win the Peyton Manning sweepstakes), they will need to be kept upright. Additionally, Beanie Wells showed flashes of the talent he displayed at Ohio State, and DeCastro is a monster in run blocking. This pick will surely help Arizona's passing and running attack that ranked 17th and 24th, respectively.
Dre has already mastered
a Cowboy form of art:
the mugshot.
14. Pucklius selects Dre Kirkpatrick, Alabama CB, for Dallas
Did you just see that? It was another long pass over the heads of the rotten Cowboys secondary. Be careful, you might have sprained your neck. Lord knows Mike Jenkins and Orlando Scandrick probably did. Let's face it, Dallas has awful defensive backs, but without it, the Giants probably wouldn't have driven down their throats for two touchdowns in the final moments in Week 14, and we would have a different Super Bowl champion. The Cowboys need cornerback help in a big way, and Kirkpatrick brings not only a habit of winning with a national championship program, he also gives Dallas a huge 6-3, 192-pound frame that will help shut down the top receivers if he develops right.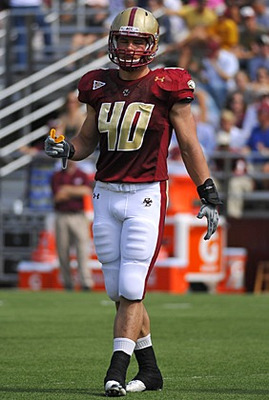 I'm as pro-BC as they
come, but this frame
is not that of a pro LB.
15. Zimmy selects Luke Kuechly, Boston College LB, for Philadelphia
The last time the Dream Team drafted a linebacker in the first round was back in 1989, and while Andy Reid has categorically sworn off drafting another linebacker high, his team needs it. Surprisingly, the free agency signings from last year just amplified the problems the Eagles have 5 yards behind the line, and the best available player happens to fill that void. However, this pick needs to be taken with a grain of salt as ILB Steven Tulloch, now of the Lions, is number one on the Eagles' wish list, and if that happens, look for the Eagles to shore up their incredibly terrible WR corps (don't get me wrong, I love Riley Cooper, he's a gator, his hair is long and flowing just like the most beautiful sunshine, and his hands are...well, you get the picture). If the Eagles splurge again in Free Agency, which they can due to their crafty GM, I wouldn't be shocked to see Alshon Jeffrey, of SEC-fame, landing here.
16. BK selects Trent Richardson, Alabama RB, for New York Jets
Satisfying our meme quota.
Stunning turn of events. In the first version of the Mambino Mock, Buffalo traded down (
and within their division! gasp!
), giving up their 10th overall pick to the Jets, which New York used to select the most talented running back in this year's class, Richardson. This time around, as "owner" of Gang Green, I decided not to approach the Bills with a similar offer, just so you Mambinites can read something a little different. Well, both teams ended up picking the same player anyway. Upshaw is still a great fit up north, and to see a dynamo of a prospect in Richardson fall to #16 will make Rex Ryan happy. 'Cause, you know, Richardson's got
great feet
. Sounds like
captain
material!
17. TuckRule selects Janoris Jenkins, North Alabama CB, for Cincinnati
Thanks to
Carson Palmer
, the Bengals are able to get the 2nd best cornerback in the draft. Two years ago, Cincinnati had an elite CB tandem in Leon Hall & Jonathan Joseph but unfortunately could only keep one of them for some reason. Most likely it was owner Mike Brown's tight purse strings. But hopefully they can now regain that elite tandem by pairing Hall with Jenkins, who will fit in perfectly with the team with his character issues and vast experience at getting suspended from playing football. Also, this pick is only going to happen on the condition that Jenkins changes his last name to Oates.
"You got my cell phone bill
paid for yet?"
18. Gotti selects Nick Perry, USC DE, for San Diego
San Diego was looking to bolt out of this pick, but ultimately could not strike a deal with the Seahawks. The Chargers will still answer any calls for the talented USC lineman who showed flashes of dominance for the Trojans. Perry has an ideal size-and-speed combination to either play with his hand on the ground as a defensive end or standing up as a rush linebacker, something that San Diego fans have not seen since the steroided Shawne Merriman was on the team. Other needs could be wide receiver, if Vincent Jackson leaves, and improving an injury-plagued offensive line, but OG Cordy Glenn from Georgia and OT Mike Adams from Ohio State would be reaches here.
This photo is certainly
Sam Hurd-esque...
19. Pucklius selects Kendall Wright, Baylor WR, for Chicago
The Bears are another team that is alright everywhere and could probably use an upgrade just about anywhere. They need a target for Jay Cutler, particularly with Johnny Knox being Johnny Knox and Sam Hurd busy dealing with
his other businesses
at the moment. There are several solid wide receivers on the board, and many will want Notre Dame's Michael Floyd, but his past turns up some red flags that could be worrisome. Wright, meanwhile, may not have the most size in the draft, but he has everything else -- and as the NFL moves more and more toward pass-first pro-style spread offenses that are designed to get quick players into space, shifty wide receivers with good hands and great quickness will be at a premium. Chicago would be wise to snag one for themselves right here.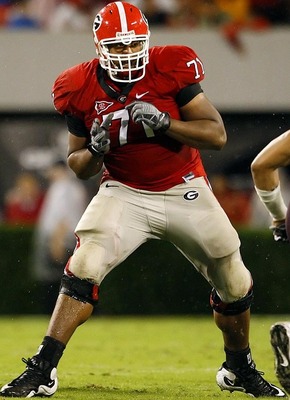 Teach me how to Cordy!
20. Zimmy selects Cordy Glenn, Georgia OG, for Tennessee
The Titans were hoping Nick Perry would drop, as the lack of signed defensive ends puts the D-line completely up in the air. However, once Perry surprisingly was pulled by the Chargers, the Titans make the smart move by shoring up their of
fen
sive
off
ensive line. While they handled pass blocking a-ok, their run blocking was atrocious. That starts up front with the substandard guard play, and Cordy Glenn would be an instant fit. Not to mention an investment in protecting their number 1 and number 2 assets (
CJ1.04k
and Jake "I make 35 percent of my passes" Locker). Could've taken Mike Adams here, but I never pick an Ohio State lineman over a solid prospect from the SEC.
Vertical. Leap.
21. TuckRule selects Mark Barron, Alabama S, for Cincinnati
Originally, we were very excited to see that our 1st round plan had worked out. Being able to get the 2nd best cornerback in Janoris Jenkins, and then plugging up a big hole in the backfield with someone like Lamar Miller or David Wilson was a dream come true. But looking at our draft board, there are just a couple values at play here for this pick. It'd be a bit of a reach for Miller or Wilson here, but also, Mark Barron is just staring us in the face. We couldn't pass up the chance to have 3 young top tier DB's to prevent Big Ben & Joe Flacco from throwing all over the place.
22. Pucklius selects Vontaze Burfict, Arizona State LB, for Cleveland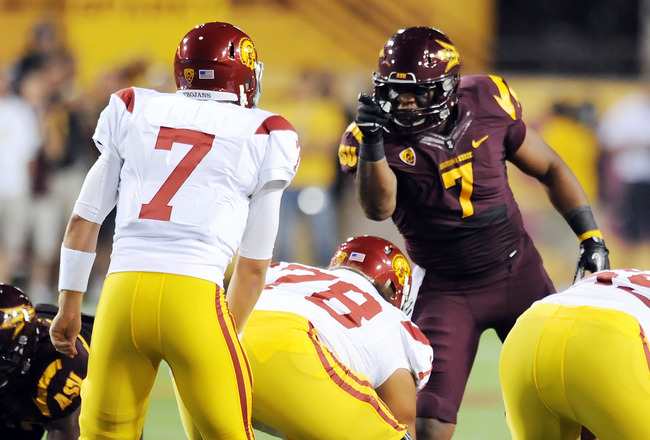 Now I know why Matt Barkley's coming back to school.
This year, Cleveland's linebacking corps included Chris Gocong and a white guy with an Asian name (Scott Fujita). In addition, the best linebacker of the bunch, D'Qwell Jackson, may very well bolt during free agency and take his "rules-of-grammar-be-damned" name with him. That means that not only will the Browns need help on the defensive side of the ball, they could also use a nasty, physical freak to provide them with a massive tackling presence -- and at 6'3", 250 lbs, I do mean massive. Cleveland's defense has no personality, and Burfict's vicious style will give them a toughness they haven't had -- and one that could make them the rising unit in the AFC North.
Not a perfect diamond, but what you don't know is that
Adams (far right) is about to go BANG!
23. Gotti selects Mike Adams, Ohio State OT, for Detroit
The Lions have made
SportsByGotti
a lot of money the previous two seasons, and the trend is not going to stop any time soon. The Lions will only get better defensively with its scary front-4. The back-7 needs help, but there's no one of value at this spot. With incumbent Jeff Backus becoming a free agent and Matthew Stafford's constant injury risk, the Lions will always need to look to improve its offensive line. Adams is NFL-ready, but does not have a high ceiling. He lacks the nastiness you'd like to see from a 6'7" OT, but he moves well for his size and will immediately be effective for the Lions.
24. BK selects Brandon Thompson, Clemson DT, for Pittsburgh
Not pictured: stepped-on QB.
Casey Hampton has absolutely dominated opposing interior linemen as the beefy nose tackle in defensive coordinator Dick LeBeau's 3-4 scheme. Unfortunately, Hampton will turn 35 next season, and the Steelers are coming off a campaign in which they gave up the most yards per rushing attempt and the fewest sacks in LeBeau's recent history. Furthermore, Hampton is owed almost $5 million should Pittsburgh decide to retain him, and his contract will count $8.1 mil against the cap (
ask me if I know what that means, then ask me if I care
). Brandon Thompson may not be able to live up to Pittsburgh's standards immediately, but he proved his 1st round value as a senior for Clemson, piling up 77 tackles from the glamour-free nose tackle position.
25. Zimmy selects Fletcher Cox, Mississippi State DT, for Denver
While the Tebows could look for some offensive help to protect Tebow, no WR in this area (specifically Alshon Jeffery) can make a significant splash since they don't have 20 foot wingspans, the size necessary to catch Tebow's errant throws. However, the lack of a consistent, solid, and tough middle of their defensive front means that they could get immediate help by picking one of the top talents left on the board. As Mel Kiper said, "Fletcher Cox is underrated. Not as thick as Corey Luiget, but similar players. Versatile, revved up motor, quick hands." The Broncos could potentially look at some secondary help, but they can't pass up a surefire starter by Week 5 (not to mention, ahem, SEC).
Though I do have to ask, BK, what does that mean and do you care?
26. TuckRule selects Michael Floyd, Notre Dame WR, for Houston
Catching with 1 when 2 is safer = typical ND.
Just like how a perfect confluence of events (Peyton dying, the aforementioned CJ1.04K, and Blaine Gabbert being Blaine Gabbert) led the Texans to the playoffs for the first time in franchise history, the perfect confluence of need and value are leading to the optimal pick right here. Houston's defense led the league (probably in something) this year thanks to defensive coordinator Wade Phillips and some savvy picks in last years draft. On the other side of the ball though, their offense faced some major issues. Some of which can easily be blamed on starting a 3rd string rookie quarterback for half the season, but another large part is the lack of decent wide receiver depth. Jacoby Jones & Kevin Walter are not 2nd WR material, and with Andre Johnson's injury history, they need all the help they can get. Floyd is projected as a top-15 talent in some draft boards and would be even higher if not for some off-field concerns. There's no better WR in the league at setting some young schmuck straight than Andre Johnson, who is universally known as one of the most standup guys in the league. Also, he's pretty good at catching the ball, so maybe he can impart that knowledge too.
Oh, and contracts count more towards the cap in later years because players' signing bonuses are spread out for the duration of the deal. Otherwise, every NFL player would sign a $100MM contract, with 99 of it tied up in the bonus.
Better question: who DOESN'T like turtles?
27. BK selects Peter Konz, Wisconsin C, for New England
A lot has been made of the Patriots' inability to defend the pass this season, but there just isn't good value at this spot in the Draft. Sure, they could have traded up to select Alabama safety Mark Barron, but that was many e-mails ago, and who can remember that far? Anyways, New England used a converted right guard, Dan Connolly, to fend off the inside rushers last season. They could benefit from a natural guy at the center position. Konz is a superb athlete with plus grades in pass and run block, and can only get better having to block Vince Wilfork in practice all year.
Large. Thighs.
28. Gotti selects Dontari Poe, Memphis DT, for Green Bay
Green Bay was all set to draft Alfonzo Dennard from Nebraska when Pittsburgh and Houston passed on the best 3-4 defensive tackle prospect in this year's draft. Poe is a massive DT (6'3", 335 lbs) who will wreak havoc on the interiors of opponent's offensive lines, demanding constant double teams. Green Bay needs to reestablish its pass rush, but ask Pittsburgh how valuable Casey Hampton has been in the middle of the defensive line, or ask the Chargers, who are still trying to find a replacement for Jamaal Williams. After the combine, do not expect Poe to drop this far in the draft.
29. Pucklius selects Zebrie Sanders, Florida State OT, for Baltimore
Faceplant in 3, 2, 1...
There aren't many holes on Baltimore's roster, but there are spots where they are aging. One of those is the offensive line where Center Matt Birk's future is up in the air and tackle Bryant McKinnie's career is winding down. When you have a big man like that heading closer to retirement, the obvious solution is to grab another one and Sanders fits the bill. A towering 6'5", he has the ideal size to replace McKinnie or the underwhelming Michael Oher. And at just 295 pounds, he has plenty of room to fill out and add more muscle as he develops. With Baltimore already set at quarterback with Joe Flacco, it will be key to give him time for the next 10 years. Selecting Sanders should get the job done.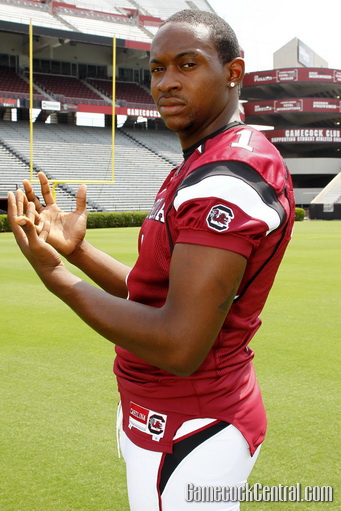 For footballs, or babies.
30. Zimmy selects Alshon Jeffery, South Carolina WR, for San Francisco
Another no-brainer pick. Alshon is the best offensive weapon on the board, and the 49ers need one. Blah blah blah, stats of the Niners, stats of Jeffery, blah SEC rules, you get the picture. The Niners will take all of three seconds to make this pick if he's still on the board, barring the rumors that
Jeffery has developed an eating disorder
.
31. BK selects Alfonzo Dennard, Nebraska CB, for New England
What happened here, Alfonzo?
Dennard's stock has slipped since Senior Bowl week, but many people who know things say that it's because the practices were not structured to showcase his strengths (
makes sense...
). Dennard is an aggressive cornerback that takes pride in re-routing wide receivers within that 5-yard cushion after the snap. While he may not possess the long-range speed to keep up with a typical go or fly route, he can bring some much-needed toughness to a New England secondary that was dead last in the NFL in passing yards allowed. But it doesn't really matter what he brings to the table; he just needs to give head coach Bill Belichick a reason not to use Julian Edelman again.
32. Pucklius and TuckRule select Zach Brown, UNC LB, for New York Giants
The SBCNYG were tempted to feel charitable and donate this pick to a team who so clearly needs it more than us like the Redskins or the Patriots. But we figure they would probably just screw up the pick anyway, so we'll just hang onto it. Despite reigning supreme, there are a couple holes on the roster that can afford to be plugged up, mainly our linebacking corps and our offensive line. There isn't great value for OLs down here in the draft so the Giants turn their sights to the defensive side of the ball. In Zach Brown they'll get a slightly undersized LB with rare speed and zero injury history. He's a bit raw right now and is considered more of an athlete than a natural linebacker, yet he still has a very high upside. It's a risky pick but the last time the Giants picked a raw product with a high upside in the first round, they became down with JPP.
__________
Thanks for sticking through another long post. You're rewarded with nothing.