UPDATE: Check out
Version 2 of our Mock Draft
!
COOLER UPDATE: Check out
our third and final Mock
!
Lots of people do Mock Drafts. The best ones are produced from tireless research efforts. The mocker attends combines, pro days, and all-star games. He (
because women have far better things to do
) scouts the big league teams to ascertain the needs of each one by predicting the consequences of truly unpredictable external factors. And he relentlessly watches games, far more than you, and still more than me. He uses the man's game to find weaknesses, and the boy's game to find players who can turn said weakness into a strength. Mocker Dude watches games with a different eye: he projects professional success not only by field goal percentage, but also by the athleticism used to obtain the
opportunity
to attempt a tough shot. Not only by arm strength to hit a go route, but also by the mental ability to progress to the corner post route.
I do none of those things. My status as an
uneducated mock blogger
has been documented before. So before you go all lame on me, I know practically nothing about college football. However, my two guest contributors and I have done a pinch of research just so this post isn't a piece of garbage. Question their analysis at your own risk.
TuckRule is the author of what is currently the #9 most viewed post on this blog. Somehow, he has been allowed to live despite his hatred of cream cheese.
Gotti is the man behind Sports by Gotti. His website is more real than ours because it doesn't have that ".blogspot" attached to its URL. He lives somewhere in upstate New York that is too far for me to even think about. He is also married; bonus points or deducted points based on your point of view.
Format:
-Each pick is alternated between the three of us
-Each person can trade their pick, with the help of the NFL Draft Pick Value Chart
-Non-traditional pictures are to be used whenever possible.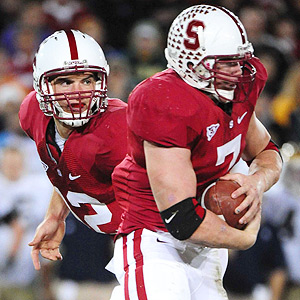 A picture-perfect hand-off!
Thanks to the house-cleaning that Jim Irsay did over the weekend, it is even more certain that the franchise takes their quarterback of the future in Andrew Luck. Personally, I would like them to address their offensive line issues with an elite talent such as Matt Kalil, but the new decision guys for the Colts will feel the need to put their own stamp on this thing. Irsay declared that Peyton Manning will get his absurd $28 million roster bonus, and will start if healthy. And regardless of Luck's supposed ability to step in and start from Day 1, taking notes from one of the greatest players of all time can't be a bad thing. Additionally, being "the best QB prospect since Peyton" will place a burden upon Luck that he may not be ready to handle, if the reins are handed to him immediately. If he were to fail, then it could be argued that EVERY QB prospect should hold a clipboard and wear a baseball cap for the entire duration of their rookie year.
2. Gotti selects Matt Kalil, USC OT, for St. Louis
We're I'm getting paid!
Do I expect St. Louis to call teams like Miami and Washington, both of whom would fight for the opportunity to draft Robert Griffin III, this year's Heisman trophy winner? Yes. Throw in the regression of Oklahoma's Landry Jones and Matt Barkley's decision to stay at Southern Cal. for one more year and St. Louis suddenly finds itself in a position of leverage. However, I'll stick with the #2 spot in the draft. The Rams need to protect their $78 million quarterback in Sam Bradford, whose three-step drop goes, "one, two, three, DUCK" because he is constantly getting hit/knocked down/sacked/injured. Kalil has ideal size and athleticism to start right away in the NFL. The most NFL-ready tackle since Jake Long in 2008.
3. TuckRule trades this pick from Minnesota to Washington for a 1st (6th overall), 2nd, and 4th, and selects Robert Griffin III, Baylor QB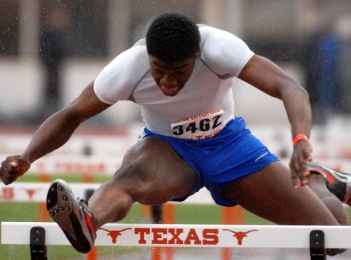 Your thighs make me uncomfortable.
If the Rams surprisingly don't trade their pick to a QB-needy team, the Vikes should jump on the phone and sell the 3rd pick and the rights to RGIII. Minnesota could justifiably select Justin Blackmon to pair with Percy Harvin, but the value was too great to pass up. Never the team to be afraid of making a big splash, the Skins can finally get their franchise QB who is both electrifying on the field and by all accounts a great person off the field. And now Shanahan has another player who can rush the ball, to the utmost disdain of fantasy football players everywhere.
4. BK selects Justin Blackmon, Oklahoma State WR, for Cleveland
It'd be easy to slide standout Alabama RB Trent Richardson here, due to the Browns fielding one of the worst rushing attacks in the league this past season. Top that off with the fact that Peyton Hillis won't be back next year, and you see why Browns fans are clamoring for Richardson. HowEVA, it's just not good business to use a high value pick on a running back anymore, even on a stud like Richardson. On the other hand, Blackmon, maybe the most gifted pure athlete in this year's draft class, will give embattled QB Colt McCoy no more excuses next year. He is a deep threat that will allow Browns rookie WR Greg Little to face single coverage on virtually every play. And finally, if you're like the girl to the right (
meaning, you've moved into the 21st century
), then he's the perfect dude to bring home to Mom, something
the last WR from OK St is still having trouble with
.
5. Gotti selects Morris Claiborne, LSU CB, for Tampa Bay
"Coach, that better be a headset in your pocket."
Although Claiborne's counterpart
Tyrann Mathieu
gets all the attention with his Heisman nomination, Claiborne is the more NFL-ready prospect. It can be argued that he has had a better season than former LSU teammate and current Arizona Cardinal Patrick Peterson did last season. In Tampa, Aqib Talib's future is up in the air and Rhonde Barber can not play forever, or can he? Either way, Claiborne is a gifted corner who will fill a need immediately if Talib departs and/or Barber retires.
6. TuckRule selects Jonathan Martin, Stanford OT, for Minnesota (via Washington)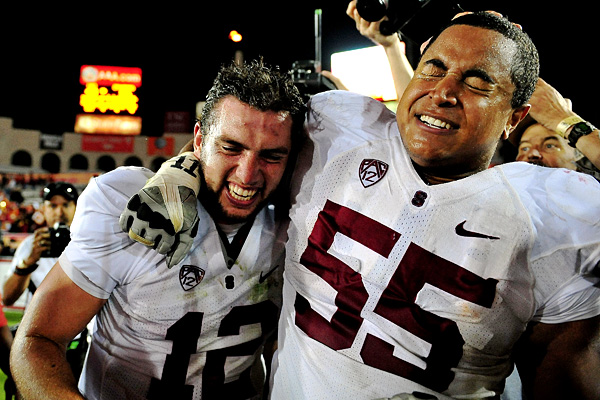 "You smell like Ryan Leaf."
The Vikes have a couple different needs on both sides of the ball as a rebuilding franchise, but ultimately decided it was best to solidify a leaky offensive line to protect the two cornerstones of their team, Christian Ponder and AP (when healthy). I am admittedly disappointed that my master plan of trading down and still getting Blackmon was foiled by the shockingly intelligent Browns organization, but I'm very happy to get the Tackle that gave andrew luck the time to become ANDREW LUCK. They will most likely use one of two high 2nd rounders to select a top WR, or maybe another trade is in the works...
7. BK selects Dre Kirkpatrick, Alabama CB, for Jacksonville
The Jaguars need just about everything. But lost in the confusion that is Blaine Gabbert's short career was how much teams abused Jacksonville corners. Sure, the Jags gave up the 7th-least amount of receiving yards this past year, but such a statistic is misleading, given the fact that most opposing teams were too busy running out the clock in the 4th quarter. Former Ohio State Buckeye Ashton Youboty was a standout playmaker in Columbus, but after being signed off the street, wide receivers ran circles around him. Dre Kirkpatrick has elite cover skills, and some say he's an even better prospect than Morris Claiborne. He's the right pick here, because there isn't an offensive playmaker available for the value at #7 overall. Gabbert should be getting help in Round 2.
8. Gotti selects Quinton Coples, North Carolina DE/DT, for Carolina
If Gotti's right, then Clausen will
know what he's dealing with.
Carolina hit a grand slam with Cam Newton last year and the offense was exciting and productive. Unfortunately, the defense was terrible. The Panthers have dipped into the local college well before for defensive line talent when they drafted Julius Peppers. Coples is not Julius Peppers in terms of athleticism, but he is still a solid defensive line presence against both the run and pass. His versatility is also something that second year coach Ron Rivera will love. Look for the Panthers to focus more on the defensive side of the ball in this year's draft and pick up another weapon for Newton via free agency.
9. TuckRule selects Riley Reiff, Iowa OT, for Miami
Effing Matt Barkley. He really screwed the Dolphins here. But not as much as Miami screwed itself by winning 6 games in the 2nd half. After losing 7 straight to start the season, the Dolphins played themselves out of contention for Luck and Griffin. After greatly considering pulling a trade for this year's Kevin Kolb (Matt Flynn), it's best for the team to make the smart value pick here: improve the O-Line to open up holes for the reborn Reggie Bush. Also,
Vernon Carey sucks
.
10. BK trades this pick to the New York Jets for a 1st (16th overall), 3rd, and 4th, and selects Trent Richardson, Alabama RB
"How many tats can I get for this?"
Former
Gotti-favorite Shawne Merriman
leads the outside linebacker group for Buffalo. That's what the industry calls a "team need." Courtney Upshaw of Alabama would be a fantastic upgrade for the Bills, but the team has chosen to trade down, taking advantage of the weeping, panicky New York Jets front office. Furthermore, it's quite possible that Upshaw is available at the Jets' former slot, 16th overall. Trent Richardson finally gives Rex Ryan the ground-and-pound halfback he so eloquently desires. He's a bruising force while still maintaining excellent breakaway acceleration, making him a better prospect than his Crimson Tide predecessor and current New Orleans Saint, Mark Ingram.
(Yeah, that's right, I traded within the division. What I don't understand is that if a team gets what they believe to be great value, it should not matter where the traded player goes. So if Trent stomps all over the Bills, and the Bills cry about it, well shame on them. They can use the THREE picks they received from the Jets to punch New York right back.)
11. Gotti selects David DeCastro, Stanford OG/OT, for Kansas City
O'Doyle rules.
After a stunning in-division trade, Kansas City goes the boring route and drafts the best interior lineman in the draft who also has the potential to play the right tackle spot. The Chiefs played spirited defense after Romeo Crennel took over as the head coach. While there's loads of first round picks on that side of the ball, the offense line, however, has still not recovered from losing WIllie Roaf and WIll Shields almost a decade ago. DeCastro will help anchor the run game for Jamaal Charles coming off of knee surgery and keep Matt Cassell (or whoever is playing QB) upright.
12. TuckRule trades this pick and a 3rd to Green Bay for Matt Flynn and a 1st, and selects Courtney Upshaw, Alabama LB
I don't need to contribute anything more.
This makes two picks in a row that I, as a pretend GM, get screwed over by a QB staying in school. Don't Barkley and Landry Jones know that an education ain't worth nuthin? The combination of those two staying in school hurt several teams' plans. But, it greatly helped both the Packers' offseason plan and Matt Flynn's wallet. Knowing that there are now only 2 marquee QB's in the draft and no barnburner FAs out there, the Packers will tag Matt Flynn and then trade him to the highest bidder, in this case the Seahawks. So Seattle gets their "franchise" QB, and the Packers get a bookend to Clay Mathews as they go for a 3rd Super Bowl in a row in 2012 (
although I hope I'm wrong, FOR ONCE
). Really, this pick could have been anywhere on the defen-sieve side of the ball.
Matt Flynn's girlfriend.
13. BK selects Melvin Ingram, South Carolina DE, for Arizona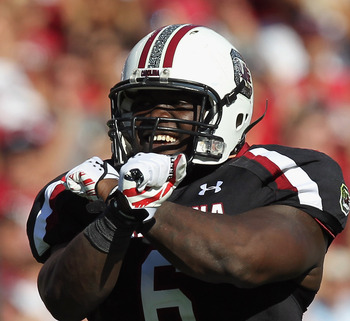 Under Armour contractual obligation.
Beanie Wells had a great season for the Arizona Cardinals. He played hurt virtually all year, and displayed some NFL-level quickness between the tackles, something we haven't seen out of Wells since he was drafted. DeCastro would have a been a perfect fit for Arizona's relatively weak offensive line, but after the Chiefs took care of that, Arizona is going with the best player available in Ingram. This year, Ingram led the battle-tested Gamecocks with 8.5 sacks, 13.5 tackles for loss, and the ever-impressive "number of insults directed at his outdated first name." He'll join a defensive end unit comprised of the steady Darnell Dockett and the athletic freak that is Calais Campbell. With this pick, the Cards could be one of the top defenses in the league next year.
14. Gotti selects Janoris Jenkins, Northern Alabama CB, for Dallas
Jenkins...playing possum?
Jenkins is a top-5 talent from the shoulders down, but comes with serious off-the-field baggage. Jenkins was dismissed by WIll Muschamp at the University of Florida and thus played for Terry Bowden at Northern Alabama. He was truly a man amongst boys playing in division II, but he did not disappoint. The corner shut down every wide receiver he faced and was rarely challenged by opposing quarterbacks. Additionally, Jenkins thrived as a kick returner on special teams, which is another area Dallas would greatly benefit from his services. That is, of course, if he can keep his head screwed on straight.
15. TuckRule selects Luke Kuechly, Boston College LB, for Philadelphia
About to steal a tackle: the Kuechly special.
The biggest issue the Eagles had this year, outside of dreaming about their oversized expectations, has been their linebacking corps. They just can't tackle, it's as simple as that. Philadelphia is solid at all the offensive skill positions and the o-line can be improved later in the draft. They have a decent enough pass rush and we all know what DBs they have (O-VER RA-TED), so this is the logical pick for them.
16. BK selects Jarvis Jones, Georgia LB, for Buffalo (via New York Jets)
Is Jarvis...Asian?
Well, the Bills had their sights set on Upshaw, but will gladly settle for Jarvis Jones. After sitting out for 1 full year because he transferred from USC, Jones quickly became Georgia's best player on either side of the ball. This past season, he was moved from the inside to OLB, a position he had never played in his football career. He made head coach Mark Richt and D-coordinator Todd Grantham look like geniuses, producing 13.5 sacks as the Bulldogs' primary edge rusher. A Butkus Award finalist, Jones was also 1 of only 4 players to receive a unanimous selection to the All-SEC team. The redshirt sophomore has previously said that he doesn't want to "break up a happy home," but the guy deserves to play on Sundays next year.
17. Gotti selects Mark Barron, Alabama S, for Cincinatti
Cincinnati is the benefactor of Oakland's allergy to first round picks this year and the Bengals need to shore up their pass defense. Barron has been quickly climbing up draft boards this season with his overall playmaking ability against both the run and pass. He has had some off-field issues, but Cincinnati is no stranger to drafting guys with troubled pasts.
18. TuckRule selects Jeff Fisher, USC CB, for San Diego
Eff you Floyd. E-A-G-L-E-S
I know they're not getting rid of Norv Turner for some godforsaken reason, so instead of firing him, maybe they can "draft" a replacement and Norv won't notice. No? That won't work? Fine, the Chargers will reluctantly take Michael Floyd. Vincent Jackson will most likely get his wish of getting overpaid by a desperate team and the Chargers will need a replacement. But really, the reason they'll take Michael Floyd is for the rare opportunity to not only have the first initial of the player on their jersey, but
the first two letters
.
19. BK selects Andre Branch, Clemson DE, for Chicago
Getting sacked is one thing.
Getting farted on? #CmonMan
Considering Notre Dame's proximity to Chicago, Michael Floyd would have been a perfect fit for the WR-needy Bears. Too bad that's no longer an option. Additionally, Alshon Jeffery's recent entry into the Draft could provide Chicago with a #1 WR, but he's got enough question marks to slide a little further down in the round. You'd think that this squad wouldn't have a need at DE with the athletic freak Julius Peppers, but his numbers have gone down the past two seasons, and he ain't getting any younger. A strong case could be made that the most impact DE on the roster is actually Israel Idonije. Branch would learn worlds of info from both, fitting in just fine with the Monsters of the Midway.
20. Gotti selects Alshon Jeffery, South Carolina WR, for Tennessee
1. Swear on my life this came up on a Google Image search
for Alshon Jeffery.
2. Can I get me some of that cheap gas!?
Tennessee was average in every aspect last season and somehow just missed out on the playoffs due to tiebreakers. Whether it's Matt Hasselbeck or Jake Locker quarterbacking this team next year, a recovering Kenny Britt can not carry the passing game by himself. Jeffery has some concerns in the speed department, but could be the best possession receiver in this draft. His numbers dropped after the quarterback debacle at South Carolina, but his size, hands, and route-running should open up the field for the likes of Britt, Nate Washington, and Jared Cook (sleeper TE next year for fantasy nerds).
21. TuckRule selects David Wilson, Virginia Tech RB, for Cincinatti
If athleticism was a "world," I'd be
borderline homeless.
This could be classified as a bit of a reach given the recent history and performance of 1st round RBs. But with the new rookie wage scale the monetary concern is lessened significantly. After shoring up their defensive backfield with their first 1st-rounder, the most glaring need out for the team is offense, specifically the running game. Cedric Benson has performed admirably the last couple of years, both on and off the field, but it's no secret that he's a plodding, average talent at best. His contract is up after this season and Bernard Scott has totally failed to live up to the hype of both the Bengals and Fantasy owners. The Bengals will take the top available RB and hope that they can form the newest version of triplets with The Red Rifle & AJ Green.
22. BK selects Vontaze Burfict, Arizona State LB, for Cleveland (via Atlanta)
Most importantly, the carrier held
onto the ball. Right, Chris?
Julio Jones is an exciting player, but with the Falcons needing help in so many areas, they really could have used any of the FIVE picks they sent Cleveland's way last year. Burfict, whom Sun Devils head coach Dennis Erickson compared to Ray Lewis, has a non-stop motor which allows him to be aggressive 24/7. However, this has also led him to become the Toney Douglas of this draft class; sometimes he is just too athletic for his own good, over-pursuing ball carriers in open spaces. And thankfully, linebackers don't have to complete a test of Wunderlic-proportions, so his draft stock should maintain a mid-first round grade. And who can complain about a a name versatile enough to seem like it belongs in porn OR as a sauce for your food? If your next meal just got ruined, you're welcome.
23. Gotti selects Alfonzo Dennard, Nebraska CB, for Detroit
The Lions are for real. Last year was no fluke, including the thrashing that most team's passing games put on them. Dennard is a solid cover corner and fills the biggest position of need for the Lions. He has above average speed and was left out on an island all throughout his time at Nebraska, so run support was rarely called upon. A lot will depend on his combine, particularly his speed and agility times.
24. TuckRule selects Devon Still, Penn State DT, for Pittsburgh
Sneaking up from behind: a PSU tradition
Always one of the best run organizations with top notch drafts, the Steelers don't have any glaring holes, although the offensive line could definitely use some work. However, when the Steelers see Devon Still, a top-10 talent, sitting there when their pick rolled around, they wouldn't waste a second handing in that card with his name. He has had some off field issues in the past but the veteran defensive leadership will take care of that. Still's first couple years at Penn State were derailed by injuries, but he has played every game for the last two years and was named to 10 All-American lists this season. He can "redshirt" for a year behind Casey Hampton and learn the tricks of the trade and then will be a force to be reckoned with from then on.
25. BK selects Michael Brockers, LSU DT, for Denver
"So all I have to do is hit 'send,' and
my homework assignments get
forwarded to you?"
Many pundits will list QB as a team need for the Broncos. And while Tim Tebow's mental game needs a ton of work, there shouldn't be one person out there who thinks that the kid won't put the time in this offseason. If John Elway wants to draft a signal-caller in the late rounds, fine. But to use a first day pick on one is a complete waste. Denver has a bigger need along the defensive line. Ty Warren was placed on Injured Reserve for the second straight year, and there is speculation that the former first-rounder has played his last NFL game. Brockers could start right away due to Denver's depth on the interior d-line, and he is versatile enough to shift to an outside end position as well. With some boards ranking him higher than Devon Still, Denver would be getting an absolute steal at #25.
26. Gotti selects Dontari Poe, Memphis DT, for Houston
If this isn't Dontari, then
Google Images is the racist,
not me.
Poe hasn't even played his best football yet, and that's the scary part. His talents are very raw, but defensive coordinator Wade Phillips has a track record of developing defensive players quickly and effectively (see J.J. Watt). Poe has the highest ceiling of all the DT/NT's in the draft this year, and the Texans may be able to get the most out him.
27. TuckRule selects Fletcher Cox, Mississippi State DT, for New England (via New Orleans)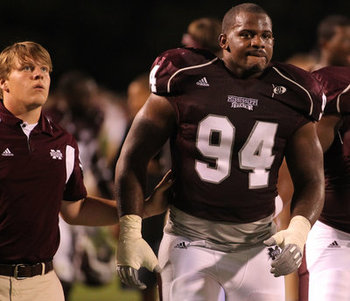 "Touch me a little lower."
And the run on Defensive Tackles continues. Two things are obvious to me at this point in the draft. The Patriots biggest need by far is on the defense, specifically the line. And Bill Belicheck is afraid of drafting in the first round. Well, he's going to have to get over that fear because he has two picks on the first day this year, their original one and this one via the Saints. I'm assuming the Pats will trade out of this pick, most likely down, but possibly, maybe, if we're lucky, (GASP!) they'll package their two picks to make a big splash on day one. But it's way too late and complicated for me to project that here. So the Pats grab the highest rated defensive lineman off the board in Fletcher Cox. If they stick with their 4-3 front from this year, Cox will slide in (that's what she said) right along Wilfork to pave the way for their pass rushing LBs. Or if they revert back to the 3-4, he'll be a part of a rotation of DEs that can anchor plays on the edge. Cox. Teehee.
28. BK selects Kevin Reddick, North Carolina OLB, for Green Bay
First rule of football: wear a helmet.
For as fantastic and brilliant as the Green Bay offense was in 2011, the defense might have been equally awful and disappointing. It would be nice to be able to pump new blood into a defensive back unit that clearly was never taught how to defend against a Hail Mary, but with no remaining first-round talent left for those positions, the Packers could fill another need at outside linebacker with Reddick. Clay Matthews may produce highlights and will always be a fan favorite, but he is a one-dimensional linebacker, exceptional at rushing the passer, but average (at best) at doing everything else. Reddick, on the other hand, has excellent sideline-to-sideline speed and is better in pass coverage. The Lambeau faithful can breathe easy, they'll be back in 2012.
29. Gotti selects Whitney Mercilus, Illinois DE/OLB, for Baltimore
If football doesn't work out, Mercilus
can caddie for Happy Gilmore!
Billy Cundiff may ultimately be the goat for the Ravens' loss to the Patriots, but the Baltimore defense is getting old, and it showed. The Patriots scored not one, but two rushing touchdowns in the red zone, and were constantly outrunning the Ravens aging linebackers. The Ravens need to find Ray Lewis' replacement in this year's draft, and were really counting on Vontaze Burfict being available in this spot, but division rival Cleveland spurned them there. With no middle linebacker available, Baltimore looks to reestablish its once relentless pass rush. Terrell Suggs cannot carry the burden alone, and Mercilus has been shooting up draft boards with his tremendous season at Illinois.
30. TuckRule selects Kendall Wright, Baylor WR, for San Francisco
A Kendall Wright fumble:
tailor-made for San Fran.
I've called several of my picks thus far "no-brainers," but this one is the no-brainer of no-brainers. If you were watching the NFC title game like you should have, you might have noticed that only ONE pass was caught by a wide receiver. Think about that. A wide receiver's main duty in the game is to catch the ball, but over 90% of Alex Smith's completions went to TEs (who also block) and RBs (block & rush). That's pathetic. Some of that can be blamed on the ferocious Giants pass rush not giving Smith time to survey the field, but mostly it's because of a severe lack of talent on the outside. So the Niners should draft tiny Kendall Wright out of Baylor. He's only 5'10" but Steve Smith & DeSean Jackson have shown in recent years that if the talent is there, the size deficiency can be counterbalanced. He'll still need a bit of molding once he gets to the next level but that shouldn't be an issue. Next season, the 49ers will need new blood in the return game, even
if Kyle Williams is still breathing
by then.
__________
Jeez, that was freaking long. Thanks for sticking with us.