Ruth, Boggs and Damon played for the Red Sox.
Mantle was an alcoholic.
Joe D married a sloot.
Reggie was a dickhead to his teammates.
O'Neill slammed Gatorade coolers.
Giambi, Clemens, Pettitte, and A-Rod took performance-enhancing drugs.
Wells won a Babe Ruth game-worn hat in an auction, and sweat into it while pitching a real game. (This was slightly cool, actually)
The Big Unit assaulted a photographer.
Leyritz killed somebody!
Torre threw his own players and his former employers under the bus with a tell-all book.
Jorge went passive-aggressive on us, taking himself out of the lineup after Girardi batted him 9th.
Even the Captain, as great as he is, revealed his frustrations about contract negotiations to the public.
So many transgressions from so many Yankees. And then there's Mariano Rivera. When people use the pause button on Yankee-hating hour, they often speak of Derek Jeter. They laud Jeter for his class. They praise Jeter for being clutch. They envy Jeter
for
his
stable
.
What about Rivera? He has been the consummate professional for his entire career. Talking heads will certainly mention in the coming days that he always "played the game the right way," but up until they do so, he certainly hasn't received the attention that the shortstop has.


But it's almost better that way. Real Yankee fans know this. We know that save #602 never mattered to us, because we all can remember an outing that cemented his place in the Hall of Fame long long ago. (For me, it was the 3 scoreless innings he pitched BEFORE Aaron Boone sent the Red Sox packing in 2003.) The only reason #602 has any relevance is that it shuts up the ignorant San Diego Padre fans who indignantly claimed that Trevor "Wait For My Change-up" Hoffman was the greatest relief pitcher, and not Mariano.
So, Mr. Rivera, on the not-a-chance-in-hell likelihood that you come across Mambino HQ, I present to you, my favorite moment of your illustrious career: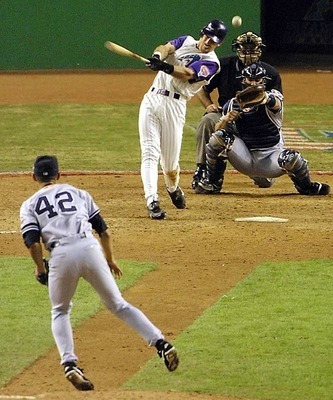 The manner in which you walked from mound to dugout, after giving up the 2001 World Series-winning hit to Luis Gonzalez, was legendary.
Gonzalez's hit cannot even be called a bloop hit. With KOBEsh's permission, I'd like use an expletive, and call it a BITCH hit. An 97 mph cut fastball rode in on Gonzalez's bat. Gonzalez hit the ball with the thinnest part of the wood. It sailed over a drawn-in infield. Gonzalez then jumped for joy with the twang of a Little Leaguer in Williamsport.
I was crushed. But Rivera walked off the field with so much class. He lost the game, the series, and the championship for the most storied franchise in all of sports. But the way he walked...he just didn't give a crap. He knew that Gonzalez got lucky. So what did he do? Well, he continued along the same path. This path led him to the clubhouse, where he stayed until every single reporter was finished asking questions. It's easy to smile for the cameras when you win; A-Rod has made a living doing this. Carrying yourself the same way after one of the most excruciating losses in baseball history is another story. This path began when Rivera was the dynamite setup man to John Wetteland in 1996, exemplified itself to the fullest in 2001, and has led Rivera all the way to #602.
Years ago, Major League Baseball retired the number 42 for all teams going forward. The number was worn by the incomparable Jackie Robinson, arguably the most important baseball player (and maybe athlete) to ever play. However, they inserted a caveat. Any player who was currently wearing #42 was allowed to wear that number until he retired. That fat slob Mo Vaughn and that no-namer Tom Goodwin have since left the game, but Mariano Rivera is still here. He certainly cannot match the significance of Jack Rob's existence. But to a selfish Yankee fanatic, Rivera is almost just as important.
Yankee Universe salutes you, Mariano. Here's to another 602.