On June 1st, 2012, it only took two hours and thirty-five minutes to erase 50 years of frustration.
For the first time in New York Mets history--over 8,000 games, four National League pennants and two World Series title since 1962--a pitcher had thrown a no-hitter. Johan Santana, the team's ace, had put down 27 batters while registering zeroes all along the St. Louis Cardinals' side of the scoreboard. The setting couldn't have been more perfect;
in front of 27,000 fans on a cloudy summer's night in Queens, Johan threw a career-high 134 pitches on his way to the franchise's first-ever no-no, striking out reigning World Series MVP David Freese.
Santana, who had not led the the Metropolitans to the playoffs since his acquisition in a blockbuster trade with the Minnesota Twins in 2007, came back from a lost 2011 season in which he hadn't thrown a single pitch. SNY broadcasters and franchise mainstays Keith Hernandez and Gary Cohen, admitted after the game that they both truly believed that they'd never live to see a Mets' no-hitter. Grown men were crying in the stands, jumping into one another's arms as if the Mets had won the World Series. For many of them, the feeling might have been just as joyous.
Our man Pucklius was one of the masses that night that yes, jumped into a stranger's embrace and high-fived bartenders. While the excitement of that night will eternally warm the hearts of Mets faithful, reality has set in on the rest of New York's 2012 season.
At the time of Johan's no-no, the Mets were 29-23, tied for the Wild Card lead with one third of the baseball calendar in the books. Somehow, they had broken through the restrictions of their infamous payroll squeeze and a rebuilding movement that had stripped a once-formidable squad down to its studs. Though perhaps inevitable, the Mets have careened back down to Earth from their lofty perch at the top of the standings. One of the primary reasons? Johan Santana.
Since June 1st, Santana has gone 3-7, with a sky-high 8.27 ERA and allowed at least six runs in his last five starts. In fact, he's only managed two quality starts in that time span, giving up an astonishing 68 hits. Some members of the media are laying his decline on the fact that Johan had been left to throw an enormous amount of pitches after coming off major shoulder surgery for a torn capsule, a rare injury that effectively ends careers. There's no concrete evidence to suggest that this one particular game set off Santana into statistical hell. After taking a year off, perhaps throwing well into the summer months was never in his future. However, the proof is there, and it's not a large logical leap to say that this no-hitter was the beginning of the end not just for Santana, but also the Mets' 2012 season and playoff hopes.


That being said, we've asked Pucklius to weigh in on all issues pertaining to the Mets' first-ever no-hitter, as well as the fascinating psyche of the fanbase.
KOBEsh: Before we assume too much, where does Johan's performance since the no-hitter rank as a reason for the Mets' second-half decline?
Pucklius: I think it's hard not to consider Johan's precipitous decline over the past two months to be a relatively significant factor, but I would hesitate to make it the biggest one for several reasons.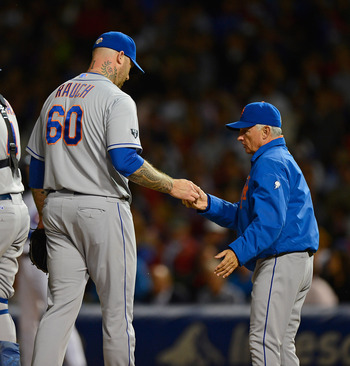 For one, as a starting pitcher, Santana only gets about 34 appearances a year if he's healthy anyway. Playing once every fifth day doesn't account for all of the other losses the Mets have suffered while dropping from Wild Card contenders to several games below .500 and double-digit games out of first place.
Santana's struggles don't help, but in my mind the two biggest factors are what has been a complete disaster of a bullpen, which was blowing saves even before the Mets began their earlier-than-usual tailspin in July, and an offense that has lost the clutchness that lifted it for most of the season's first half.
The Mets' offense is still not awful. This season the Amazins have more runs than Pittsburgh and only 13 fewer than the playoff-bound Nationals, but what enabled them to pull out thrilling victories all throughout the first half of the season was their uncanny ability to score with two outs. Scoring with two-outs can be devastating for an opponent. It's thrilling to the fan, as is the never-say-die attitude that comes with it, but the root of how crippling it is to an opponent is because of how unlikely two-out runs are. It would have been foolhardy to assume the Mets could continue to be so impressive for 162 games with such an unsustainable track record of big hits. In the end the luck just seems to have run out on them.


I agree in that it's pretty hard to base a team's decline on one, two or even multiple deciding factors. After all, the fall of the 2011 Red Sox and Braves in September were a fantastic formula of offensive, defensive and pitching problems all mounting at once. That all being said, I agree that while Santana's decline can't be a bigger problem than a hilariously awful 'pen and a middling offense coming back to Earth, Santana's decline plays a pretty big role in the Mets' performance since June 1st.
So, let's just play media-type theoreticals and say that yes, Santana's decline IS the primary reasons for the Mets decline this summer. The Mets have made the playoffs only a surprising 7 times in a 50 year existence. Even as the team was playing above their heads, they still had a shot at one of the two Wild Cards following Santana's 130-pitch masterpiece. Seeing as how glum the prospects of a playoff seed were before the season, and how dangerous a Dickey/Johan 1-2 punch would have been in the playoffs, the question is: was Santana's no-hitter worth throwing away (in our hypothetical) a postseason run?


I think to answer this question you have to understand two very complex things. The first is that some playoff runs are different from others. Allow me to submit a few items to you: the 2011 Arizona Diamondbacks, 2010 Cincinnati Reds, 2009 Colorado Rockies, 2008 Chicago Cubs, 2006 San Diego Padres, 2001 Cleveland Indians or 1999 Texas Rangers. Do you remember any of them? If you do you are a significantly more devout follower of the game than I, or you just happen to be a fan of one of the aforementioned teams. As history will recount these are all blandly unmemorable groups of players and yet they all have one unifying connection -- in the expanded Wild Card postseason, each of them made the playoffs.
My point is not that making the playoffs is of small potatoes. Quite to the contrary, a 162-game season will feature textbook regression to the mean because of the rigorous, large sample size. However, in the postseason, such a small sample size creates outliers and variations that can throw everything out the window, which essentially is why this year's postseason has a second wild card playing a one-off with the other non-Division winner in its league. Too many undeserving teams were winning the World Series (2006 Cardinals and 2003 Marlins anyone?). So making the postseason is certainly a true measure of achievement in baseball, almost moreso than winning the World Series even though, let's be honest, winning it all is why we care.
There are far more playoff appearances that are uninspiring meek three-game exits that escape the memory than there are World Series runs to cherish forever. Furthermore, to say the Mets have struggled historically to make the playoffs considering they've only done so seven times in their history is certainly valid, but ignores the fact that it was far more difficult to make the postseason before 1995, when only two teams per league did so each year. Hell, the Nationals have just one postseason appearance in 43 years of baseball, and it wasn't even in their current city. All in all, 10 teams in the majors have fewer postseason appearances than the Mets. Of the 19 teams with more appearances, only three of them came into existence after the first MLB expansion in 1962, and one of those teams, the Angels, is ahead after an underrated spell of dominance in the last 10 years. The other 16 teams are all decades older.
This is not to denigrate what it means to make the postseason but more to say that on the whole the Mets, given their uncanny ability to louse up a good situation, have actually not done so badly. But many postseason appearances for many teams are unmemorable. No-hitters are not. They are singular moments for a franchise that get talked about through generations. In the particular case of the Mets' fan base,
and this is the second complex thing we need to understand,
a no-hitter is something that had eluded the franchise in not only surprising (many great Mets teams have been built around pitching), but also statistically unlikely fashion. As of the morning of August 20, 2012, there had been 201,885 Major League games played since the formation of the National League in 1876. Of those, 276 were no-hitters meaning that on average, statistically (and yes there are bias-inducing factors like expansion and improved training as well as the changing designs of ball parks) a no-hitter should occur roughly once every 731 games in the Majors. That works itself slightly out to an average of more than three per year in a 2,430-game MLB schedule. By the time Johan Santana tossed the Mets' first-ever no-no, it was the 8,020th game in franchise history.
Not only is that a stunning statistical aberration, it proved something of an embarrassment that was indicative of what has historically been perceived as a bungled franchise, even if no-hitters are statistically fluky occurrences. Meanwhile, the Florida/Miami Marlins, Arizona Diamonbacks, Tampa Bay Rays, Colorado Rockies, Washington Nationals/Montreal Expos, Kansas City Royals, Seattle Mariners and Toronto Blue Jays -- all franchises younger than the Mets -- have combined for 21 no-nos, or 2.625 no-hitters per team. Hell, the Marlins have four of them, and they played their first game two months before Jurassic Park came out.


Simply put, the lack of a no-hitter was interpreted by much of the fan base as a frustrating symbol of the team ruining its own fortune considering the pitchers (Tom Seaver, Nolan Ryan, Jerry Koosman, Doc Gooden, Ron Darling, David Cone and Orel Hershiser among them) that have worn a Mets jersey. Add into that how many times the Mets have come painfully close to it, from Seaver losing a perfect game in the 9th inning against Cincinnati's Jimmy Qualls in 1969, onward all the way to 2012 when the Mets have tossed well over 30 one-hitters and one can start to understand how frustrating not seeing that kind of a moment had been.


The night Santana threw the Mets' first no-no was not just a memorable moment for the fan base but ultimately a cathartic one as well. One can blame the length Santana went in that game for his recent downslide, though considering that he won three of his next five starts including an eight-inning, three-hit, zero-run outing against the Dodgers on June 30th, I'm not convinced. But even if the no-hitter had a negative impact on Santana, it is not necessarily fair to deny someone their shot at history by taking them out, and by all accounts Santana wasn't even the least bit interested in leaving his eventual no-hitter for health concerns.


Yes, hypothetically this could have significantly hindered a playoff appearance, but in the irrational, cruel world of the Major League Baseball playoffs, what are the guarantees that an 87-win second-place Wild Card team would have spun together a run worth remembering? In the end, killing the no-hitter monkey and bringing a cathartic memory that will find a richer place in team lore than a 3-0 sweep at the hand of the L.A. Dodgers might have was well worth turning in the playoff performance this team was liable to have if it was even so lucky as to get there.


You bring up the '11 D-Backs, '09 Rockies, '08 Cubs and so forth. However, weren't they just as "undeserving" as the '06 Cards or the '03 Marlins? As we've seen time and time again (let's not leave out recent memories of the punchless '10 Giants, '08 Phillies with Brett Myers, Joe Blanton and Jamie Moyers in the starting rotation and of course the ace-less '02 Angels), the "best" team rarely wins the World Series. Of course there's only a 1/8 chance, and now a 1/10 chance, but when the postseason starts, anyone can be the champion. Do you feel as a Mets fan that you're retro-fitting history to justify manager Terry Collins leaving a post-surgey Santana in there for a career-high in pitches? Yes, there is a good chance that the Mets won't win the Series, but when you talk about a team that's been as dissapointing as the Mets have been the last 10 years, don't you take every chance you can get?


You are correct in that the best team in the field rarely wins the World Series, but it is equally unusual that the worst team does. Examples that you bring up all had significant advantages these Mets don't. The 2010 Giants had a weak offense, but it was still a more fearsome one than the Mets have this season, and that doesn't even bring into account what had been a brilliant pitching staff on that team. The 2008 Phillies did get fluky postseason performances out of Blanton and Moyers, but they also had a dominant versatile offense playing in one of the most notorious hitters parks in the sport. If we want to go back to the 2002 Angels, Ace-less may be an accurate term, but more accurate terms are a "relentless offense", a "stellar bullpen" with Troy Percival and Ben "I look crazy when I pitch" Weber and perhaps most notably a "99-win regular season." The 2002 Angels were a far better team than simply calling them a Wild Card would imply. The 2010 Giants and 2008 Phillies were also division champions, who received the favorable matchups division championships bring.
These Mets were fun to watch the first half of the season and they inspired hope, but only a fool could have assumed this team had anything even mildly resembling the chances those unlikely champions had. In the end a lot of this requires viewing in hindsight and second guessing, when at the time we could never have thought Santana's lengthy outing in the no-hitter was certain to torpedo his season -- particularly since he was still solid for the rest of June. But even given that, when weighing one chance at history against another, one has to see that certain accomplishments -- and their realistic probable outcomes -- are more meaningful than others.


At this point, it's pretty obvious that the no-hitter, to you and your fellow Mets fans, was worth the potential of a healthy Santana taking the Mets to a potential postseason...potentially.
That being said, let's say that the Mets not only won the Wild Card one-game playoff, but went all the way to the World Series. In this scenario, you're just like any other fan at the end of October--hoping your team wins the big one. Would you trade this no-hitter for a pennant and the chance to play for the championship?
Well when you change the parameters that way, that's a completely different question. If you could tell me that the Mets would definitely win the pennant and enter a seven-game series for a legitimate shot at their first championship since I was 15 months old, then yes, of course I would trade in the no-hitter.
As I've made it clear this far, however, I don't believe the real factors and results at question are that cut and dry.
So out of all the Mets moments you've seen and experienced in your conscious viewing lifetime, where does this rank? And do you believe you'll see another no-hitter now?
Well since Chris Young just gave up an infield single to end his perfect game bid and the Mets in their very Mets-y way followed that up with multiple dubious defensive plays to hand over the lead, I probably won't see another no-hitter. Seriously though, the odds being the odds, I do believe I'll see another no-hitter by a Met in my lifetime. I was actually
at
R.A. Dickey's one-hitter a week after Johan's no-no, which was the most dominant pitching performance I've ever seen in person, followed up by Johan's last start before the no-no in which he threw a masterful outing against the Padres.
As for where it ranks, I'm not entirely sure, but in all honesty it's higher than one might think. When I contemplate games that both I saw or I attended that left a special mark, I'd have to consider these ones (unrelatedly, I think 10 best games you've seen or attended for your favorite team has another blog post written all over it):
The Mets win Game 5 of the 2000 NLCS
Bobby Jones' one-hitter caps 2000 NLDS against the Giants
Benny Agbayani's 13th-inning homer wins Game 3 of the 2000 NLDS
John Franco strikes out Barry Bonds looking to win Game 2 of the 2000 NLDS (Seriously, this was such an underrated series)
Robin Ventura's Grand Slam single in Game 5 of the 1999 NLCS
Todd Pratt's walkoff in Game 4 of the 1999 NLCS over Steve Finley's glove
Edgardo Alfonzo's Grand Slam in the 9th inning wins Game 1 of the 1999 NLDS against Randy Johnson
John Rocker's return to Shea Stadium in 2000
The Mets rally from 8-1 down in the bottom of the 8th to beat Atlanta 11-8 in 2000
Mike Piazza's homer in the first game after 9/11
Piazza and Shawn Estes homer off Roger Clemens in his first game against the Mets since beaning Piazza in the 2000 World Series (and Estes of course missed his chance to hit the Rocket in typical Mets fashion)
Piazza's bomb of a home run off Carlos Almanzar caps a rally from 7-2 down in the eighth to beat the Yankees in 2001
Agbayani's grand slam in Japan in 2000
The disastrous last game at Shea
Al Leiter's two-hitter in the Wild Card one-game playoff against the Reds in 1999
Santana's no-hitter
I may be missing something, but as you can see, most of my memories with this team, the fond kind, happened in that bright 1999-2000 stretch when they were both competitive and likable -- a rarity with this franchise. The most glaring thing there is that it's pretty slim pickins, perhaps because I didn't include the Mets winning the NL East in 2006 which, given their runaway lead, was remarkably anticlimactic for a first division title in 18 years. Because of the games that might be sentimental despite being insignificant, or the few significant accomplishments the Mets actually had, and my own furious rush to find a bar with a television when I realized Santana was throwing a no-no that night, and everyone's immediate callouts to me on Facebook and twitter, including MAMBINO writers (this run-on sentence is out of control), it's clear that Santana's no-hitter ranks pretty highly in the lot.
In fact I would probably rank it the second-greatest Mets moments I've ever seen after Ventura's 15th-inning Grand Slam single off Kevin McGlinchey, but it might drop down to No. 3 after Mike Hampton's complete game three-hit shutout to clinch the pennant in 2000 (the fact that it was Mike Hampton dampens that ever so gently though).